Agilent Spectrum Analyzer E4404B (9kHz-6.7GHz)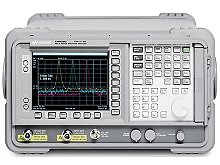 Perhaps you're interested in this alternative product:
Agilent Spectrum Analyzer ESA-E series model E4404B, RF-band: 9kHz-6.7GHz.
Customers looking for a general purpose spectrum analyzer will appreciate the flexibility of the Agilent ESA-E Series spectrum analyzer, which can be used for a wide range of applications from aerospace and defense to the manufacturing line. With express analyzer configurations (STD/STG/COM), customers will benefit from faster delivery and its price advantage.
Easy-to-use offering a wide range of performance and optional capability to meet your measurements. We have various units available with extended options. Please feel free to inquire for more information.
Agilent Spectrum Analyzer E4404B (9kHz-6.7GHz)