Earth Station & VSAT Antenna De-icing Systems (SHS)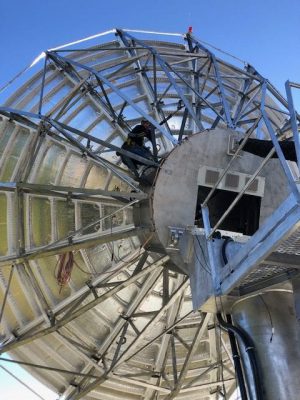 Perhaps you're interested in this alternative product:
Skybrokers provide quality de-icing systems for your Earth Station Antenna. De-icing can be installed on your refurbished antenna prior to installation or can be installed when your antenna is already erected. Our professional team is able to assist in both options.
The formation of ice and snowfall, especially on parabolic antennas, is a major cause in loss of signal transmittal and reception during winter months or for dishes at high altitude locations.
Founded in 1997 and with over 21 years in the industry, Surface Heating Systems, Ltd have successfully developed a range of heating systems compatible with most major manufacturers antennas to prevent the build-up of snow & ice, keeping the antennas operational in the severest of weather conditions and thus preventing interference and costly down time.
Specially shaped soft backed aluminum heating panels are applied direct to the convex side of the antenna and controlled via an ice/snow sensing control unit. Alu-foil systems installed have ranged from diameters of 0.5m up to (at present) 18m with power loadings to suit.
SHS' system designs encompass but are 'Not Limited To' the following antenna manufacturers:
ASC Signal/CPI
Andrew
Channel master
H.
Elite
Prodelin/GDSatcom
Prime Focus
Vertex/VertexRSI/GDSatcom
Viasat
Challenger
Skybrokers provided and installed various SHS de-icing packages for Andrew 3.7m and 7.6m antennas.
Earth Station & VSAT Antenna De-icing Systems (SHS)
Earth Station & VSAT Antenna De-icing Systems (SHS)