GDSatcom 9.2m Ka-band Extended Azimuth Earth Station Antenna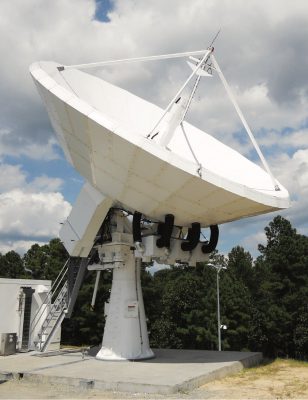 Perhaps you're interested in this alternative product:
Large diameter Ka-band antennas require unique design criteria which General Dynamcis SATCOM Technologies (GDSatcom) has successfully demonstrated with both the 9.2 and 13.2m products. Items such as reflector surface accuracy, antenna/ feed design, structural antenna stiffness and integrity, thermal effects, anti-icing, HPA phase combining, mono-pulse tracking, installation and alignments and hub integration all require special engineering expertise at Ka-band.
SATCOM Technologies has proven their expertise in the above areas and has earned the position as a preferred antenna system provider and integrator to a number of major satellite broadcasting companies by providing in excess of fifty systems of this type over the past five years alone.
Features 
­Precision Ka-band rated surface reflector with counterweights
High-stiffness turntable-bearing
­DC motor jackscrew drive in elevation
­Dual DC motor gear-pinion drive with mechanical anti-backlash in azimuth
­Access stairway and large work platform for ease of maintenance
­2ft diameter hub with 5ft roll up access door
­Housing for up to eight high power amplifiers (HPA's)
­HPA mounting via slide mounts and a mechanical de-weighting mechanism allows for easy maintenance and replacement
­Up and down converter integration providing a wideband L-band interface
­Easily accessible test and monitor points
­Strategically placed handles and storage to allow easy and safe access to hub
­Phase/power combined HPA design capability
­Power meter sensing of TX power capability
­Transmit signal block downconverters to allow spectrum monitoring at L-band in the control building.
­Complete M&C capability for monitoring and control of all hub components.
­Hub and antenna mounted electrical outlets and lighting
­Lightning protection
­Temperature monitoring
­Redundant two channel mono-pulse tracking system
­Redundant HVAC systems for hub and pedestal
Applications
TT&C
IOT
Broadband Gateways
High-Power Uplinks
GDSatcom 9.2m Ka-band Extended Azimuth Earth Station Antenna
GDSatcom 9.2m Ka-band Extended Azimuth Earth Station Antenna