Waveguide Assemblies C-, DBS-, Ka- or Ku-band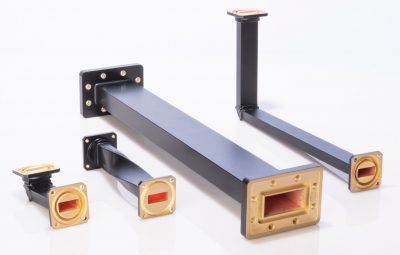 Skybrokers can provide waveguide runs either with our used and refurbished Earth Station Antennas or as a separate run for your existing antenna. We work with professional and international manufacturers that have manufacturing capabilities including:
Waveguide assemblies,
Sub-assemblies and components from WG10 (WR284) up to WG23 (WR22) as standard (other waveguide sizes available on request),
Antenna feeds,
Aluminium assemblies for radar systems,
Rotating Joints for the Sat-com/Marine and Aircraft Industry,
High and Low Power Loads,
Waveguide to Co-Ax Transitions,
Standard and special waveguide bends including double ridge and lightweight seamless,
Aluminium Rigid/Seamless assemblies and Flex/Twist components.
Our manufacturing facility uses the latest Solidworks 3D CAD-software, allowing us to work closely with customers during the R&D and the design of new or existing projects.
We offer Waveguide straights up to a length of 3m as standard, waveguide bends, twists and flexible waveguides in various frequency ranges. The used materials and flanges are to suit customer requirements. Please ask us for more details.
Waveguide Assemblies C-, DBS-, Ka- or Ku-band
Waveguide Assemblies C-, DBS-, Ka- or Ku-band