MCL Indoor TWTA 400W Standard Ku-band (13.75-14.50GHz) MT3200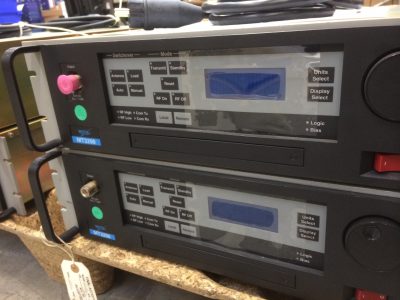 | | |
| --- | --- |
| Condition: | Used and tested |
| Model: | MT3200 |
| Manufacturer: | MCL |
Perhaps you're interested in this alternative product:
MCL TWTA 400W Ku-band (13.75-14.50GHz) MT3200 (USED)
The MCL TWTA 400W Ku-band (13.75 – 14.50GHz) model MT3200, Sealed RF module for indoor usage and Rackmount (3RU), Suitable for fixed and DSNG applications, 100-264VAC (1-phase) 47-63Hz, WR75 RF output.
The MCL MT3200 400W Ku-Band Indoor amplifier provides transmit operation from 13.75-14.50Ghz. The MT3200-series amplifier is a highly reliable and cost effective TWTA solution for satellite uplink applications that require extremely high power. The efficient MT3200 consumes low power and is designed to meet your requirements.

Features
Reduced Depth
Output RF Power Hold
Easily Accessible Diagnostic Port
Programmable Alarms
Event and Maintenance Logs
Ethernet Interface
Field Replaceable Modules for Unsurpassed Serviceability
Closed-Loop Forced Air Cooling
Typical Phase Noise 12 dB Below IESS-308
Control Dial for Easy Set-Up and Adjustment
We have various units available in perfect condition. All of our USED TWTA's are tested by professional engineers in our test-lab. Test reports will be provided as well as power cables and a 90-day warranty! The MCL MT3200 fits medium size DSNG vehicles. Skybrokers recently provided a MCL TWTA to a broadcaster in the USA.
Optional 1:1 switching module is available in case you require a redundancy set-up. Please check datasheet for additional specifications.
MCL Indoor TWTA 400W Standard Ku-band (13.75-14.50GHz) MT3200
MCL Indoor TWTA 400W Standard Ku-band (13.75-14.50GHz) MT3200