Astranis
Astranis Space Technologies, Corp, (Astranis), is a privately held satellite operator and manufacturer headquartered in San Francisco, California, USA. The Company is a space startup that builds small and low-cost telecommunications satellites to provide internet access in remote regions. Astranis was founded in 2015 by CEO John Gedmark and CTO Ryan McLinko.
Astranis is building small, low-cost telecommunications satellites to connect the four billion people who currently do not have access to the internet. Each spacecraft operates from geostationary orbit (GEO) with a next-generation design of only 400kgs, utilizing a proprietary software-defined radio payload. This unique digital payload technology allows frequency and coverage flexibility as well as maximum use of valuable spectrum. This approach allows Astranis to build satellites in a 12-18 months' timeframe, about five times faster than the competiton.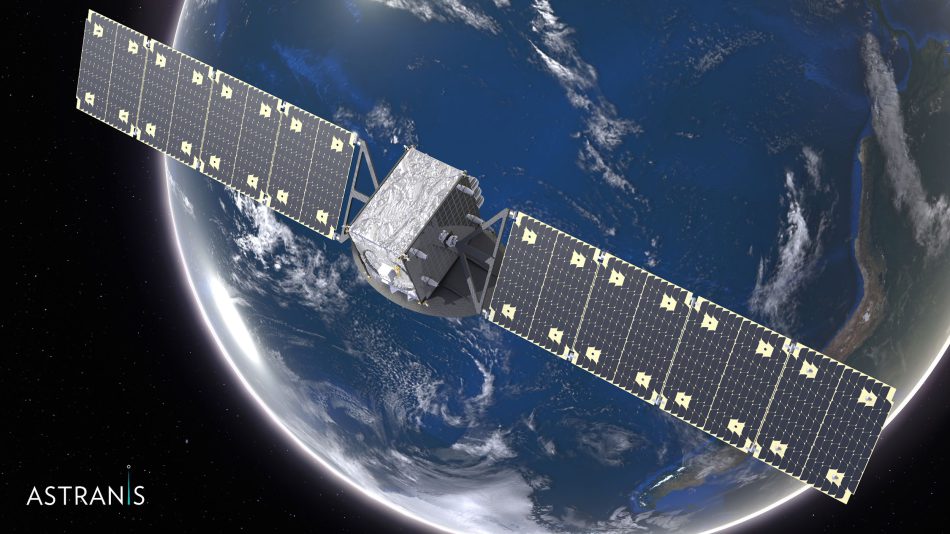 By owning and operating its satellites and offering them to customers as a turnkey solution, Astranis is able to provide bandwidth-as-a-service and unlock previously unreachable markets. This allows Astranis to launch small, dedicated satellites for small and medium-sized countries, Fortune 500 companies, existing satellite operators and other customers.
Astranis Space Technologies Corp. is headquartered in San Francisco with a team of over 150, including world-class engineers from satellite and launch operator SpaceX, satellite manufacturer Boeing and technology companies such as Skybox, Qualcomm, Apple, and Google. Astranis has raised over 350 million USD from top Silicon Valley and growth investors, including Andreessen Horowitz, Venrock and BlackRock.

Company History
In 2018, Astranis launched DemoSat-2, a prototype 3U cubesat (10cm x 10cm x 30cm; less than 3kgs) to test the company's Software-Defined Radio (SDR) technology for its larger communications satellites. The launch was conducted by ISRO on a PSLV-XL rocket on January 12th, 2018.
Astranis came out of stealth mode with their March 2018 announcement of a 13.5 million USD fundraising round to support their development of smaller geostationary communications satellites led by Andreessen Horowitz. marking the firm's first investment in a space company.
In January 2019, Astranis announced their first commercial program, a partnership with Pacific Dataport, Inc. to triple the satellite internet capacity of Alaska. The satellite is scheduled to begin service in 2022.
Pacific Dataport is the largest TV Provider in Alaska and is formed by Alaskans for Alaskans through a strong interest and investment by Microcom, Space Partnership International and others. The Company is built on Microcom's strong history and knowledge of satellite communications in rural Alaska as well as Space Partnership International's experience designing and developing satellite systems.
The mission of this partnership is to launch a geostationary communications satellite dedicated to Alaska. Astranis launched this first satellite, named Arcturus, in a dual launch with Viasat-3 satellite from satellite operator ViaSat, on a Falcon Heavy rocket operated by launch operator SpaceX on May 1st 2023. 
In July 2021, Astranis started the construction of four new small geostationary communications satellites, three of which are already been ordered by satellite operator Anuvu, one for Pacific Dataport and one new satellite for customer Andesat from Peru.

In December 2021 Astranis signed a contract with AndeSat from Peru for the construction of AndeSat-1, an upcoming MicroGEO small geostationary satellite platform. The deal is valued for 90 million USD and includes the construction of a teleport in Peru. The new satellite will be the first owned by AndeSat, which currently provides capacity from GEO satellites operated by Telesat, Intelsat, Eutelsat and SES, using a VertexRSI 6.1m antenna installed by Skybrokers.

All trademarks, logos and images mentioned and showed on this page are property of their respective owners.


Resources
www.astranis.com
www.crunchbase.com
www.businesswire.com
www.wikipedia.org
www.isro.gov.in
www.spacex.com
www.sky-brokers.com
www.cnbc.com edition April 14th, 2021
www.spacenews.com edition September 23rd, 2021
www.space.com
www.seradata.com edition December 9th, 2021
Satellites manufactured by Astranis
Satellite fleet by Astranis