Mitsubishi Electric
Mitsubishi Electric Corporation (MELCO) is a Japanese multinational electronics and electrical equipment manufacturing company headquartered in Tokyo, Japan. It is one of the core companies of Mitsubishi.
Mitsubishi Electric manufactures electric and architectural equipment, as well as a major worldwide producer of photovoltaic panels. The Corporation was established on 15 January 1921.
MELCO's Space Division has been a pioneer of space technology development in Japan since the 1960's, and is strongly committed to international space development and satellite construction. The Space Division has participated in a wide range of high-performance payloads and bus components in multiple satellite programs worldwide and has integrated capabilities covering the entire satellite development process from development and design to assembly and testing. MELCO Space played a key role in dozens of satellite programs for a variety of government agencies and communications providers both domestic as well as international.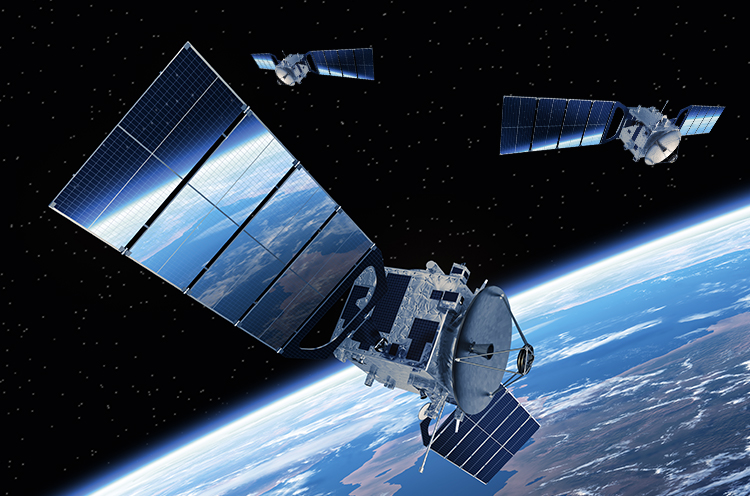 Company History
The history of Mitsubishi Electric Corporation (MELCO) is the history of the development of modern Japan. The company was founded in 1921, when Mitsubishi Shipbuilding Co. (now Mitsubishi Heavy Industries, Ltd.) spun off a factory in Kobe, Japan that made electric motors for ocean-going vessels into a new company called Mitsubishi Electric Corporation.
An ambitious young man named Yataro Iwasaki launched the first Mitsubishi company, a shipping firm, in 1870. Japan had just emerged from centuries of feudal isolation and was racing to catch up with the West. Yataro's business grew rapidly and diversified into a broad range of manufacturing and commerce. World War II brought an end to Mitsubishi as an integrated organization. But independent companies that trace their roots to the old Mitsubishi are active today in nearly every sector of industry.
Yataro Iwasaki was from the city of Kochi on the island of Shikoku, which was the home of the powerful Tosa clan. He worked for the clan and distinguished himself in managing its Osaka trading operations. In 1870, he set up his own shipping company, Tsukumo Shokai, with three steamships chartered from the clan. That was the beginning of Mitsubishi.
The name of the new company changed to Mitsukawa Shokai in 1872 and to Mitsubishi Shokai in 1874. Yataro chose a corporate emblem that combined the three oaks leaves of the Tosa crest and the three stacked diamonds of his family crest. That emblem is the source of the name, Mitsubishi, which means "three diamonds."
Yataro made a public display of patriotism in 1874, providing ships to carry Japanese troops to Taiwan. That earned the gratitude of the government, which rewarded him with 30 vessels. Yataro changed his company's name to Mitsubishi Mail Steamship in 1875, when it inherited the employees and facilities of a mail service disbanded by the government.
Mitsubishi Mail Steamship inaugurated service to China and Russia and enjoyed a virtual monopoly on overseas routes. But the political winds shifted against Mitsubishi in the early 1880's, and the government sponsored the establishment of a competitor. The ensuing competition nearly bankrupted both companies.
Government intervention produced a temporary truce. But cutthroat competition resumed when Yataro died in 1885 and was succeeded by his brother Yanosuke. The feud ended with a government-arbitrated merger in 1885, which created Nippon Yusen (today's NYK Line).
Mitsubishi management modernized further when Yanosuke's son Koyata succeeded Hisaya as president in 1916. Koyata, a graduate of Cambridge University, incorporated the divisions as semiautonomous companies. He steered Mitsubishi to leadership in such sectors as machinery, electrical equipment, and chemicals. The companies that later became Mitsubishi Heavy Industries developed automobiles, aircraft, tanks, and buses. And Mitsubishi Electric became a leader in electrical machinery and in-home appliances.
In March 2013 Mitsubishi Electric Corp. announced that it had completed expansion of the satellite production facility at the company's Kamakura Works in Kamakura, Japan. The upgraded facility doubles Mitsubishi Electric's annual satellite production capacity to eight satellites, the largest among all facilities operated by Japanese satellite manufacturers.
Mitsubishi Electric Corporation (MELCO) has delivered a variety of satellites that now support daily life, including the meteorological satellite Himawari-7, the first Japan-made commercial communications satellite Superbird-C2 and the Quasi-Zenith Satellite-1 MICHIBIKI, which provides location-information services. The company also developed the Himawari-8, Himawari-9 and ALOS-2 satellites, the last of which will succeed the DAICHI in gathering disaster-related data in areas affected by large-scale natural disasters such as the Great East Japan Earthquake of 2011.
The MELCO DS2000 platform was developed based on a design originally created for the DRTS and ETS 8 platforms through development by JAXA. After winning an international bid competition for the MTSAT-2, a Japanese commercial satellite launched in 2006, the company incorporated evolutionary changes to match the requirements for standard commercial communications satellites and introduced the DS2000.
An original program management system developed based on Mitsubishi Electric's years of experience in the communications satellite business allows customers to access designdata and processes and request changes during development, production and testing. This high level of visibility ensures that each platform is tailored to exact requirements and is completed in time to meet the delivery schedule, thus allowing the DS2000 to meet the needs of communications satellite operators around the world.
Distinctive Features
Highly reliable design and production based upon rich experience derived from participation in more than 280 satellite projects worldwide.
Capable of providing an output of up to 15 kW, satisfying the power requirements for powerful and multiple communications transponders.
Flexible design matches various applications including hybrid communications payloads.
MELCO has constructed satellites for Es'Hailsat, SKY Perfect JSAT, SingTel, Optus and Turksat satellite operators.

All trademarks, logos and images mentioned and showed on this page are property of their respective owners.

Resources
www.mitsubishielectric.com
www.spacedaily.com edition November 1st, 1999
www.arc.aiaa.org
www.space.skyrocket.de