Albedo Space
Albedo Space is a private US-based company that designs and develops low-flying satellites (VLEO) that capture visible and thermal imagery. The company offers a cloud-based image delivery platform that enables users to process and deploy collected visual data. It also provides sensor, radiometric, atmospheric, and geometric correction of images, spatiotemporal asset catalog (STAC) compliant, and analysis-ready data (ARD) imagery product lines.
Albedo is set to commence its satellite launch operations in 2024, with plans to complete the deployment of all 24 satellites by 2027. This satellite constellation will play a pivotal role in a multitude of crucial projects, encompassing forest fire monitoring, solar panel array inspections, wildlife detection and tracking, as well as the mapping of carbon and methane levels to address pressing concerns related to greenhouse gas emissions and climate change. To accomplish these tasks, Albedo's satellites will utilize thermal bands within a spectral range spanning from 7.5 µm to 13.5 µm (microns).
Furthermore, Albedo's possession of a 'Tier 3' licensing represents a significant advancement in the realm of satellite remote sensing technology, promising to bring forth innovative capabilities and solutions in this field.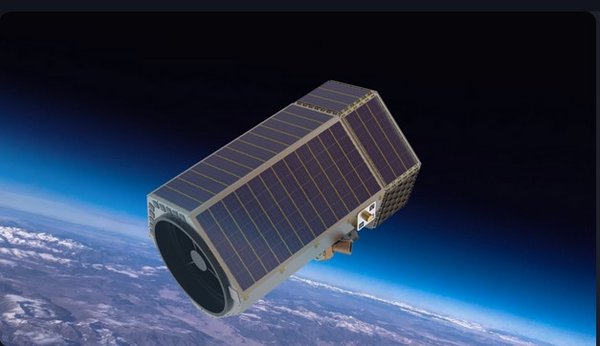 Company History
Albedo Space was founded in 2020 by Topher Haddad and AyJay Lasater, both former Lockheed Martin Satellite Engineers and Winston Tri, a former Facebook software engineer. The company is based in Austin in Texas USA. The creation of the company came when Haddad stumbled upon a news article about then-President Donald Trump's tweet of a 10cm image taken by a classified spysat. The founders figured that they could get the costs way down in one simple way: by flying satellites very close the Earth.
In July 2020, the company obtained a license authorizing the acquisition of high-resolution satellite imagery, including 10cm commercial panchromatic imagery from NOAA and 40cm 4-band (RGBN) multispectral imagery. This imagery holds the potential to significantly enhance and support a wide range of applications for government agencies and commercial enterprises, including engineering, agriculture, forestry, urban planning, and various AI and remote sensing applications.
In April 2021, Albedo Space closed its Seed round of funding landing 10 million USD in support from investors like Initialized Capital, Soma Capital, Liquid 2 Ventures, and Jetstream Rebel fund.
On September 7th, 2022 Albedo raised 48 million USD in a Series A funding round led by Breakthrough Energy Ventures and Shield Capital. Participating in the round were new and existing Albedo investors including Republic Capital, San Francisco-based Giant Step Capital Partners, C16 Ventures, Initialized Capital, Liquid 2 and SNR. With the funding, Albedo plans to complete development and testing of its first satellite destined for very low Earth orbit (VLEO), as well as the software for satellite operations and imagery distribution.
In April 2023 the company received a 1.25 million USD contract to support nighttime thermal imaging operations for the US National Air and Space Intelligence Center (NASIC). Under the contract, Albedo will gather the highest-resolution commercial satellite images from visible and thermal infrared spectrums at night. The data will be evaluated to support NASIC's ongoing intelligence, surveillance, and reconnaissance (ISR) projects.
On August 9th, 2023 the company Albedo signed an agreement with Belgium-based Aerospacelab to acquire their product suite for Albedo's first VLEO satellite.


All trademarks, logos and images mentioned and showed on this page are property of their respective owners.


Resources
www.albedo.com
www.craft.co
www.breakingdefense.com
www.preqin.com
www.golden.com
www.satimagingcorp.com
www.spacenews.com edition September 7th, 2022
www.thedefensepost.com edition April 28th, 2023
www.spacenews.com edition June 8th, 2023
www.directionsmag.com edition August 9th, 2023