Sea Launch
Sea Launch is a multinational spacecraft launch service that uses a mobile maritime launch platform for equatorial launches of satellites on specialized Zenit-3SL rockets. The company was headquartered in Nyon, Switzerland but ceased operations due to technical problems and lower demands as of 2014. In 2018 Sea Launch was acquired by Russian S7 Group and in 2020 all vessels were moved to Russia and the HQ in Nyon was liquidated.
By 2013, Sea Launch had assembled and launched 31 rockets, with 3 failures and 1 partial failure. All had been communications satellites intended for geostationary transfer orbit with such customers as EchoStar, DirecTV, Eutelsat, XM Satellite Radio, PanAmSat (Intelsat), and Thuraya (YahSat).

About Sea Launch
The Sea Launch Zenit-3SL launch system is made up of 3 elements: the Rocket Segment, the Marine Segment, and the Home Port Segment. Each of these three elements is required at different points in the launch campaign in order to launch the spacecraft. The launcher and its payload are assembled on a purpose-built ship Sea Launch Commander in Long Beach, California, USA. It is then positioned on top of the self-propelled platform Ocean Odyssey and moved to the equatorial Pacific Ocean for launch, with the Sea Launch Commander serving as command center. The sea-based launch system means the rockets can be fired from the optimum position on Earth's surface, considerably increasing payload capacity and reducing launch costs compared to land-based systems.
The Sea Launch Zenit-3SL system was developed to address the commercial satellite market needed for reliable and affordable launch services. This unique multinational system drew on the considerable engineering experience of the aerospace industry leaders from the Russian Federation, the Ukraine, the US, as well as the extensive maritime expertise from Norway.
Sea Launch mothballed (merchant vessels, that can be activated within 20 to 120 days to provide shipping for the US during national emergencies, either military or non-military, such as commercial shipping crises) its ships and put operations on long-term hiatus in 2014, following the Russian military intervention in Ukraine. By 2015, discussions on disposition of company assets are underway, and the Sea Launch partners are in a court-administered dispute about unpaid expenses that Boeing claims it incurred.

Company History
Sea Launch was established in 1995 as a consortium of four companies from Norway, Russia, Ukraine and the United States, managed by Boeing with participation from the other shareholders. The first rocket was launched in March 1999.
On March 17th, 2006, it was announced that Jim Maser, the President and General Manager of Sea Launch, would leave the company to join SpaceX as President and CEO.
In June 2009, the provider of the Sea Launch service, Sea Launch Co. LLC, filed for Chapter 11 bankruptcy protection. Sea Launch asserted that it would 'continue to maintain all normal business operations after the filing for reorganization'.
In August 2010, RSC Energia, which already owned 25% of Sea Launch, announced it planned to acquire a controlling interest of 85% in the company. As a result, the company planned to begin land-based launches from the Baikonur Cosmodrome in early 2011, while sea-based launches to be resumed in September 2011.
Sea Launch emerged from bankruptcy in October 2010. Russian company Energia Overseas Ltd, is majority owner of the reorganized entity, with Boeing and other American companies retaining minority shares.
In 2013, Boeing sued RSC Energia, PO Yuzhnoye and KB Yuzhnoye. According to Boeing the companies refused to pay more than 350 million USD following the joint venture's bankruptcy filing in 2009.
Mid-2014, following the 2014 Russian military intervention in Ukraine and the subsequent unrest in the eastern part of the country, there were a number of Russian media reports that indicated Sea Launch may be planning to mothball the Odyssey launch platform. The company formally denied those reports in June 2014, indicating it is continuing to buy Zenit rockets from Ukraine, and is still promoting its launch services to the international market, even in August 2014.
In August 2014, Sea Launch conducted a reduction of their staff and removed from operating status both the Commander and Odyssey vessels in order to reduce operating costs during a period where they had no launches scheduled until late 2015.
In July 2015, industry experts stated that the Chinese government was considering the purchase of the Sea Launch command ship and launch platform assets, but this was not confirmed by either company or Chinese government officials.
In September 2015, Boeing won a court judgment against the Russian and Ukrainian partners within Sea Launch. The decision sets up a court trial planned for November 2015 where Boeing will argue that it was not properly reimbursed for 356 million USD of expenses incurred while operating the Sea Launch launch system.
As of December 2015, Roscosmos and RSC Energia are attempting to find a buyer for the Sea Launch assets, due to the high cost of infrastructure maintenance of approximately 30 million USD per year.
In September 2016 the Russian S7 Group acquired the Sea Launch Group including the assets of the Sea Launch complex, i.e. Commander vessel, the Odyssey Launch Platform, with the launch support equipment; ground support equipment at the home port facility in Long Beach, California, and the Sea Launch trademark.
The S7 Group is the largest private aviation holding company in Russia comprising air transportation and maintenance companies, specifically, S7 Airlines, with a fleet of 66 modern aircraft (21 Boeing and 45 Airbus), one of the newest and most modern aircraft fleets on the Russian air transportation market. S7 Airlines has the wide route network based on air transport hubs in Moscow (Domodedovo Airport) and Novosibirsk (Tolmachevo). It serves 145 routes in 27 countries across Russia CIS, Europe, Middle-East, South-East Asia and Asia-Pacific region. In 2010 S7 Airlines joined Oneworld global airline alliance, lining up 14 world's leading airlines from every continent of the world. In cooperation Oneworld airlines serve more than 1,000 destinations in 150 countries. In 2015, the airline carried over 10.6 million passengers. The holding company's revenue for 2015 exceeded 1.3 billion USD.
In April 2018 the S7 Group has finally closed the transaction on its 109 million USD purchase of Sea Launch from RSC Energia and will rename Sea Launch to SL Aerospace. The company also announced that Russia's RSC Energia and Roskosmos State Corporation and the Ukraine-based Zenit manufacturer Yuzhmash would be partners in Sea Launch, which would be managed from Moscow by the S7 KTS company, also known as S7 Space.
S7 intends to eventually conduct ocean-based satellite launches with a new vehicle called Soyuz 5. The rocket's design allegedly takes notes from SpaceX's Falcon 9 and Falcon Heavy, including a reusable first stage and modular multiple engine boosters for a heavy lift variant.
In February 2020 S7 Group moved the 46,000-ton Sea Launch's Odyssey launch platform to Slavyanka Shipyard near Vladivostok in Russia using a Chinese cargo ship. S7 Group confirmed that no further launches were planned for the foreseeable future but will start the 470 million USD reconstruction and modernization of the platform in November 2020. The company expects to resume operations in 2023/24 with the prospective Soyuz-5 and Soyuz-6 rockets.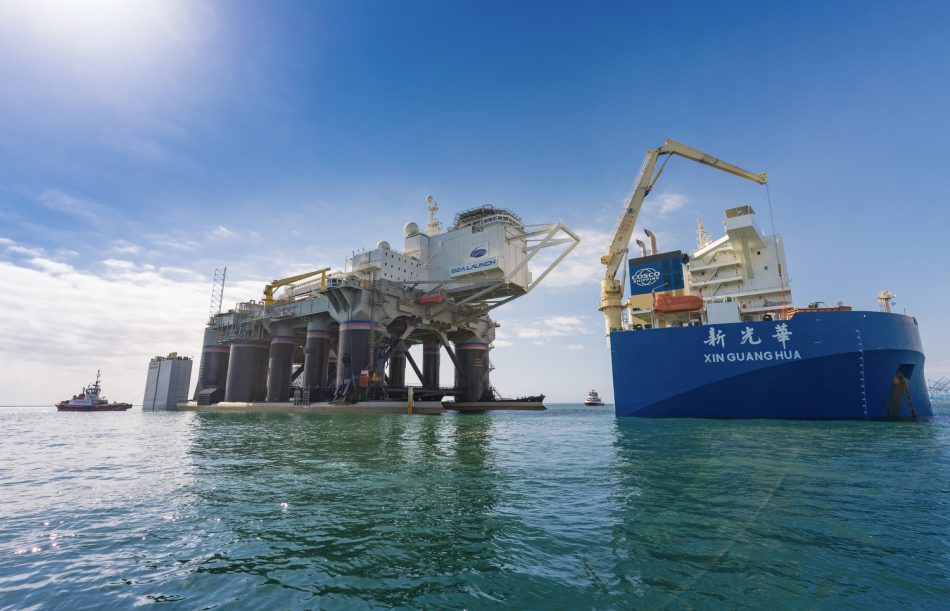 Ownership and business
Sea Launch was founded by four companies from four countries, which shared the original ownership of Cayman Islands-registered Sea Launch. After reorganizing from Chapter 11 bankruptcy in 2010, a majority share of the company was acquired by Russia based RKK Energiya (RSC Energia).
The project was helped by Hughes Space & Communications, which in 1995 signed the first contract for 10 launches and 10 optional launches, with a value of 1 billion USD, and Space Systems/Loral (SS/L), which then signed a five-launch contract.
Total cost of the project has been reported at 583 million USD in 1996. Chase Manhattan arranged about 400 million USD in loans in 1996.
Sea Launch has a reciprocal agreement with Arianespace and Mitsubishi Heavy Industries through the Launch Services Alliance, providing assurance in case either company's system is not able to launch a payload for reasons of reliability, capacity, backlog, or otherwise. This was used for the first time in 2004 when Arianespace's Ariane 5 had to reschedule a group of launches for reliability reasons.
In 1999, shortly after the company was founded, the Sea Launch consortium claimed that their launch-related operating costs would be lower than a land-based equivalent due in part to reduced staff requirements. The platform and command ship have 310 crewmembers.
Founding company
Nation of origin
Initial share
('95 to '10)
Share
(Since 2010)
Contribution
Energia
Russian Federation
25%
95%
Block DM-SL rocket stage
(used in the Zenit-3SL rocket as its
3rd stage)
Boeing Commercial Space
United States
40%
2.5%
System integration, payload enclosures
(nose-cone protecting the satellite
during launch)
Aker Solutions
Norway
20%
2.5%
Launch platform (Ocean Odyssey) and
command ship (Sea Launch Commander)
Yuzhnoye/Yuzhmash
Ukraine
15%
0%
Two-stage Zenit rocket (used as Zenit-3SL's
stages 1 and 2)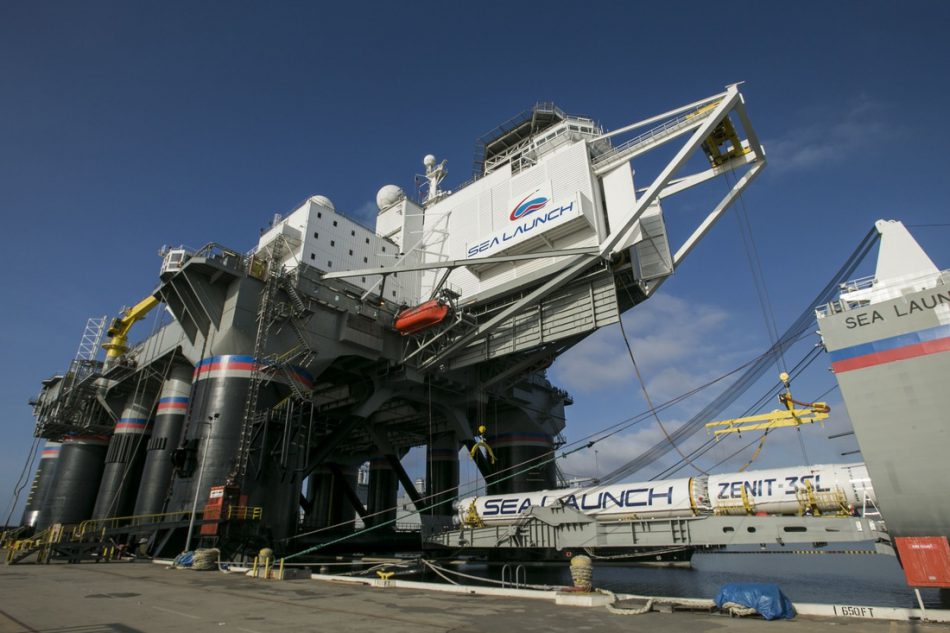 Launch System
The Sea Launch Zenit-3SL launch system consists of 3 systems: the Rocket Segment (Zenit-3SL), the Marine Segment (Launch platform Odyssey and Commander ship) and the Home Port Segment (Port and Facilities).
Rocket segment: the Zenith-3SL launch vehicle
The Zenit-3SL rocket is launched from a floating launch platform positioned on the equator in the Pacific Ocean. The Zenit-3SL comprises a two-stage Zenit-2 launch vehicle designed by Yuzhnoye Design Office and manufactured by defense industry giant Yuzhmash, The block DM-SL booster stage was developed by RSC Energia and a payload unit developed by Boeing. The first launch was conducted on March 28th 1999. In total 36 launches were conducted and 33 of them were successful and three launches failed.
The first failure, the launch of a Hughes-built communications satellite owned by ICO Global Communications (now Pendrell Corporation, a company that develops and implements strategies to acquire, commercialize, manage, divest and license IP), occurred during the second commercial launch on March 12th, 2000 and was blamed on a software error that failed to close a valve in the second stage of the rocket. The second failure occurred on January 30th, 2007 when the rocket exploded on the Odyssey launch platform, seconds after engine ignition. The SES' NSS-8 satellite on board was destroyed.
On September 24th, 2011 Zenit-3SL launched successfully from the Odyssey launch platform under a renewed Sea Launch project with RSC Energia as the majority stakeholder. The rocket delivered the European communication satellite Atlantic Bird 7 to its planned orbit. On February 1st, 2013 another Zenit-3SL failed while launching the Intelsat's Intelsat-27 satellite.
The Marine segment: The Sea Launch Commander and Odyssey Launch Platform
The Marine Segment is comprised of the Sea Launch Commander and the Launch Platform Odyssey. The Sea Launch Commander is a vessel that serves as the Assembly and Command Ship (ACS) and built specifically for Sea Launch to combine the newest maritime technology with the ability to test and assemble an integrated launch vehicle and subsequently remotely command the launch of the Zenit-3SL at the equatorial launch site. The basic structure of the ACS is that of a roll-on/roll-off cargo vessel. The ship was built at the Govan Shipyard in Glasgow, Scotland. In the fall of 1997, the ship sailed for Russia, where special equipment for handling rocket components and for commanding and controlling launches was installed and tested. It arrived in Long Beach, California, on July 13, 1998, after a voyage through the Panama Canal. While pier-side, the vessel is a floating rocket integration facility, where the Zenit-2S rocket stages, Block-DM-SL upper stage and payload accommodations are integrated horizontally in advance of its transfer to the Launch Platform Odyssey.
The Launch Platform Odyssey utilizes the maritime capability of a self-propelled modified oil-drilling platform to provide a stable platform that is capable of holding position during launch operations. The two vessel are integrated together by the means of line-of-sight radio links that allow all of functions of the Odyssey to be commanded remotely from the bridge of the Sea Launch Commander during the final countdown.
Home Port Segment
The Sea Launch Home Port complex provides the facilities, equipment, supplies, personnel, and procedures necessary to receive, transport, process, test, and integrate the spacecraft and its associated support equipment with the Sea Launch system. Home Port consists of this payload processing facility, office buildings, customer offices, several warehouses, and a pier. Other elements include control rooms, fueling equipment, ground support equipment, and tracking and communication assets.
Kvaerner, based in London, England, is one of Europe's largest marine operators, with extensive experience in developing offshore oil platforms designed for operations in the harsh North Sea environment. During development, Kvaerner was responsible for:
Designing the assembly and command ship
Designing and building the launch platform
Integrating the marine elements
In 2018 Sea Launch was acquired by Russian S7 Group and in 2020 all vessels were moved to a port near Vladivostok in Russia. The company considers to refurbish both vessels to resume operations and to challenge SpaceX. The Nyon HQ in Switzerland was liquidated.

All trademarks and logos mentioned and showed on this page are property of their respective owners.

Resources
www.sea-launch.com
www.boeing.com
www.energia.ru
www.akersolutions.com
www.yuzhmash.com
www.yuzhnoye.com
www.kosmotras.ru
www.wikipedia.com
www.navy.memorieshop.com
www.abyss.uoregon.edu
www.youtube.com
www.satellitetoday.com edition 28 Sept.2016
www.satellitetoday.com edition 18 Sept 2018
www.russianspaceweb.com
www.flightglobal.com edition 25 May 2010
www.spacenews.com edition 26 February 2020
www.spacenews.com edition 24 April 2020
www.spacewatchglobal.com
www.polb.com edition 27 February 2020