Arianespace
Arianespace is one of the world's leading satellite launch company, operating a full family of launchers: Ariane 5 for heavy lift spacecraft, the Soyuz for medium size and Vega for light weight spacecraft.
The French multinational company was the world's first commercial launch serviceprovider and operates five locations worldwide for the production, operation and marketing of the Ariane program. Arianespace operates its launch services from South America (at the Spaceport in French Guiana) and Central Asia (at Baikonur Cosmodrome in Kazachstan).
The company was founded in 1980 and has its headquarters in Courcouronnes, France, near Paris. Arianespace, a subsidiary of The Arianegroup, launched more than 550 satellites since 1980. Total revenues in 2018 exceeded 1.4 billion euros.
On 21 October 2011 Arianespace launched the first Soyuz rocket ever from outside former Soviet territory. The payload was two Galileo navigation satellites.
Arianespace primary shareholders are its suppliers, in the various nations of the EU. Arianespace currently has 20 shareholders with France as the largest stakeholder (64%) in the Ariane development program. Other countries that support the program are Germany (20%), Belgium (3,5%), Denmark, Spain (2%), Italy (3%), The Netherlands (2%), Norway (0,1%), Sweden and Switzerland (2,7%).
Arianespace launched satellites for all major satellite operators, such as Intelsat, Eutelsat, Telesat, SKY Perfect JSAT from Japan, ISRO from India, Hellas-Sat (ArabSat) and many others.

Company History
To celebrate the 30th anniversary of the first Ariane launch, we look back at that day in December 1979 when Europe's independent adventure into space began. When ESA came into being in 1975, one of its first objectives was to build a European launcher. The reason was simple: no launcher, no independent access to space and no space program.
Although the Member States of ESA had different interests and priorities, some were interested in carrying out research in space while others were more concerned in developing satellites, on one point they were unanimous: Europe needed to have independent access to space and its own space program. This meant that it had to develop launchers and have its own Spaceport.
In 1964, the French government had chosen Kourou in French Guiana as a base from which to launch its satellites. When ESA was created, the French government offered to share its Centre Spatial Guyanais (CSG) with the new space agency. For its part, ESA approved funding to upgrade the launch facilities at the CSG to prepare the Spaceport for the Ariane launchers under development.
The first flight of an Ariane rocket was scheduled for December 15th 1979. On that day, in front of a large and expectant audience at Kourou, the countdown reached zero and the rocket motor underneath the launcher roared into life and then went out.
Fortunately, the fault was not serious and the launch was rescheduled for December 23rd, but then bad weather and a few small problems led to yet another delay. The next attempt proved to be third time lucky. On December 24th, at 14:14 PM local time, Ariane 1 blasted into space from Europe's Spaceport and Europe's independent adventure in space had begun.
During 2002, the ESA announced the Arianespace Soyuz programme in cooperation with Russia; a launch site for Soyuz was constructed as the Guiana Space Centre, while the Soyuz launch vehicle was modified for use at the site. On February 4th  2005, both funding and final approval for the initiative were granted. Arianespace had offered launch services on the modified Soyuz ST-B to its clients.
On 21 October 2011 Arianespace launched the first Soyuz rocket ever from outside former Soviet territory. The payload was two Galileo navigation satellites.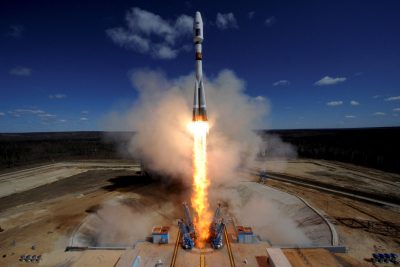 In 2004, Arianespace held more than 50% of the world market for boosting satellites to geostationary transfer orbit (GTO).
US based SpaceX owned by Elon Musk, was new in the market and forced Arianespace to cut workforce and focus on cost cutting to decrease costs to remain competitive against the new low-cost entrant in the launch sector. SpaceX' competition forced the whole European industry to restructure, consolidate, rationalize and streamline it operations.
In the midst of pricing pressure from SpaceX, Arianespace made a November 2013 announcement of pricing flexibility for the 'lighter satellites' it carries to Geostationary orbits aboard its Ariane 5. Reducing pricing allowed Arianespace to sign 4 additional contracts in September 2014 for a lower slot on an Ariane 5 launcher for the satellites that otherwise could be flown on SpaceX launch vehicle.
In September 2014 Arianespace had a backlog of launches worth 4.5 billion euro with 38 satellites to be launched on Ariane 5, 7 on Soyuz and 9 on Vega, claiming 60% of global satellite launch market. By November 2014, SpaceX had gained significant market share from Arianespace, reducing its costs through economies of scale.
In July 2017 Airbus Safran Launchers changed the name into ArianeGroup, controlling seven subsidiaries:
Arianespace, based in Paris France, the satellite launch company, operating a full family of launchers, Ariane 5, Soyuz and Vega from spaceport in French Guiana and Baikonur Cosmodrome Kazachstan.
Aerospace Propulsion Products (APP), based in The Netherlands, is specialized in the development and production of igniters and gas generators for the Ariane 5 and Vega rockets and launcher applications (e.g. Ariane 5 turbine pump starter).
Eurockot Launch Services, GmbH, from Bremen in Germany, is a joint venture of Airbus Safran Launchers and Khrunichev Space Center and performs launches of satellites into Low Earth Orbits (LEO) for institutional and commercial satellite operators.
Nucletudes was a subsidiary of the EADS group (aka Airbus Defence & Security), based in France and has a worldwide recognized expertise in the hardening engineering for protecting systems and equipment against irradiative and electromagnetic aggressions.
PyroAlliance SA, based in Les Mureaux, France, designs, develops, produces, and markets energetic equipment for aerospace, defense, and industrial sectors in France.
Sodern based in Limeil-Brévannes, near Paris, France, is specialized in space instrumentation, optics and neutron analyzers.
CILAS, founded in 1966, is a high-technology engineering company specialized in laser and optics.
In 2020 Arianespace suspended operations for nearly two months due to the Covid-19 pandemic.
On February 28th, 2022 the company suspended all Soyuz launches operated by Arianespace and the Starsem Russian affiliate, following sanctions from the EU, USA and the UK issued because of Russia's invasion of Ukraine. The Soyuz is a Russian-made rocket and the Arianespace/Starsem operation is governed by an international agreement between France, Russia and the ESA.
Launch Vehicles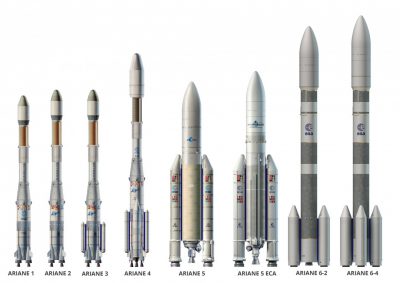 Ariane Launchers

Arianespace has operated various versions of the Ariane since the first launch in 1979:
Ariane 1, max payload mass 1.83 tonnes, first successful launch on December 24th 1979.
Ariane 2, max payload mass 2,27 tonnes, first successful launch on November 20th 1987.
Ariane 3, max payload mass 2,65 tonnes, first successful launch on August 4th 1984.
Ariane 4, with 6 versions: 40 (max payload mass 2,0 tonnes), 42P (max payload mass 2,7 tonnes), 44P (max payload mass 3.1 tonnes), 42L (max payload mass 3,3 tonnes), 42LP (max payload mass 3,8 tonnes), 44LP (max payload mass 4.3 tonnes), first successful launch on June 15th 1988),
Ariane 5, with 2 versions: Ariane 5ES (max payload to LEO: 21 tonnes) and Ariane 5ECA (max payload to GTO: 10,5 tonnes), first successful launch on October 30th 1997.
The new Ariane 6 vehicle, developed by ArianeGroup and its European industrial partners, would have a similar payload capacity to the Ariane 5 but has considerably lower costs. Ariane 6 will be available in two versions depending on the required performance: A62 with two strap-on boosters, and A64 with four.
Ariane 6 first test flight is planned for 2024.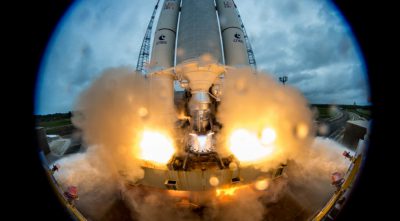 Soyuz Launcher
Arianespace operates the Soyuz medium launcher at the Guiana Space Centre (Soyuz CSG or Arianespace Soyuz) to accompany the light Vega and heavy-lift Ariane 5. The updated Soyuz 2 vehicle is supplied by Roscosmos with TsSKB-Progress and NPO Lavochkin, while additional components are supplied by Airbus Defense & Space, Thales Alenia Space and RUAG from Switzerland.
The Soyuz launcher can orbit spacecraft with a maximum payload mass of 4,4 tonnes to LEO and 3,25 tonnes to GTO.  Soyuz is a four-stage launcher, designed to high reliability levels with more than 1,900 manned and unmanned missions performed to date.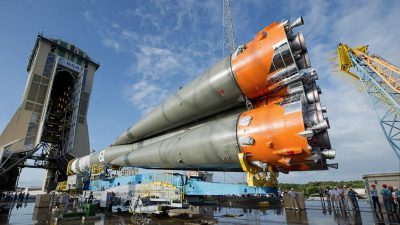 Vega Launcher
The Vega launcher, manufactured and delivered to Arianespace by Avio, is a four-stage orbital rocket that was first developed in 1998 and had its maiden flight in February 13th 2012 carrying scientific satellite for international customers.
The Vega will launch small satellites ranging in size from 1 kgs to 500 kgs for the Small Spacecraft Mission Service (SSMS) program that was created by ESA in cooperation with the EU. The program was started to help bolster Arianespace's response to the rideshare demands of the ever-growing small satellite launch market.
The Vega project was conceived in Italy in 1988, when a US-built Scout launcher carrying Italian satellites from a floating platform off the coast of Kenya was retired. To replace it, the Italian firm BPD Difesa Spazio proposed to the newly formed Italian Space Agency (ASI), a domestically built rocket. The new vehicle would be based on the Zefiro motor developed by the company for the European Ariane program.
The Vega launcher can orbit spacecraft with a maximum payload mass of 1,45 tonnes to LEO.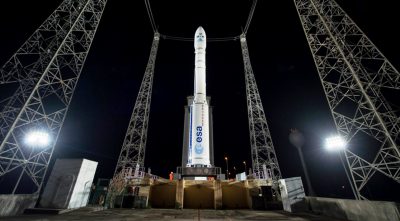 Launch Facilities
Arianaspace is operating Spaceport Europe in Kourou in French Guyana, an overseas French territory for the launches on Ariane 5, Soyuz and Vega vehicles.
In 1964 the French Government chose Kourou, from 14 other sites, as a base from which to launch its satellites. When the European Space Agency (ESA) came into being in 1975, the French Government offered to share its Centre Spatial Guyanais (CSG) with ESA. For its part, ESA approved funding to upgrade the launch facilities at the CSG to prepare the Spaceport for the Ariane launchers under development.
The Arianespace Soyuz project was announced by the ESA in 2002. Cooperation with Russia began in two areas: construction of a launch site for Soyuz in CSG and development of the Soyuz launch vehicle modified for the Guiana Space Centre. In 2007 the construction of the Soyuz Launch Complex started to be completed in 2011, allowing Arianespace to offer launch services on the modified Soyuz ST-B to its clients. Since 2011, Arianespace has ordered a total of 23 Soyuz rockets, enough to cover its needs until 2019 at a pace of three to four launches per year.
Since then, ESA has continued to fund 2/3 of the spaceport's annual budget to finance the operations and the investments needed to maintain the top-level services provided by the Spaceport. ESA also finances new facilities, such as launch complexes and industrial production facilities, for new launchers such as Vega or for the exploitation of Soyuz.
Kourou was an ideal launch site since it lies at latitude 5°3′, just over 500 km north of the equator. Its nearness to the equator made it ideally placed for launches into geostationary transfer orbit as few changes had to be made to a satellite's trajectory. Also, French Guiana is scarcely populated and equatorial forests cover 90% of the country. In addition, there is no risk of cyclones or earthquakes.
Launchers also profit from the 'slingshot' effect, that is the energy created by the speed of the Earth's rotation around the axis of the Poles. This increases the speed of a launcher by 460m per second. These important factors save fuel and money, and prolong the active life of satellites.
Thanks to its geographical position, the launch site offers a launch angle of 102°, enabling a wide range of missions from east to north.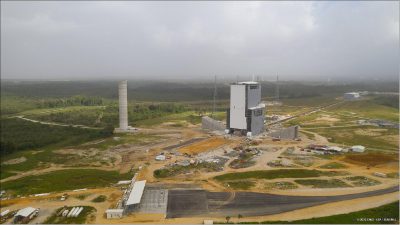 Arianespace is constructing the launch site for the new Ariane 6 rocket. The launch complex covers 170 hectares, with buildings on 18 hectares. The site is located 17 km away from the town of Kourou and 4 km west from the Ariane 5 launch pad.

Resources
www.arianespace.com
www.ariane.group
www.safran-group.com
www.airbusafran-launchers.com
www.esa.int
www.directory.eportal.org
www.space.com  edition February 27th 2019
www.eurockot.com
www.wikipedia.org
www.pyroalliance.fr
www.russianspaceweb.com
www.youtube.com
www.bloomberg.com
www.sodern.com
www.owler.com
www.spacenews.com  edition May 17th 2017
www.spacenews.com  edition January 15th 2019
www.nasaspaceflight.com  edition September 1st 2020
www.cilas.com
www.satellitetoday.com  edition March, 3rd, 2022