NSS-5 (NSS-803, Intelsat 803) at 50° East (De-orbited)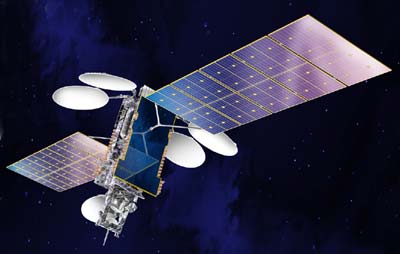 | | |
| --- | --- |
| Position: | NSS-5 (NSS-803, Intelsat 803) at 50° East (De-orbited) |
| Manufacturer: | Lockheed Martin |
| Operator: | SES |
| Launch operator: | Arianespace |
| Launch vehicle: | Ariane 42P |
| Launch date: | 09/23/1997 |
| Expected lifetime: | 15 Years |
NSS-5, formerly known as Intelsat 803 and NSS-803, is a communications satellite operated by satellite operator Intelsat.  The satellite was constructed by Lockheed Martin, based on their AS-7000 platform. The satellite was launched in 1997 and operated in geostationary orbit at a longitude of 50.5° East for around 14 years.
In April 1998, to address US government concerns about market power, Intelsat spun off five of its older satellites and one satellite that was under construction, to newly formed New Skies Satellites (NSS), based in The Hague in The Netherlands. NSS became a direct competitor to Intelsat. NSS renamed the satellites and the Intelsat-803 satellite was renamed New Skies Satellites 803 (NSS-803). The satellite was moved from 183° East to 57° East to cover NSS-703's service area until NSS-12 launched on October 29th, 2009.
in 2005 satellite operator SES from Luxembourg acquired New Skies Satellites, transferring its satellite assets to SES. NSS-803 was renamed NSS-5.
In June 2012 the satellite was moved to 22° West and then 20° West as part of a swap-out plan with NSS-7 and SES-4. Later the satellite was moved in September 2012 to 50.5° East to secure this orbital slot for Thai satellite operator Thaicom.
Intelsat-803 was launched on September 23rd, 1997 on an Ariane 42L booster rocket operated by launch operator Arianespace from the Kourou Space Port in French Guiana.