Eutelsat QUANTUM at 48° East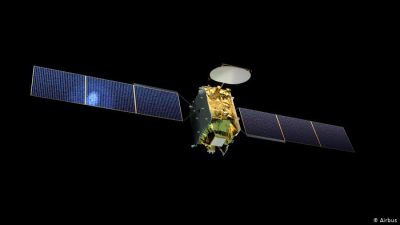 On July 9th 2015, Eutelsat, satellite manufacturer Airbus Defense & Space and the European Space Agency (ESA) signed an agreement for the construction of a telecommunications satellite called the "QUANTUM" that would be very different from all its predecessors. At the beginning of 2021 the construction was finished.
The QUANTUM satellite is a so-called "chameleon" satellite, it can quickly adapt and change its character at the push of a button. The satellite controllers can re-target the signal beams the satellite sends to earth toward specific geographic regions, as needed. Also, the strength, frequency and bandwidth of the satellite signals can be adjusted and changed separately.
The QUANTUM satellite was expected to be launched in 2019, but the launch was rescheduled twice due to the market conditions following the COVID-19 events.
The first QUANTUM satellite, with a mass at launch of 3.5 tonnes and a lifespan for 15 years, will be positioned above the Atlantic at 48° East offering extensive coverage to Europe, the Americas and the MENA Region.
Launch operator Arianespace conducted the launch on July 30th 2021 using their Ariane 5ECA launcher from the Kourou Spaceport in French Guiana.