Eutelsat
Eutelsat Communications S.A. is the French-based satellite operator. Providing coverage over the entire European continent, as well as the Middle-East, Africa, India and parts of Asia and the Americas, it is one of the world's three leading satellite providers (SES, Intelsat & Eutelsat) in terms of revenues.
Eutelsat's satellites are used for broadcasting 5,800 TV's, of which 600 are in HD, and 1100 radio stations to over 250 million cable and satellite homes. They also serve requirements for TV contribution services, corporate networks, mobile communications, Internet backbone connectivity and broadband access for terrestrial, maritime and in-flight applications. Eutelsat is headquartered in Paris, France.

Company History and Acquisitions
The European Telecommunications Satellite Organization (Eutelsat) was originally set up in 1977 as an intergovernmental organization (IGO) to develop and operate a satellite-based telecommunications infrastructure for Europe. It started operations with the launch of its first satellite in 1983.
Initially established to address satellite communications demand in Western Europe, Eutelsat rapidly developed its infrastructure to expand coverage to additional markets, such as Central and Eastern Europe in 1989, and the Middle-East, the African continent, and large parts of Asia and the Americas from the 1990's.
Eutelsat Communications S.A. was the first satellite operator in Europe to broadcast television channels direct-to-home (DTH). It developed its premium neighborhood of five Hot Bird satellites in the mid-1990's to offer capacity that would be able to attract hundreds of channels to the same orbital location, appealing to widespread audiences for consumer satellite TV.
With the general liberalization of the telecommunications sector in Europe, the IGO's operations and activities were transferred to a private company called Eutelsat S.A. in July 2001.
In April 2005, the shareholders of Eutelsat S.A. grouped their investment in a new entity (Eutelsat Communications), which is now the holding company of the Group owning 95% of Eutelsat S.A. on October 6, 2005. Currently it owns 96% of Eutelsat S.A.
In December 2006 Spanish infrastructure operator Abertis Infraestructuras acquired a 32% stake in Eutelsat Communications from several investment funds for 1.1 billion euros (1.4 billion USD).
On February 19th 2007 Eutelsat and satellite networking systems manufacturer and satellite operator ViaSat, Inc. announced a new cooperation agreement to jointly offer affordable, high-quality consumer broadband satellite service in underserved markets in Europe. Starting from June 2007, the service will use Ka-band capacity on Eutelsat's HOT BIRD™ 6 satellite. KA-SAT was manufactured by EADS Astrium (aka Airbus Defense & Space) and launched in December 2010 by launch operator ILS on a Proton launch vehicle.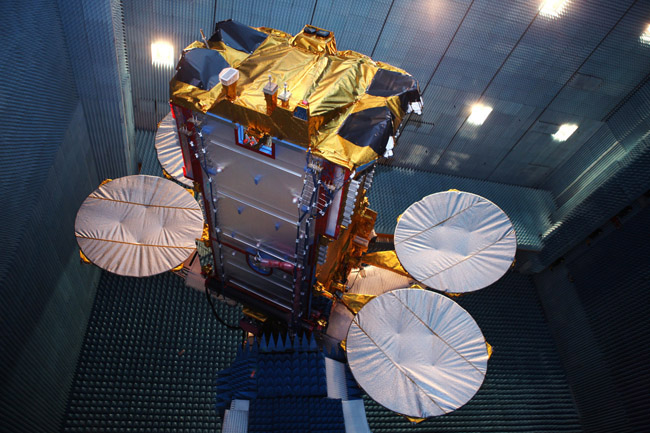 The KA-SAT satellite operates in conjunction with ten terrestrial teleports (two of them as a backup) providing Internet gateway services, parts of the Eutelsat's Tooway service, all of them linked by the "KA-SAT ring", a terrestrial telecommunication high-speed network. The service is centrally operated from Eutelsat's affiliate Skylogic's NOC based in Torino, Italy. Skylogic's two teleports (SkyPark in Turin and Skylogic Mediterraneo near Cagliari on Sardinia) are among the largest satellite service platforms in the world. The data communications used on the KA-SAT satellite are transmitted to and from antenna systems manufactured by ViaSat. In November 2020 Viasat purchased the controlling stake of 51% in Euro Broadband Infrastructure (EBI) including the KA-SAT satellite from Eutelsat. The transaction would strengthening Viasat's market penetration for European Broadband activities.
In 2008 Eutelsat created Solaris Mobile in a joint venture with SES satellite operator to develop next generation mobile communication services. In May 2009, the European Commission awarded Solaris Mobile the right to operate satellite & terrestrial services in the 2Ghz S-Band in all EU member states. On January 6th 2014 EchoStar satellite operator acquired 100% ownership of Solaris Mobile, Ltd.
In 2012 Eutelsat started a new system for naming its satellites that will see them named around the Eutelsat brand. The satellites would take the Eutelsat name associated with the relevant figure for their orbital position. For example, Eutelsat's W6 satellite, which is at the 21.5° East orbital location, will become Eutelsat 21A. Its Atlantic Bird-2 satellite will become Eutelsat 8 West A. The same pattern will also apply to the KA-SAT Satellite.
In September 2012 Eutelsat acquired the GE-23 satellite, a high-quality satellite equipped with a flexible payload of C- and Ku-band capacity over the Asia-Pacific region, and its orbital rights of the 172° East orbit, from GE Capital. The satellite was renamed Eutelsat 172A. The satellite was built by Alcatel Space (Thales Alenia Space) and launched in December 2005 by launch operator ILS.
On January 2nd 2014 Eutelsat Communications acquired 100% share in Satélites Mexicanos, S.A. de C.V. (SatMex) for a 831 million USD transaction. Based in Mexico, SatMex operated three satellites at contiguous positions, 113° West (SatMex-6), 115° West (SatMex-5) and 117° West (SatMex-8) that cover 90% of the population of the Americas. SatMex was renamed in Eutelsat Americas.
In May 2014 Eutelsat sold its German direct-to-cable platform KabelKiosk to media company M7 Group. The successful B2B platform had been the only major foothold left for Eutelsat in Germany but lost the battle for the German DTH market to arch rival satellite operator SES and its Astra fleet in 1990's. KabelKiosk which emerged 10 years ago out of Fremdsprachenplattform, a delivery platform providing cable operators with foreign-language TV channels for ethnic minorities.
On April 7th 2016 CANAL+ Group, through its subsidiary THEMA, acquired Miami-based content distribution platform Alterna'TV from Eutelsat Americas. Alterna'TV provides principally Latin American channels to cable and Internet TV operators in the United States. It currently reaches over ten million subscribers across the Americas. The transaction includes a long-term agreement for the lease of capacity on the Eutelsat 113 West A and Eutelsat 117 West A satellites.
On September 2nd 2016 leading global satellite communications company Speedcast International, Ltd. acquired WINS, Ltd. that was jointly owned by Eutelsat and Maltasat, in an all-cash deal of 60 million euro (70 million USD).
On November 2nd 2016 European specialist in digital technologies for the cinema industry Ymagis acquired the Eutelsat's 50.2% stake in DSAT Cinema.
In October 2017 Eutelsat consolidated its presence in Middle-East with the acquisition of NOORSAT, a leading satellite service provider in the Middle-East. Noorsat, established in 2004, was owned by the Bahrain's Orbit Holding Group and is the premier distributor of Eutelsat capacity in the Middle-East, serving blue-chip customers and providing services for over 300 TV channels almost exclusively from Eutelsat's market-leading Middle-East and North Africa neighborhoods at 7/8° West and 25.5° East.
In August 2018 Eutelsat sold the interest in its Eutelsat 25b/Es'hail-1 satellite to Es'hailSat satellite operator, based in Qatar, in a 135 million euro deal (156.30 million USD). Eutelsat 25b/Es'Hail-1 was launched by Arianespace in 2013 and became Qatar's first communications satellite. The satellite, provides coverage of Middle-East, North Africa and Central-Asia.
In April 2021 Eutelsat took a 24% stake in OneWeb by investing 550 million USD, making a substantial move in Low-Earth Orbit (LEO),but this percentage has diminished to 17.6% as a result of additional investments from other organizations including SoftBank and Hanwha. The investment closes the gap in funding necessary for OneWeb to complete its mega-constellation in the sky of 648 LEO satellites. OneWeb was bought out of bankruptcy in 2020 by the British government and Indian conglomerate Bharti Global, and launched another 36 spacecraft, taking its total in-orbit network to 182.

In October 2021 Eutelsat increased its stake in OneWeb close to 23%. The company spend another 165 million USD to increase its stake in OneWeb from 17.6% to 22.9%. Eutelsat would be the second-largest shareholder behind Bharti Global, which holds 30%, strengthening its position as a key shareholder and partner of OneWeb.
In July 2022, Eutelsat reached an agreement to merge with the LEO satellite operator OneWeb, aiming to establish a unified and influential global player in connectivity and to compete effectively against SpaceX's Starlink. This merger, valued at 3.4 billion USD and structured as an all-stock transaction, was successfully finalized in September 2023. Eutelsat will maintain its headquarters in Paris, while OneWeb will continue to operate as a subsidiary under the name Eutelsat OneWeb, with its primary operational center remaining in London. The merged company came with a new logo, the Eutelsat OneWeb Group, and represents the only GEO-LEO operator in satellite communications capable of delivering a seamless and widespread connectivity service.

All trademarks, logos and images mentioned and showed on this page are property of their respective owners.

Resources
www.eutelsat.com
www.eutelsatamericas.com
www.skylogic.it
www.wikipedia.org
www.cnbc.com edition December 5th 2006
www.satsig.net
www.space.skyrocket.de
www.tooway.com
www.cotelettron.it
www.echostar.com
www.satmagazine.com edition December 2010
www.prnewswire.com edition September 25th 2012
www.spacenews.com edition August 1st 2013
www.satellitetoday.com edition January 2nd 2014
www.broadbandtvnews.com edition May 20th 2014
www.broadbandtvnews.com edition August 4th 2014
www.broadcastingcable.com edition April 7th, 2016
www.ymagis.com
www.sky-brokers.com
www.ciodive.com
www.viasat.com
www.speedcast.com
www.winssystems.com
www.capacitymedia.com edition November 19th, 2020
www.satellitetoday.com edition April 29th, 2021
www.bbc.com
www.satellitetoday.com edition October 6th, 2021
www.totaltele.com edition October 7th, 2021
www.cnbc.com edition July 26th 2022
www.techcrunch.com edition July 26th 2022
www.gov.uk
www.satellitetoday.com edition September 28th, 2023