Indosat Ooredoo
Indosat Ooredoo, formerly known as PT Indonesian Satellite Corporation Tbk (PT Indosat), is Indonesia's 2nd telecommunication services provider and satellite operator. It currently operates two satellites (Palapa-C2 & Palapa-D) in orbit and had one satellite (Palapa-E) planned for 2016. That satellite was ordered with Orbital Sciences Corp. (Orbital ATK – Nortrop Grumman), but Indosat cancelled the contract after losing the operating rights to the 150.5° East orbital slot to state-owned Bank Rakyat Indonesia (BRI). The BRI satellite, built by Space Systems/Loral (SS/L), is operated by BRISat and delivers highly reliable communications services to BRI's 11,000 bank branches across the Indonesian archipelago.
In February 2013, Qtel, a majority stakeholder in Indosat, rebranded itself as Ooredoo. This was followed by a renaming of all their subsidiaries across multiple countries. Indosat was renamed Indosat Ooredoo in November 2015.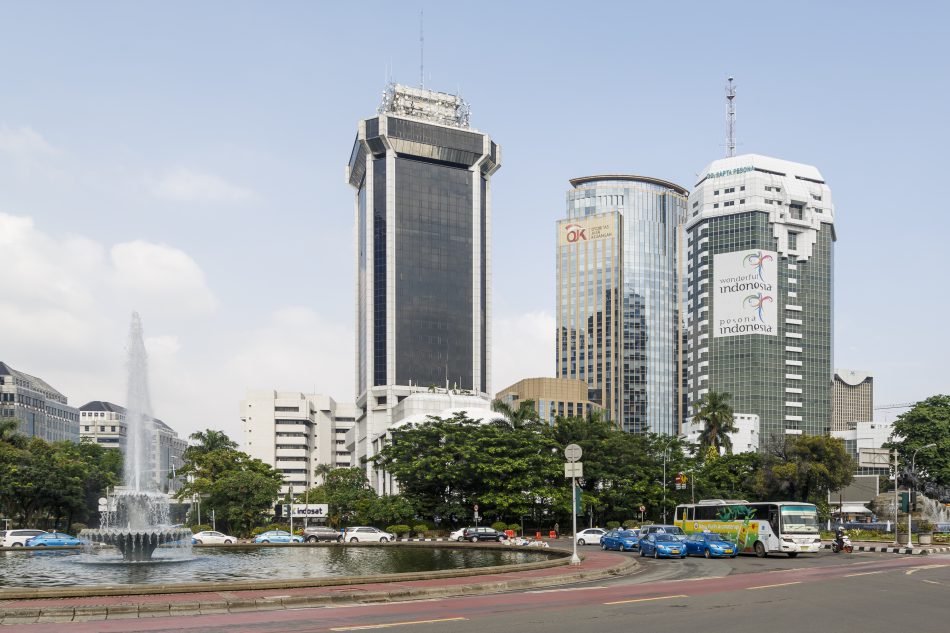 As of Q4 2018, Indosat had 58 million subscribers. This is a sharp decrease from 2017, where the number was reported as 110 million. The market share was 17%, making them the second largest mobile network operator in the country.

Company History
PN Telekomunikasi was established by the Government on November 10, 1967 as a foreign investment company to provide international telecommunications services in Indonesia. The company started commercial operations in September 1969 and was planning to build, transfer and operate an International Satellite Organization (Intelsat) and earth stations in Indonesia to access Intelsat's Indian Ocean Region satellites for a period of 20 years.
In 1974 PN Telekomunikasi was further divided into two state-owned companies. Perusahaan Umum Telekomunikasi (Perumtel) provided domestic and international telecommunications services, while PT Industri Telekomunikasi Indonesia (PT INTI) manufactured telecommunications equipment. A further division in 1980 saw the international telecommunications business taken over by the newly established PT Indonesian Satellite Corporation (Indosat). The company connected to Intelsat satellite network and built up a Teleport in Indonesia, to access Intelsat's Indian Ocean Region satellites until 1989.
By 1998 the industry landscape underwent considerable changes and reformations resulting in the elimination of the joint ownership, by TELKOM and Indosat, of most of the telecommunications companies in Indonesia. Later that year (28 September 1998), as an effort to improve the global competitiveness of Indonesian satellite operators, the ASSI was established by five satellite operators, PT Telekomunikasi Indonesia Tbk, PT Indosat Tbk, PT Satelindo (merged with PT Indosat Tbk in 2004), PT Pasifik Satelit Nusantara (PSN) and PT Media Citra Indostar.
Following regulatory changes in the Indonesian telecommunications industry in 1999 and 2000, PT Indosat began implementing a strategy designed to transform the company from being Indonesia's primary international telecommunications provider into a leading, fully integrated telecommunications network and service provider.
Subsequent to the agreement with Telkom, a 45% interest was acquired in Satelindo, through the acquisition of PT Bimagraha Telekomindo in 2001 and acquired the remaining 25% ownership interest in Satelindo from DeTe Asia in June 2002.
On November 20, 2003, the company merged with Satelindo, Bimagraha and IM3 and all assets and liabilities of such legacy subsidiaries were transferred.
In 2012 PT Telkom and PT Indosat agreed to provide joint satellite services for their subscribers in Indonesia. The new satellite, Palapa-E would operate to meet future need of HD television and telecommunication services of Indonesia. Both the companies agreed to spend USD 200 million for the procurement of the Palapa-E spacecraft that was contracted to be built by Orbital Sciences Corporation (Orbital ATK – Northrop Grumman). The new satellite replaced the Palapa-C2,which stopped orbiting in 2014.

Palapa History
The Indonesian satellites carry the name "Palapa," a word that signifies unity. The name Palapa was chosen by president Suharto and means 'fruits of labor'. The country has more than 13,000 islands, and satellites are the most efficient and effective way of uniting them with communications services. Each succeeding generation of Palapa satellites was significantly larger and more powerful than the one it replaced, as demand for services grew.
The program was started in February 1975, when the government of Indonesia awarded the contract to Hughes (Boeing), with two satellites each with 12 transponders (for a total of 24), and 40 earth stations. Nowadays the system has three satellites, each with 24 transponders (for a total of 72 transponders), and thousands of earth stations.

Satellites
The first satellite was launched on Jan. 31, 1996, on an Atlas-2AS booster and placed at 113° E. The second satellite was launched on 15 May 1996 on the Arianespace' Ariane-44L H10-3 rocket from Kourou, French Guyana.
The two series-A satellites were built by Hughes (Boeing). The Palapa-A1 was launched on July 8th 1976 and the Palapa-A2 satellite was launched on March 3rd, 1977 both on a Delta 2914 rocket operated by Lockheed Martin.
For the series-B four satellites were built. They were all of the type Hughes HS-376. When the launch of Palapa-B2on Feb 3rd, 1984 failed, a third satellite was ordered. Originally named Palapa-B3 and scheduled for STS-61-H, it was finally launched as Palapa-B2P on March 2nd 1993. Meanwhile Palapa-B2 was salvaged from LEO-orbit with a second Shuttle mission, the STS-51-A and was then refurbished and relaunched later as Palapa-B2R on 13 April 1990. The Palapa-B4 was launched on May 13th, 1992.
For the series-C two satellites of the HS-601 type were launched in 1996. After an electric power anomaly had occurred, the Palapa-C1 satellite apparently lost its ability to recharge batteries. A Battery Charge Controller is no longer functioning, which means that the satellite is without a power backup during the eclipse periods that occur twice a year. The satellite was declared unusable for its planned mission, insurance claims were paid, and the title of the satellite was passed to the insurers. Hughes Global Services acquired the satellite, and developed procedures necessary to maintain full geostationary service operations except during eclipse itself and brief periods on either side of each eclipse event. For a total of 88 days per year, the satellite has to be switched off for three hours per day on average. Overall availability of the spacecraft's transponders remains at 96%. Indonesia declared the satellite as unusable and transferred it back to Hughes who renamed it in HGS-3 before leasing it to satellite operator Türksat as Anatolia-1. Pakistan's Paksat acquired the spacecraft from Hughes for full lease and renamed it in PakSat-1. The satellite was retired in 2011.
The Palapa-C2 satellite was launched successfully on May 16th, 1996 on board of an Arianespace' Ariane-44L rocket from the Kourou launch site in French Guyana.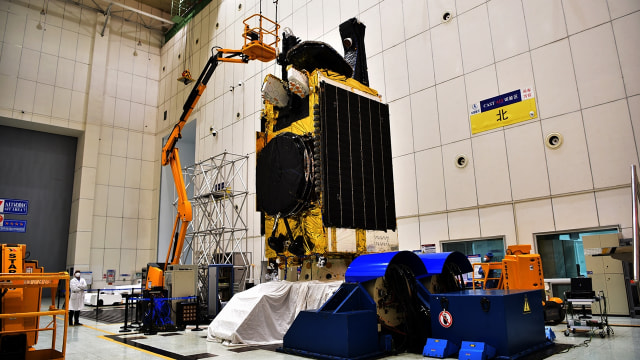 The Palapa-D satellite was manufactured by Thales Alenia Space, and launched on Chinese Long March 3B rocket, operated by CGWIC, on 31 August 2009. After performing successfully in orbit tests, the satellite was operating commercially in 113° E orbital slot since 14 November 2009. Palapa-D had more transponders than its predecessors (40 transponders compared to 36 transponders of Palapa-C2). This New Hot Bird had also more power and coverage. Having 45dBW EIRP @ peak, the C-band transponders cover the whole Indonesia, ASEAN countries, and spread out up to Australia and most of Middle-East countries.
Both Palapa-D and Palapa-C2 satellites compete directly with at least six other satellite operators in the Asia Pacific Region: AsiaSat and APT Satellite Holdings, both from Hong Kong, ChinaSat from China, ThaiCom in Thailand; Malaysia's Measat and Intelsat.
In 2019 the company created a joint venture company (PT Palapa Satelit Nusa Sejahtera (PSNS) with competitor Pasifik Satelit Nusantara (PSN) to order the second satellite with Chinese CAST. The new 10Gbps satellite is scheduled for launch in April 2020.

All trademarks, logos and images mentioned and showed on this page are property of their respective owners.

Resources
www.indosatooredoo.com
www.telkom.co.id
www.spacenews.com editions 14 dec 2009 and 7 july 2014
www.psn.co.id
www.space.skyrocket.de
www.nextvasia.com edition Oct 23, 2012 by Ananya Sundar
www.spacenews.com edition June 26th, 2019
www.globalnewswire.com edition August 8th, 2019
www.thejakartapost.com edition April 2nd, 2020
www.thejakartapost.com edition April 10th, 2020
www.thalesgroup.com
www.news.satnews.com edition September 7th, 2020
www.budde.com.au
www.indosat.com
www.wikinvest.com
Book: Telecommunications after The Uruguay Round by Gary Clyde
www.palapasat.com
www.assi.or.id