Hispasat
Hispasat S.A is the Spanish satellite operator for eight satellites that cover the Americas, Europe and North Africa from orbital positions 30° West and 61° West. Hispasat's fleet of satellites broadcast more than 1,250 television channels and radio stations to more than 30 million homes, as well as providing services for broadband to mobile telephones and landlines.
Hispasat S.A. generates nearly two thirds of its revenue from Latin America, and reported a profit of 80.5 million euros from 235 million euros in revenue in 2017.
The Hispasat Group is formed of Hispasat S.A, its subsidiaries Hispasat Canarias, Hispamar Satellites (a joint venture with the Brazilian telephone operator Oi), Hispasat Brazil and associated companies Hisdesat Strategic Services and Galileo Systems and Services.

Company History
Hispasat S.A. was founded in 1989 and has had a high strategic value both for the Spanish government and for system users. Since its inception, Telefónica was involved in Hispasat along with other founding members as Retevisión, BBVA, INTA and CDTI and SEPI. In 2001 Telefónica reduced its participation in the shareholding from 22.74% to 17.34% by selling 5.4% of satellite operator Eutelsat in a joint operation with Auna and BBVA. In April 2002, Telefónica sold off another 4.11%, reducing its stake to 13.23%.
The first Hispasat satellite, Hispasat-1 was launched by launch operator Arianespace on September 11th, 1992 with an Ariane 4 rocket from the Guyana Space Centre in French Guyana. The satellite was put into geostationary orbit at 30° West.
The Amazonas satellites (61º W) were inaugurated in 2004 with the launch of Amazonas-1, which serves the American market (mainly Latin America). Amazonas-2 was launched on 1 October 2009 and Amazonas-3 on 7 February 2013, replacing Amazonas-1, which was moved to a new position at 36º West in September 2013. Amazonas-4A was launched on 22 March 2014. This fleet of satellites will be augmented with Amazonas-4B in 2015. A fifth generation of this satellite series, Amazonas-5, was scheduled for launch in 2017. The development and construction of Amazonas-5 was awarded to Space Systems/Loral (SS/L).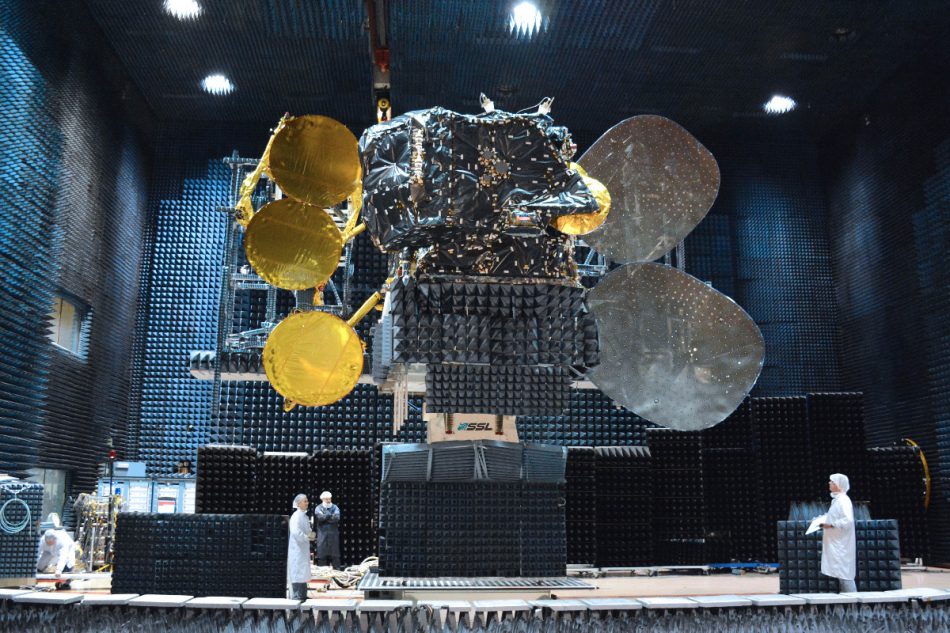 On Feb 21st 2012, Telefónica sold its shares in Hispasat. The Spanish government authorized the sale in December 2012.
In March 2016 Hispasat S.A. renamed its satellite fleet as a result of the group's growing number of satellites and orbital positions. Excluded from renaming were the satellites located at 61° West, which kept the name Amazonas, due to fully establishment on the market and well known in the sector. Hispasat did rename Amazonas-4A to Amazonas-4, and Amazonas- 4B into Amazonas-5.
In 2017 Hispasat launched their Hispasat 36W-1 (Hispasat AG1). The satellite constitutes the first mission of the SmallGEO platform, developed by Germany based satellite manufacturer OHB System, ESA and Hispasat. Hispasat 36W-1 will have up to 20 transponders onboard in Ku-band and 3 in Ka-band. The satellite was launched by Arianespace on a Soyuz ST-B Fregat launcher.
In 2018 satellite operator Eutelsat sold their stake of 302 million euro after gaining long-awaited approval from Spain's government. Eutelsat's 33.69% stake was split between Spanish toll road company Abertis and the Spanish government's Centre for the Development of Industrial Technology (CDTI). Abertis gained 32.63% of Eutelsat's stake, with the remaining 1.06% going to CDTI.
In February 2019 Spanish power company Red Eléctrica Corporación (REC) acquired almost 90% of the majority of the shares of HispaSat held by Abertis. The transition was worth 1.07 billion USD was one of the biggest deals of the year so far in the satellite sector.
In January 2020 the company awarded satellite manufacturer Thales Alenia Space the construction of the Amazonas Nexus spacecraft, which will replace and expand the capacities of Amazonas-2 satellite, in orbit at 61º West. The new High Throughput Satellite (HTS) is to be launched in 2022 and will enable Hispasat to access new customers and markets, by delivering high capacity mobility services to the air and maritime transport sectors, among others. Amazonas Nexus has a dedicated payload for Greenland to improve internet access in all remote towns and settlements in North- and East-Greenland. National Telco Tele Greenland A/S (Tusass) is marketing the payload as GreenSat-1.

In March 2022 Hispasat acquired teleport operator and satellite services provider AXESS Networks for 96 million USD. AXESS has a presence in Latin America and the EMEA region and was formed with the merge of AxeSat and CETel in 2019. With this acquisition, Hispasat aimes to transform the company into a satellite solutions and service provider improving its offerings in extending cellular networks via satellite, connectivity networks for corporate clients as well as digitizing remote areas in countries with large technological gaps. 

All trademarks, logos and images mentioned and showed on this page are property of their respective owners.

Resources
www.hispasat.com
www.satbeams.com
www.spacevids.tv
www.wikipedia.com
www.spacenews.com edition February 12th 2019
www.satellitetoday.com edition February 19th, 2019
www.spacenews.com edition April 19th 2018
www.thalesgroup.com
www.telefonica.com
www.scielo.org.pe
www.rapidtvnews.com edition March 8th 2012
www.satellitetoday.com edition March 22nd, 2022