Satlantis
Satlantis designs and manufactures high performance Earth observation payloads for small satellites. The company is building a constellation of Micro-satellites called GEI-SAT, and is headquartered in Bilbao in Spain. Their goal is to become a global leader in the use of constellation of Micro-satellites for scientific and commercial applications.
Their premier product is iSIM, an 'Integrated Standard Imager for Earth Observation Micro-satellites'. An optical imaging product family for Micro-satellites of 20 to 75kgs that will provide an unparalleled performance and flexibility for a fraction of the cost of today's Earth Observation satellites. The company is also closing alliances with partners in the US and Europe to develop the infrastructure for manufacture, integration, launch and operations of standardized Micro-satellites.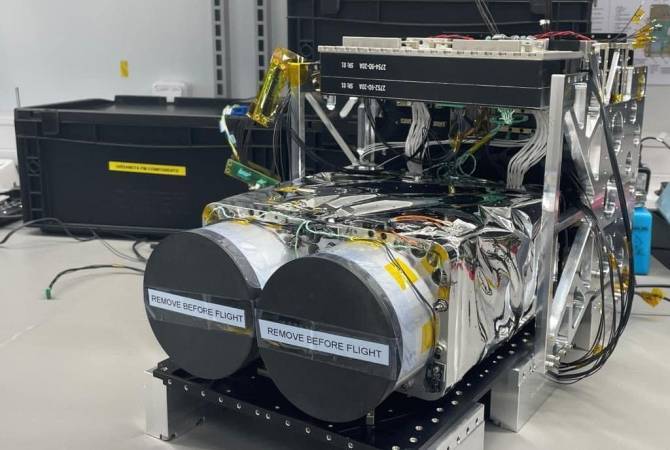 In May 2022 the company launched its first 16U Mirco-satellite, Urdaneta (Urdaneta/ArmSat-1) with the EXOPad Nano-satellite deployer from EXOLaunch, on SpaceX' Rideshare Transporter-5 Mission. The satellite features Satlantis' iSIM-90 imager previously flown on the CASPR experiment onboard the STP-H7 palette attached to the ISS. The imager has 1.8m ground resolution and a 14.3km swath width. It operates in four spectral bands (RGB, NIR). A second ArmSat-2 MicroSat will be launched in late 2022.
Also in May 2022, after the successful launch of the Urdaneta satellite from Cape Canaveral USA, Satlantis announced its agreement for the delivery of a complete Earth observation system to GeoCosmos, an Armenian subsidiary of the Armenian Ministry of High Technology Industry. The 'Urdaneta' working name ArmSat-1, will be Armenia's first observation satellite in space.

Company History
Satlantis was born in Gainesville, Florida USA in October 2013 by Professor Dr. Rafael Guzmán, biologist Dr. Cristina Garmendia and former vice minister for innovation in the Spanish government, Juan Tomás Hernani (CEO), based on their research at the University of Florida (UF). After a year of activity, the company established its headquarters in Bilbao, Spain. The company has a team of around 70 people, mostly optical and precision mechanical, electronic and software engineers.

In February 2020 Satlantis signed a launch services agreement with Launch operator Firefly Aerospace from the USA. Beginning in 2022 the company will utilize the Firefly Alpha launch vehicle to deploy a constellation of satellites with breakthrough high-resolution multispectral cameras with four bands of 80cm native resolution.
In March 2022 Encino Environmental Holdings, LLC, controlled by BP Energy Partners in partnership with EnCap Investments L.P. and Williams, made a strategic investment in the company to accelerate the commercialization of its satellite-based greenhouse gas (GHG) monitoring technology and develop new products and services for the North American market.
On May 25th, 2022 the company launched its first 16U Mirco-satellite, Urdaneta (Urdaneta/ArmSat-1) with the EXOPad Nano-satellite deployer from launch-broker EXOLaunch, on the SpaceX' Rideshare Transporter-5 Mission. The satellite will be used for for the agricultural and environmental planning as well as for civil protection uses. The Urdaneta satellite is named in honor of the sailor Andres de Urdaneta, who discovered the route back to Spain from the Philippines.


| | | | | |
| --- | --- | --- | --- | --- |
| Satellite | Mission | Launch Date | Launcher | Launch Operator |
| Urdaneta/ArmSat-1 | Transporter-5 | May 25th, 2022 | Falcon 9 | SpaceX USA |

All trademarks, logos and images mentioned and showed on this page are property of their respective owners.

Resources
www.satlantis.com
www.crunchbase.com
www.prnewswire.com  edition February 4th, 2020
www.innovate.research.ufl.edu
www.then24.com  edition May 23rd, 2022
www.atalayar.com  edition May 25th, 2022
www.newspace.im
www.wsbw.com
www.prnewswire.com  edition March 31st, 2022
www.armenspress.am  edition June 6th, 2022
www.news.am  edition June 8th, 2022
www.space.skyrocket.de
www.bloomberg.com
www.nanosats.eu