HawkEye 360
HawkEye 360 is a privately held American supplier of satellite-based global transportation monitoring and communication services. It uses a constellation of small satellites in low Earth orbit (LEO), to generate reports on wireless signals that can be used to track and monitor global transportation networks, assist with emergencies, as well as other data analytics services to Maritime-, Telecommunications- and Security & Defense companies.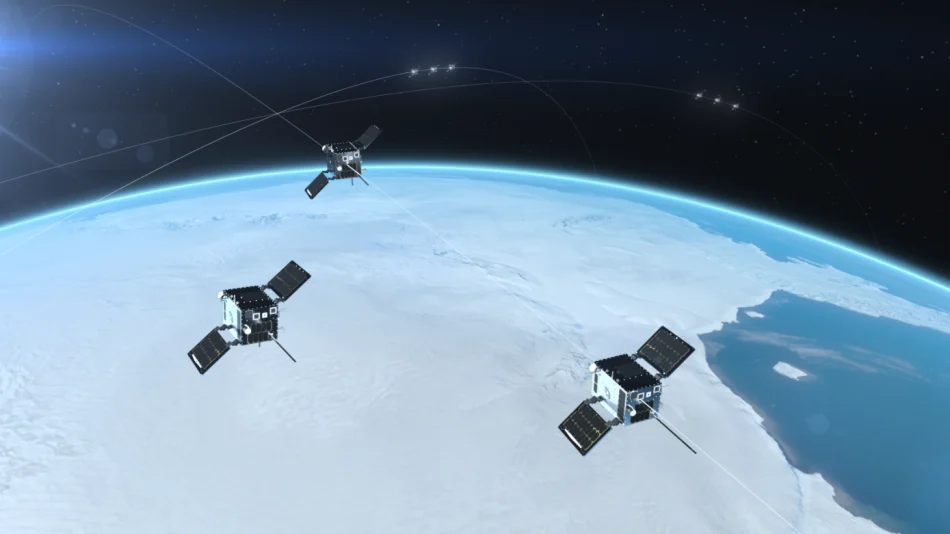 The company develops a space-based radio frequency (RF) mapping and analytics system designed to provide geospatial data analytics. The system utilizes satellite tracking technology and provides valuable insights for maritime, intelligence, telecommunications and crisis response applications, enabling government regulators, telecommunications companies, and satellite broadcasters to identify, process and geolocate a broad set of RF signals and make critical decisions.
HawkEye is headquartered in Herndon, Virginia, USA and is the first commercial seller of radio frequency (RF) signal location data gathered by a satellite constellation. The company currently has three small satellites in the Pathfinder cluster orbiting the earth at an altitude of 575 km. The satellites fly in a special formation facilitated by a novel water propulsion system. Each satellite (also referred to as a Hawk) in the cluster has a Software-Defined Radio (SDR) with the ability to detect a wide range of radio frequencies, and once all three satellites have picked up on a common signal, they can trilaterate that signal with accuracies dependent upon the terrain, signal and other factors.
HawkEye 360 has plans to execute and maintain a 30-satellite constellation, and the company scheduled launches of new clusters once a quarter started in 2021.

Company History
In 2015, HawkEye 360 was founded on September 16th, 2015 by Chris DeMay (COO), Charles Clancy and Bob McGwier with the vision for how space and RF technology could create commercially generated insights by leveraging signal geolocation to enhance understanding of human activities. The company received initial seed financing from Allied Minds, a Boston-based venture capital firm.
In 2016, HawkEye 360 started the construction of their Pathfinder cluster of satellites with US-based Deep Space Industries (DSI) and UTIAS Space Flight Laboratory (SFL) from Toronto, Canada.
In November 2016, the company completed their initial Series A round funding led by Razor's Edge Ventures with major participation from defense industrial base leader, Raytheon. While waiting for the satellites to be built and launched, the company began exhibiting their technology through flight demonstrations and received a patent for determining the location of RF transmitters.

In April 2018 HawkEye 360 selected Kongsberg Satellite Services (KSAT) from Norway to provide ground station services for its pathfinder mission. The agreement with KSAT will allow information about signals detected by HawkEye 360's Pathfinder satellites to be downlinked directly to KSAT's ground station in Svalbard in Northern Norway. The company will then process the signals at its Herndon, Virginia headquarters
In August 2018 HawkEye 360 introduced a strategic partner program including Eagle Technology for New Zealand. Eagle would distribute and build upon HawkEye 360 analytics for a variety of applications, such as Maritime Domain Awareness (MDA) and spectral mapping, to monitor the oceans around New Zealand and near Antarctica for environmental, economic and security concerns.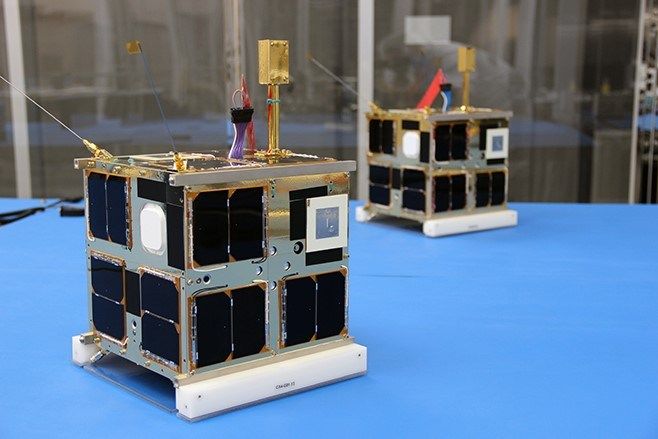 In December 2018, HawkEye 360 launched the first set of Nano-satellites, known as the Pathfinder cluster, into orbit on SSO-A SmallSat Express ride-share mission aboard a Falcon 9 rocket, operated by SpaceX. The satellites, in both this first cluster as well as a later second cluster, were constructed by UTIAS Space Flight Laboratories.
In April 2019, the company released its first product, RFGeo. The product identifies and locates the RF signals HawkEye 360 collects so customers can then view this data.
On November 8th, 2019 shareholder Allied Minds sold its shares to Advance, a private, family-owned business that owns, operates and invests in assets spanning media, communications, technology and other promising growth sectors. The transaction represented the first significant exit for an institutional investor within the new space industry in the last five years.
In December 2019, the company received a contract from the US intelligence organization, National Reconnaissance Office (NRO), to explore combining commercial RF capabilities into NRO's geospatial intelligence architecture. In that same year the U.S. Federal Communications Commission (FCC) approved a license allowing HawkEye 360 to launch up to 80 incremental satellites for the eventual steady-state operation of a 15-cluster constellation.
In 2020 the Washington DC-based Smithsonian National Air and Space Museum added a full-size model of one of HawkEye 360's Pathfinder satellites to display in their museum as part of an upcoming exhibit detailing the story of the space age.
Satellite
Mission
Launch Date
Launcher
Launch Operator
Cluster 1 (Pathfinder)
– Hawk-1A
– Hawk-1B
– Hawk-1C
SSO-A Express
Dec 20th, 2018
Falcon 9
SpaceX USA
Cluster 2
– Hawk-2A
– Hawk-2B
– Hawk-2C
Transporter-1
Jan 24th, 2021
Falcon 9
SpaceX USA
Cluster 3
– Hawk-3A
– Hawk-3B
– Hawk-3C
Transporter-2
June 30th, 2021
Falcon 9
SpaceX USA
Cluster 4
– Hawk-4A
– Hawk-4B
– Hawk-4C
Transporter-4
April 1st, 2022
Falcon 9
SpaceX USA
Cluster 5
– Hawk-5A
– Hawk-5B
– Hawk-5C
Transporter-5
May 25th, 2022
Falcon 9
SpaceX USA
Cluster 6
– Hawk-6A
– Hawk-6B
– Hawk-6C
Virginia-Is-For-Launch-Lovers
Jan 24th, 2023
Electron
Rocket Lab, USA
On January 24th, 2021 HawkEye 360 successfully launched their second cluster of Nano-satellites on Spaceflight rideshare mission aboard of a Falcon 9 rocket operated by SpaceX. This second cluster of satellites was tested in July 2020, which was the last technical milestone before launch.
In November 2021 the company gained 145 million USD in new funding as part of HawkEye's Series D round. The round was led by Insight Partners and Seraphim Space Investment Trust, with additional funding from United Arab Emirates-based Strategic Development Fund. New investors Jacobs, Gula Tech Adventures, 116 Street Ventures and New North Ventures also participated, as well as existing investors Advance, Razor's Edge, NightDragon, SVB Capital, Shield Capital and Adage Capital.

On April 1st, 2022 launch operator SpaceX orbited HawkEye's fourth cluster of satellites on their Transporter-4 Rideshare Mission with a Falcon 9 rocket from the Cape Canaveral launch base in Florida.
On May 25th, 2022 the company launched its fifth cluster of satellites on the Transporter-5 Rideshare mission with a Falcon 9 rocket operated by SpaceX.

On January 24th 2023 another cluster of satellites were launched on an Electron launcher operated by Rocket Lab. This was the 1st Electron Mission from U.S. soil using NASA's Wallops flight facility in Virginia that was developed to support U.S. Electron missions for government and commercial customers. The launch was scheduled for December 2022 but delayed due to bad weather conditions. 


All trademarks, logos and images mentioned and showed on this page are property of their respective owners.

Resources
www.he360.com
www.wikipedia.org
www.satellitetoday.com edition April 18th, 2018
www.satellitetoday.com edition August 21st, 2018
www.techcrunch.com edition November 8th, 2021
www.newspace.im
www.wikitia.com
www.tracxn.com
www.pitchbook.com
www.space.skyrocket.de
www.spaceflightnow.com edition May 25th, 2022
www.smallsatnews.com edition December 16th, 2022
Satellite fleet by HawkEye 360