OrbAstro
OrbAstro (Orbital Astronautics, Ltd.) is a privately held New Space start-up that provide space-as-a-service by flying small Nano-satellites in large flocks. The company is developing a constellation of Nano-satellites. The company is headquartered in the UK and has an office in New Zealand.
The first satellite was launched on ISRO's Oceansat-3 mission with a PSLV launcher on February 14th, 2022. The launch was originally planned using the SpaceX Falcon 9 rocket but was delayed as part of space transportation company Momentus that suffered from a delayed Vigoride VR-03 space tug mission that failed to release seven of its nine satellite payloads. Two of its passenger spacecrafts, FOSSAT-2E–11 and FOSSAT-2E-12, from FOSSA Systems, were released and the other seven satellites (FOSSAT-2E-7, -8, -9, -10, -13, Veery-Hatchling and Selfiesat) remain stuck on the Vigoride-3 (VR 3). The satellites had to be counted as total losses.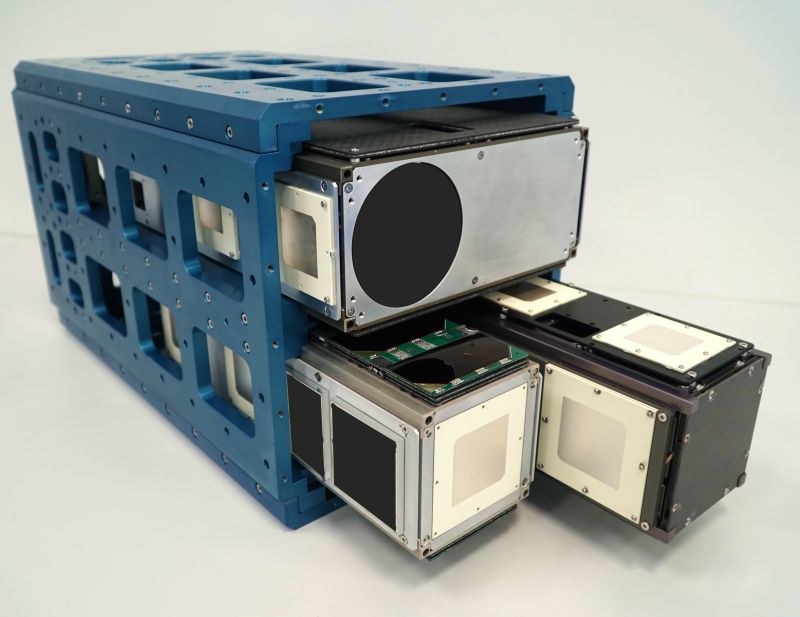 Company History
OrbAstro was incorporated on July 24th, 2017 by Ash Dove-Jay and Vinoth Gurusamy, two of the three original employees of Oxford Space Systems, a global leader in deployable antennas for Space.
On June 4th, 2020 the company signed a launch contract with space-logistics company Momentus, to orbit their upcoming Satellite Platforms.
In September 2021 OrbAstro signed a contract to host a propulsion demonstration for Aliena, a small satellite propulsion startup based in Singapore, for a mission set to launch in September 2022. Aliena developed a multi-modal attitude and orbit control system (AOCS) with partners from Aurora Propulsion Technologies. The propulsion solution consists of Aliena's MUlti-Staged Ignition Compact (MUSIC) Hall thruster, and Aurora's ARM resistojets.
On September 30th, 2021 a contract was signed with AISTech Space, the Earth Observation company from Spain, to fly its first Guardian mission using OrbAstro's 6U satellite platform. The satellite was launched on May 25th, 2022 with the Transporter-5 RideShare mission on a SpaceX' Falcon 9 rocket. 
On November 4th 2021 the company signed an agreement with Digantara Research & Technologies Pvt. Ltd. from India, to fly its SCOT (Space–based space Climate and Object Tracker) payload onboard an ORB-6 satellite platform. The satellite was launched with the Transporter-6 RideShare mission using a SpaceX Falcon 9 rocket,
In January 2023 OrbAstro signed a contract with US-based company Xplore that is laser-focused on gathering data from space for their customers. Using OrbAstro's buses allow Xplore to quickly fly a small number of high-performance sensors at low cost.
| | | | | | |
| --- | --- | --- | --- | --- | --- |
| Platform | Customer | Mission | Launch Date | Launcher | Launch Operator |
| ORB-3 | – | PSLV-C53/EOS-3 | Feb 14th, 2021 | PSLV | ISRO India |
| ORB-6 | AISTech Spain | Transporter-5 | May 25th, 2022 | Falcon 9 | SpaceX USA |
| ORB-6 | Digantara India | Transporter-6 | Jan 3rd, 2023 | Falcon 9 | SpaceX USA |
| ORB-6 | XPlore USA | TBD | 2023 | | |
| ORB-12 | Alien Singapore | TBD | 2023 | | |
All trademarks, logos and images mentioned and showed on this page are property of their respective owners.

Resources
www.orbastro.com
www.oxford.space
www.spacenews.com  edition September 23rd, 2021
www.spacenews.com  edition September 24th, 2021
www.momentus.space
www.thegazette.com.uk
www.isro.gov.in
www.serdata.com  edition June 14th, 2022
www.forum.nasaspaceflight.com
www.newspace.im
www.satsearch.co
www.spacenews.com  edition January 26th, 2022
www.pitchbook.com
www.spacewatch.global