HyImpulse Technologies
HyImpulse Technologies is private Space launch provider for suborbital and orbital launch services using their Small Launcher, SL1, powered by unique and proprietary hybrid propulsion systems. Other companies using hybrid rocket engines include Virgin Galactic (Virgin Orbit), whose SpaceShipTwo suborbital spaceplane uses a single hybrid engine.
This disruptive technology enables HyImpulse to offer affordable, frequent, responsive and safe access to space for small satellites and spacecrafts. SL1 has a payload capacity of 500kgs to a 400km SSO / 675kgs to LEO and it will be the first orbital launch vehicle in the world to reach orbit with a hybrid propulsion system, hybrid using a paraffin-based fuel and liquid oxygen.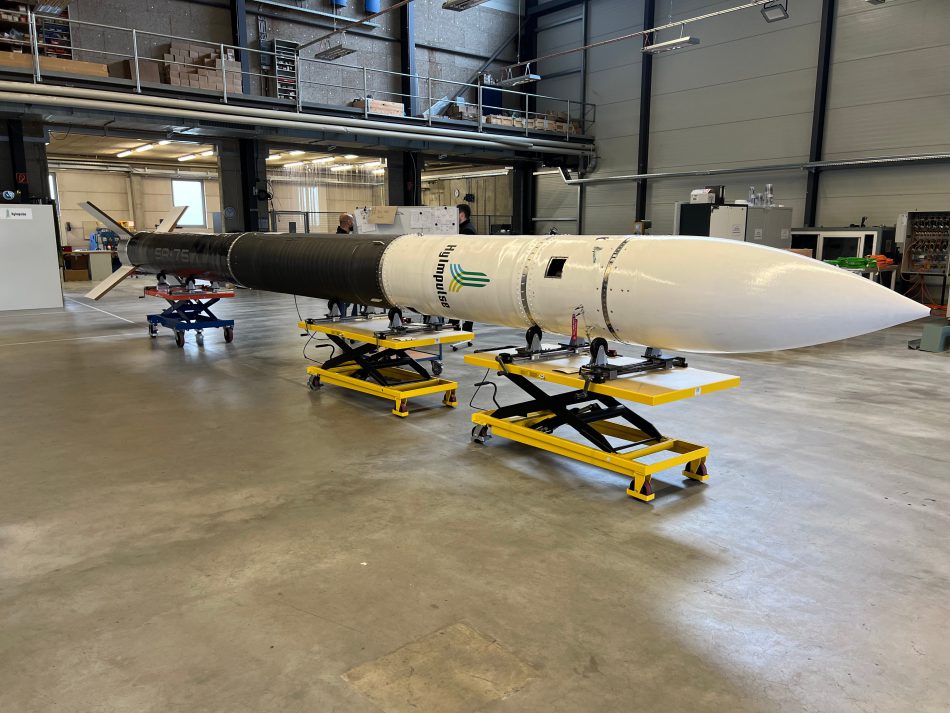 The company is based in Neuenstadt am Kocher in Baden-Württemberg, between Frankfurt and Stuttgart in Germany and was founded with the goal to revolutionize access to space. The company is competing against German startups ISAR Aerospace and the OHB-backed Rocket Factory Augsburg AG (RFA).
HyImpulse's first commercial product and technology demonstrator SR75, is a single stage sounding rocket using a hybrid rocket engine. It is designed to deliver institutional and commercial experiments into a micro gravity environment during a suborbital flight with payload capacity of 350kgs to 200km. The maiden launch is planned for late 2022.

Company History
The company was founded in 2018 by rocket engineers as a spinoff of the German Aerospace Center (DLR). HyImpulse is backed by technology company IABG in Ottobrunn, Germany.
In 2019 the German Offshore Spaceport Alliance (GOSA) was created by the Federation of German Industries (BDI). The consortium announced plans of building a mobile micro-launch platform in the North Sea that could send small satellites into orbit. HyImpulse, Isar Aerospace Technologies and Rocket Factory of Augsburg signed a letter of intent in 2020. The ship is to be 169m long and launch vehicles up to 1 tonnes and 30m long are to be able to take off from the platform.
In 2021, the French National Center of Space Studies (CNES) and the ESA selected seven potential launch providers to host micro- and mini-launchers at the Guiana Space Center in French Guiana, expressing its desire to open the space port of Europe to new launch operators. Among the winners were AVIO SPA from Italy, HyImpulse Technologies, Rocket Factory and ISAR Aerospace from Germany, MAIA Space and Latitude (aka Venture Orbital Systems) from France and Payload Aerospace from Spain. 
In May 2021 the company successfully carried out a series of engine tests at the Shetland Space Centre in Scotland. The tests were the first to be conducted at the new Shetland Space Centre in Saxa Vord, Unst, which is located at the former Scatsta airfield.
On September 1st, 2021 HyImpulse signed an agreement with space logistics and transportation company D-Orbit for a joint launch and deployment mission that will leverage HyImpulse's SL1 launcher and D-Orbit's ION Satellite Carrier.

All trademarks, logos and images mentioned and showed on this page are property of their respective owners.

Resources
www.hyimpulse.de
www.spacenews.com edition August 14th, 2020
www.defensenews.com edition October 8th, 2020
www.aerospacetestinginternational.com edition May 25th, 2021
www.parabolicarc.com edition September 21st, 2021
www.smallsatnews.com edition August 1st, 2022
www.startbase.com