Virgin Orbit
Virgin Orbit is a private company, formed in 2017, to provide launch services for small satellites (LEO's). The company is a spin-off from spaceflight company Virgin Galactic and is operating separately within the Virgin Group. Virgin Orbit will use the company's reusable LauncherOne system to air launch satellites from a high altitude.
Based in Long Beach, California USA, Virgin Orbit has more than 300 employees led by president Dan Hart, a former VP of government satellite systems at Boeing Space & Defense.
Virgin Orbit tries a different approach than its competitors. Rather than launching rockets from the ground, it will carry rockets (LauncherOne) to a high altitude attached to an airplane, a customized 747-400 aircraft, called Cosmic Girl, which acts as a "flying launch pad."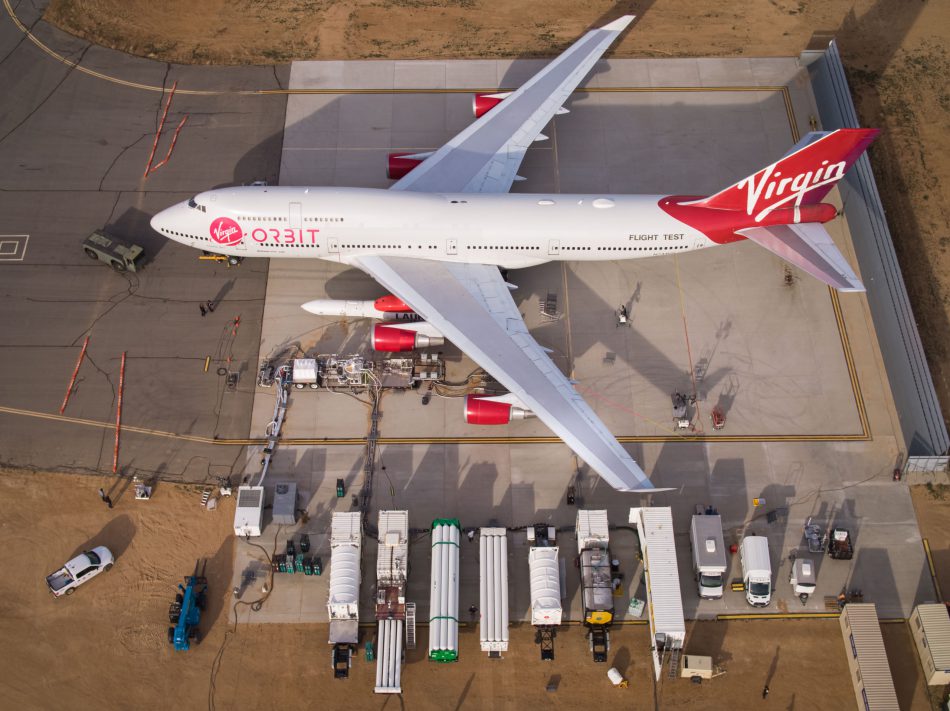 The reusable LauncherOne will take-off from there, enabling it to launch with less fuel and more flexibility compared to having to lift off from a stationary launch site.
LauncherOne uses a two-stage rocket to deliver small satellites (those weighing up to 660 lbs) to low-Earth orbit, after being deployed by a modified aircraft that takes off like a traditional jumbojet. The LauncherOne vehicle then deploys from a high altitude, reducing the fuel costs of launch and making it possible to deliver small payloads to space for as little as 12 million USD per launch.
The fact that LauncherOne is reusable and is essentially just a modified plane that doesn't require special infrastructure will allow the company to offer relatively affordable rates, 10 million USD per flight. The air-launched LauncherOne will be able to carry 440 lbs. (200kgs) into standard sun-synchronous orbits, or more than 880 lbs. (400kgs) to low Earth orbit.

In November 2019 the company received final approval on a 7.35 million UKP (9.5 million USD) grant from the U.K. Space Agency (UKSA). The funds will be used by Virgin Orbit to help set up its new Cornwall-based launch facility, i.e., Spaceport Cornwall as part of Cornwall Airport Newquay with UK's largest runway of 2,744m.
The maiden flight of LauncherOne took place on May 25th 2020. The flight failed a few seconds after the ignition of the rocket due to the premature shutdown of the first stage's engine caused by a break in a propellant feed line, and the rocket did not reach space.
On June 30th, 2021 Virgin Orbit successfully conducted the first commercial flight with a LauncherOne mission. The carrier aircraft Cosmic Girl took off from a flight runway at the Mojave Air and Space Port in California and dropped the rocket when it had reached about 45,000 feet in altitude. LauncherOne orbited three CubeSat satellites for the U.S. Department of Defense (DoD), satellite manufacturer SatRevolution from Poland and the Royal Netherlands Air Force, were successfully deployed to 500 km Low-Earth Orbit (LEO).
Virgin Orbit named the mission's name, "Tubular Bells, Part One," as an homage to Virgin Records' history, and the name of the first track on the first album ever released by Virgin Records.

In November 2021 Virgin Orbit and Japan-based ANA Holdings, the parent company of Nippon Airways, Co. from Japan, signed a MoU (memorandum of understanding) to cooperate in the business of launching satellites from airplanes in Japan. The two companies will aim for 20 launches in 10 years from 2022 by flying Virgin Orbit's jet from an airport in Japan's southwestern prefecture of Oita. The Japanese airline group has been seeking to gain a footing in the space industry, investing in Japan's spaceship developer PD Aerospace Ltd. in 2016.
On December 28th, 2021 Virgin Orbit went public after shareholders of NextGen Acquisition Corp. II approved the special purpose acquisition company (SPAC) merger. The SPAC deal was announced in August and valued 3.2 billion USD.
On August 9th 2022 the company signed a deal with investment Group J-Space from South Korea to have access to launch sites in the country. The goal is to provide satellite launch services from the country using Virgin Orbit's LauncherOne System.
In December 2022 Virgin Orbit received a launch and range license from the UK government that will allow the company to conduct its first satellite launch mission, the 'Start-Me-Up' mission, from Spaceport Cornwall at the Cornwall Newquay Airport in January 2023.
Virgin Orbit's 'Start-Me-Up' mission of January 9th, 2023 failed due to an anomaly of the LauncherOne launch vehicle. The mission contained government and defense satellites (MoD, NRO) as well as CubeSats for commercial companies as SpaceForge from the UK and SatRevolution from Poland and the first EO satellite for the Kingdom of Oman.

On April 4th, 2023 the company filed for Chapter 11 bankruptcy after it laid off the majority of its workers in March. The reduction in workforce followed after pausing operations mid-March after the company was unable to secure new funding. 
In May 2023 the company sold the majority of its assets to Rocket Lab USA, Launcher Inc. and Stratolaunch Systems. Rocket Lab was the successful bidder for Virgin Orbit's factory in Long Beach, California, including the machinery, equipment and lease. Launcher purchased the facility in Mojave, California, including the lease, machinery, equipment and inventory in a 2.7 million USD transaction. Stratolaunch, which designs hypersonic vehicles, acquired the modified Boeing 747 'Cosmic Girl', for 17 million USD. 

Virgin Galactic
Virgin Galactic is part of the Virgin Group and is developing commercial spacecraft and aims to provide suborbital spaceflights to space tourists and suborbital launches for space science missions, by air launching from beneath a carrier airplane, a customized 747-400 aircraft called Cosmic Girl, which acts as a "flying launch pad."
In October 2019 Virgin Galatic merged with Social Capital Hedosophia, a public investment vehicle focused on technology companies and located in Palo Alto California USA. The resulting company was named Virgin Galactic Holdings and commenced trading on the New York Stock Exchange end of 2019.
In May 2020 the Virgin Group announced the sale of up to 25 million shares of its common stock in Virgin Galactic Holdings, Inc., and use any proceeds to support its portfolio of global leisure, holiday and travel businesses that have been affected by the COVID-19 pandemic.
Virgin Galactic's founder, Richard Branson, had initially suggested that he hoped to see a maiden flight SpaceShipTwo by the end of 2009, but this date has been delayed on a number of occasions, most seriously by the October 2014 in-flight loss of SpaceShipTwo VSS Enterprise that crashed in the Mojave Dessert.
On July 11th, 2021 Virgin Galactic's SpaceShipTwo with VSS Unity reached space successfully in a pre-commercial test flight. Branson made it to space, in a flight that could signify the start of space tourism.
VSS Unity achieved a speed of Mach 3 after being released from the mothership, VMS Eve. The vehicle reached space, at an altitude of 53.5 miles (86km), and the crew experienced a few moments of weightlessness. VSS Unity closed the flight by landing at Spaceport America in New Mexico.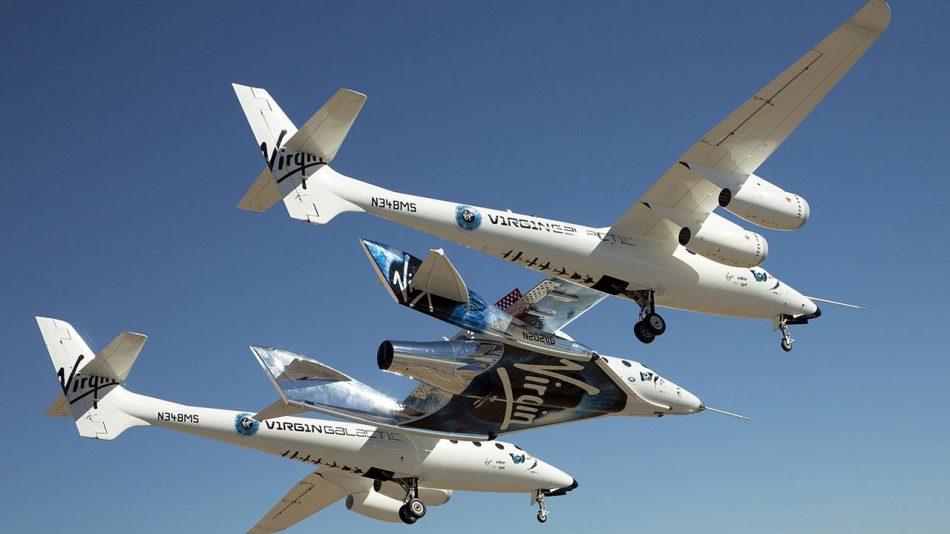 Richard Branson's Virgin Group
Sir Richard Charles Nicholas Branson (born 18 July 1950) is a British business magnate, investor, author and philanthropist. He founded the Virgin Group in the 1970's, a conglomerate that controls more than 400 companies in various fields.
It all started with Virgin Records that Branson and Nik Powell founded in 1972 with money that they earned from their record store. They bought a country estate which they installed a residential recording studio, The Manor Studio. Branson leased the studio to multi-instrumentalist Mike Oldfield for his first album Tubular Bells that became a best-seller. Later on Virgin contracted artists like Seks Pistols, Rolling Stones, Peter Gabriel, XTC, UB40, Paula Abdul etc. to become the world's largest independent record label.
In 1992 Branson sold his massively successful label for more than 1 billion USD to British consumer electronics and entertainment company Thorn EMI. Virgin Records was sold to finance Branson's airline, Virgin Atlantic that he started in 1984 and Virgin Mobile that was founded in 1999.
In 2004 Branson formed the space tourism company, Virgin Galactic, to take paying passengers into suborbital space. Virgin Galactic plans to make flights available to the public with tickets priced at 200,000 USD using the Scaled Composites model 348 White Knight Two quadjet cargo aircraft. The spacecraft, a customized Boeing 747 called Cosmic Girl, is manufactured by The Spaceship Company, which was founded by Branson and aeronautical engineer Burt Rutan and is now solely owned by Virgin Galactic.
At present the Vrigin Group contains companies that serve the markets of, communications, banking, travel, and airline, entertainment, radio, sports and retail.
The parent company, Virgin Group Holdings, Ltd, is registered in the British Virgin Islands. Richard Branson and his family hold a £2.7 billion stake in this offshore, tax-free, tax haven company.

All trademarks, logos and images mentioned and showed on this page are property of their respective owners.

Resources
www.virginorbit.com
www.virgingalactic.com
www.lockheedmartin.com
www.engadget.com
www.space.com
www.wikipedia.org
www.sky-brokers.com
www.spaceportcornwall.com
www.forbes.com
www.youtube.com
www.socialcapitalhedosophiaholdings.com
www.satellitetoday.com  edition October 28th, 2019
www.techcrunch.com edition November 6th, 2019
www.satellitetoday.com  edition May 11th, 2020
www.viasatellite.com  edition June 30th, 2021 
www.satellitetoday.com  edition July 11th, 2021
www.kyodonews.net  edition November 5th 2021
www.satellitetoday.com edition December 29th 2021
www.satellitetoday.com  edition August 10th, 2022
www.parabolicarc.com  edition December 21st, 2022
www.nasaspaceflight.com  edition January 9th, 2023
www.satellitetoday.com  edition March 31st, 2023
www.satellitetoday.com  edition April 4th, 2023
www.satellitetoday.com  edition May 23rd, 2023
Satellites launched by Virgin Orbit