Relativity Space
Relativity Space is a satellite launch- and aerospace manufacturing company headquartered in Long Beach, California, USA. The company is developing manufacturing technologies, launch vehicles and rocket engines for launch services for small satellites.
Relativity Space was founded in Seattle in 2015 by Tim Ellis and Jordan Noone on the idea that existing NewSpace companies were not tapping enough into the potential of additive manufacturing (3D printing). Relativity is aiming to be the first company to successfully launch a fully 3D-printed rocket into orbit, the Terran 1. The company anticipates the first launch in 2022 from the Cape Canaveral launch site.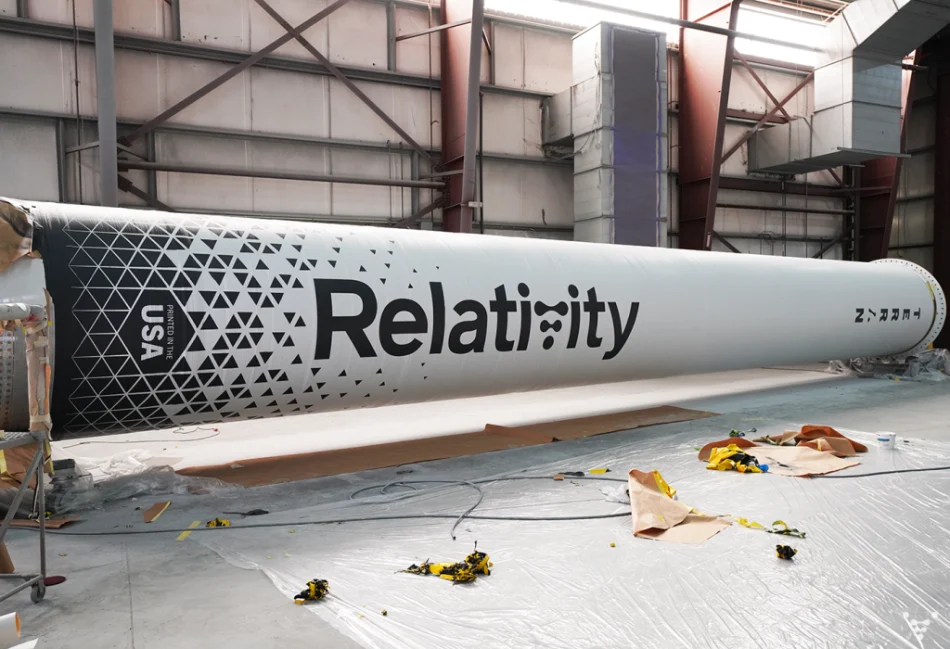 In February 2020 the company moved its headquarters to a 11,150m2 (120,000 sq. ft.) site in Long Beach CA. The new headquarters are planned to house both business operations and Relativity's autonomous development operations that the company plans to build into a modern rocket manufacturing factory in the coming years. The factory will have no fixed tooling, which is hoped to allow it to be rapidly reconfigured and autonomous. Also, a new 93,000m2 (1,000,000 sq. ft.) factory was planned for June 2021, with Relativity set to take over the former Boeing C-17 factory in January 2022 to start production of the Terran R heavy lift reusable rocket.
In November 2020 till June 2021 the company received extra funding led by Fidelity Investments bringing its total funding to 1,335 billion USD. The funding is needed for the development of a fully reusable medium lift launch vehicle, the Terran R, targeting the first orbital launch not earlier than 2024.

Company History
In 2015 American aerospace engineer Tim Ellis (CEO) and Jordan Noone (CTO) founded Relativity Space on the idea that existing NewSpace companies were not tapping enough into the potential of additive manufacturing (3D printing). With this new approach of design and built, the company manufactured the Terran 1, a next generation launch vehicle designed for the future of constellation deployment and resupply. Its groundbreaking and unique architecture is designed to accommodate the evolving needs of satellite customers, while providing the most agile and affordable launch service on the market.
Relativity Space claims their rockets have 100 times fewer parts, and have a 10 times faster production time. The launch of the Terran 1 rocket is scheduled for its maiden flight in late 2022. Most rocket companies, like Blue Origin, SpaceX, Rocket Lab and Virgin Orbit, use 3D printing for aspects of their manufacturing process, but Relativity Space has gone all in on additive manufacturing. The Terran 1 is designed to place up to 1,250kgs into low Earth orbit for 10 million USD per launch.

In March 2018 the company signed a 20-year lease contract at the former NASA rocket testing facility Stennis Space Center in Mississippi. In this facility Relativity is testing engine components and eventually full-scale test of their Aeon 1 rocket engines. In June 2019 their work floor was expanded to include exclusive use of 20,000m2 (220,000 sq ft).
In January 2019 the company won a competitive bidding process with the United States Air Force to build and operate Launch Complex 16 (LC-16) at Cape Canaveral Space Force Station in Florida, USA. The Launch Complex has historical significance having been previously used by the US military to launch Titan and Pershing ballistic missiles.
In April 2019 the company signed a contract with satellite operator Telesat to launch a portion of their low Earth orbit broadband satellite constellation, Lightspeed. The contract covers the launch of a number of Telesat LEO satellites on the Terran 1 launch vehicle starting in 2022. Also launch operator Blue Origin was contracted in January 2019 by Telesat for multiple LEO launches with the New Glenn rocket.
In June 2020, Relativity Space developed a second launch pad at Vandenberg Space Force Base in California to launch payloads into polar orbits and Sun-synchronous orbits, including the Iridium satellite launches, between 2023 and 2030.

In June 2022 the company signed a launch contract with MEO satellite operator OneWeb to launch satellites in its Gen 2 network on the new Terran R rocket. The launch contract includes a multi-year, multi-launch agreement starting in 2025.

On March 22nd, 2023 the Terran 1, the world's first 3D-printed rocket, failed to reach orbit after lifting off from Launch Complex 16 at Florida's Cape Canaveral Space Force Station. The rocket performed well in its launch debut, and survived Max-Q, the part of flight during which the structural loads are highest on a rocket. The first and second stages separated successfully when an anomaly occurred and the rocket exploded. 

All trademarks, logos and images mentioned and showed on this page are property of their respective owners.

Resources
www.relativityspace.com
www.spacenews.com  edition April 5th, 2019
www.bizjournals.com  edition February 28th, 2020
www.geekwire.com  edition November 23rd, 2020
www.electronicsweekly.com  edition July 9th, 2021
www.techcrunch.com  edition August 20th, 2021
www.wikipedia.org
www.manta.com 
www.3Dprint.com
www.paganresearch.io
www.youtube.com
www.bloomberg.com
www.satellitetoday.com  edition June 30th, 2022
www.space.com  edition March 23rd, 2023