Blue Origin
Blue Origin, LLC, a private American aerospace company, is developing technologies to enable private human access to space with the goal to dramatically lower costs and increase reliability. The Company develops both rocket propulsion systems for vertical takeoff and vertical landing (VTVL) vehicles for access to suborbital and orbital space. Since the founding, the company was very secretive about its plans and emerged from its "self-imposed silence" only after 2015. The company's name refers to the blue planet, Earth, as the point of origin.
Amazon.com founder and billionaire Jeff Bezos founded the Company in 2000. Blue Origin, headquartered in Kent, Washington USA, is developing technologies to enable private human access to space with the goal to dramatically lower costs and increase reliability. The company motto is Gradatim Ferociter, Latin for Step by Step, Ferociously and is spending 1 billion USD a year, funded by Jeff Bezos' sales of Amazon stock. In 2017 and again in 2018, Bezos made public statements that he intends to fund Blue Origin with 1 billion USD per year from sales of his equity in Amazon.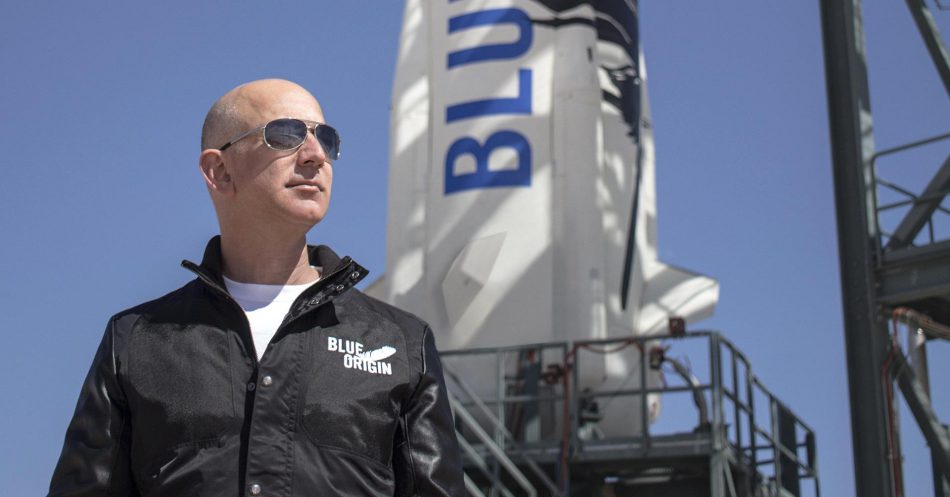 Initially as a rocket engine supplier for others, Blue Origin has become a part of a "dramatic metamorphosis" of the space industry in recent years, having moved into the orbital spaceflight technology business in 2014, when Blue Origin and launch operator United Launch Alliance (ULA) entered into a partnership whereby Blue Origin would produce a large rocket engine, the BE-4, for ULA's Vulcan, the successor to the 10,000–19,000-kilogram-class (22,000–42,000 lb) Atlas V which has launched US national security payloads since the early 2000's, and will exit service in the late 2010's.

Launch Vehicles
Blue Origin designs, manufactures and assembles and operates two reusable launch vehicles, New Shepard and New Glenn.
New Shepard
The New Shepard (named after Alan Shepard, who became the first NASA astronaut to take a suborbital trip to space in 1961) is a fully reusable, vertical takeoff, vertical landing (VTVL) space vehicle composed of two principal parts: a pressurized crew capsule and a booster rocket that Blue Origin calls a propulsion module, powered using a Blue Origin BE-3 bipropellant rocket engine burning liquid hydrogen and liquid oxygen.
The New Shepard 2.0 space capsule is designed to fly six passengers on suborbital space tourism flights, trips that reach space but don't orbit Earth, and can also carry commercial payloads and experiments. The 15m3 Crew Capsule Escape Solid Rocket Motor (CCE-SRM) is sourced from Aerojet Rocketdyne. After separation two or three parachutes deploy. Just before landing, retro rockets fire.
The New Shepard is controlled entirely by on-board computers, without ground control or a human pilot.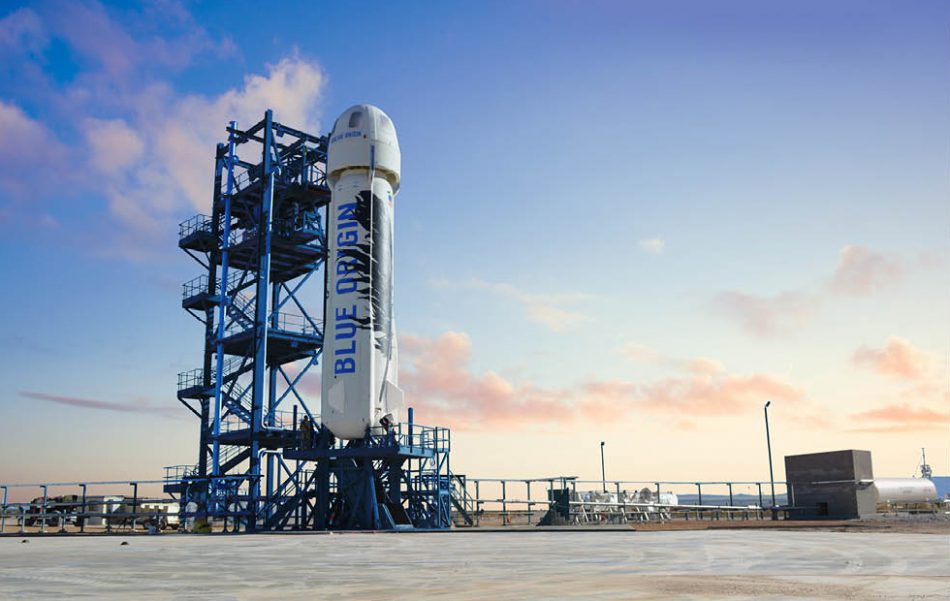 On April 29th, 2018 the Company launched its New Shepard 2.0 in a test flight to a target altitude of 351,000 feet (107,000 meters), carrying a dummy astronaut, nicknamed "Mannequin Skywalker". The altitude that was reached was slightly higher than the company's typical target of 62 miles (100 km), the altitude widely accepted as the boundary of space.
From liftoff to landing, the test flight lasted about 10 minutes and 19 seconds. After launching the New Shepard capsule, the booster separated and returned to its launch site, where it made a smooth vertical landing. The capsule fell back to Earth a few minutes later, descending on parachutes and cushioning its own landing with retrorockets.
Watch the video: New Sheppard 2.0 first flight:

New Glenn
In 2015, Blue Origin announced plans to also manufacture and fly its own orbital launch vehicle, the 95-meter tall New Glenn, in honor of the first American astronaut to orbit the Earth, John Glenn. The 7-meter-diameter (23 ft) first stage will be powered by seven Blue Origin BE-4 engines.

The first stage is reusable and will land vertically, just like the New Shepard suborbital launch vehicle that preceded it and will be launched from the Florida Space Coast. It is expected to make its initial test launch in 2020 and is being designed to carry up to 45 metric tons to LEO or 13 metric tons to GTO.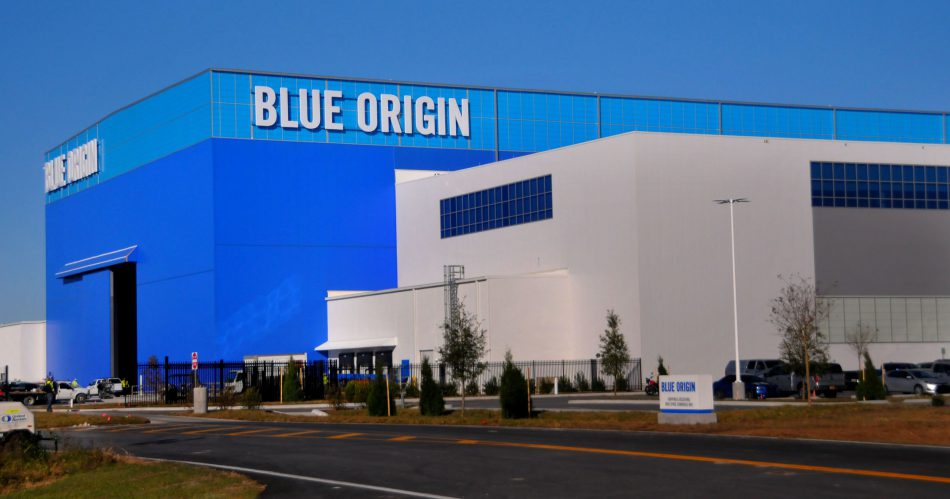 Blue Origin is designing the New Glenn to be reusable, building on the progress the company has made with the suborbital New Shepard launch vehicle. With the two-stage design the New Glenn provides more lift capacity than SpaceX' Falcon 9, Arianespace's Ariane 5, and International Launch Services (ILS)' Proton, the three rockets that orbit the majority of the world's commercial telecom satellites. New Glenn will also have more lift capacity than Europe's next generation Ariane 6, which debuts in 2020. Only the SpaceX' Falcon Heavy, United Launch Alliance (ULA) Delta IV Heavy and China's CGWIC Long March 5 have larger GTO lift capacities.
Watch the video: Introducing the New Glenn
The Company is upgrading Cape Canaveral Air Force Station's Launch Complex 36 to support New Glenn launches, not far from the Florida factory Blue Origin is opening to build the rockets. The company plans to land the vehicle's first stage on a seafaring drone ship similar to what SpaceX uses to recover its Falcon 9 boosters.
In March 2017 Blue Origin contracted its first paying launch customer for orbital satellite launches, satellite operator Eutelsat, that is expected to start launching TV satellites in around 2022 on Blue Origin's New Glenn orbital launch vehicle. A day after announcing Eutelsat, Blue Origin introduced low Earth orbit startup OneWeb satellite operator as its second customer and in September 2017, Blue Origin closed a deal for New Glenn with its first Asian customer, Thailand-based mu Space Corp. that plans to provide satellite-based broadband services and space travel in Asia-Pacific. OneWeb filed for Chapter-11 bankruptcy protection in March 2020. The company had already successfully launched 74 satellites as part of its constellation.
In March 2018 Blue Origin added a fourth customer to its launch manifest for the still-in-development New Glenn rocket, by signing a launch contract with Japan-based SKY Perfect JSAT satellite operator.
In May 2019, Bezos unveiled Blue Origin's vision for space and also plans for a moon lander known as Blue Moon set to be ready by 2024. On April 30th, 2020, Blue Origin's National Team, which includes Lockheed Martin, Northrop Grumman, and Draper, was awarded 579 million USD to develop an integrated human landing system as part of NASA's Artemis program to return humans to the Moon.
In January 2020 Blue Origin officially opened its new Headquarters and R&D facility, located in Kent, Washington. The new facility covers 230,000 sq ft. will eventually be the base of operations for 1,500 employees.
In total, Blue Origin employs more than 2,500 people, including at its facilities in Cape Canaveral, Florida, Van Horn in West Texas and Huntsville in Alabama.
In February 2020 the company opened a dedicated engine manufacturing facility in Alabama that will allow the spaceflight company to accelerate production of its heavy-lift BE-4 rocket engine. The BE-4, still under development, will power Blue Origin's New Glenn rocket as well as the United Launch Alliance's new Vulcan rocket, which is being produced at ULA's factory in nearby Decatur.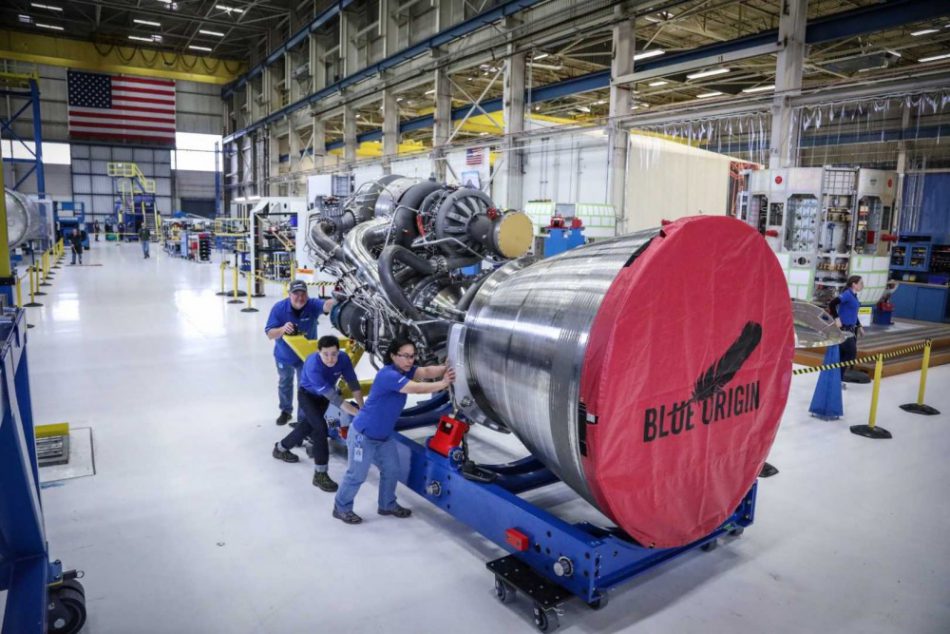 On September 12th, 2022 the uncrewed New Shepard rocket experienced a 'booster failure' and failed mid-flight shortly after lift-off from the Blue Origin's West Texas launch site. The rocket aborted its cargo capsule to safety using a parachute to fall to the Earth. This was the 23rd New Shepard mission, aiming to send NASA-funded experiments and other payloads to the edge of space to float for a few minutes in micro-gravity.


All trademarks, logos and images mentioned and showed on this page are property of their respective owners.

Resources
www.blueorigin.com
www.sky-brokers.com
www.ulalaunch.com
www.wikipedia.org
www.eutelsat.com
www.onewebsatellites.com
www.oneweb.world
www.cnet.com
www.techcrunch.com
www.spaceflight101.com edition September 12th, 2016
www.geekwire.com edition October 24th, 2016
www.spacenews.com edition March 12th, 2018
ww.space.com edition April 29th, 2018
www.madeinalabama.com edition February 17th 2020
www.cnn.com edition September 12th, 2022
www.reuters.com edition September 12th, 2022
www.space.com edition September 14th, 2022