RasComStar
RASCOM is the Regional African Satellite Communication Organization and provides telecommunication services, direct TV broadcast services and Internet access in rural areas of Africa. Under an agreement with RASCOM, RascomStar-QAF will implement RASCOM's first communications satellite project. This joint African project is expected to lower the continent's dependency on international satellite networks such as INTELSAT. RascomStar-QAF is privately owned and headquartered in Dubai UAE.
Thales Alenia Space was contracted in 2003 to develop and build the first satellite, RasComStar-QAF 1 (RQ1) and was subsequently launched in 2007. The satellite suffered a propellant failure (helium leakage), which significantly reduced its life expectancy to three years.
The company ordered a second identical satellite, RasComStar-QAF 1R (RQ1R), and was successfully launched and deployed into service in 2010. RQ1R was the first pan-African satellite with coverage of the entire continent and off-shore islands with a single C-band and two Ku-band (North and South) footprints. All existing customers were switched to the new satellite without any service outage.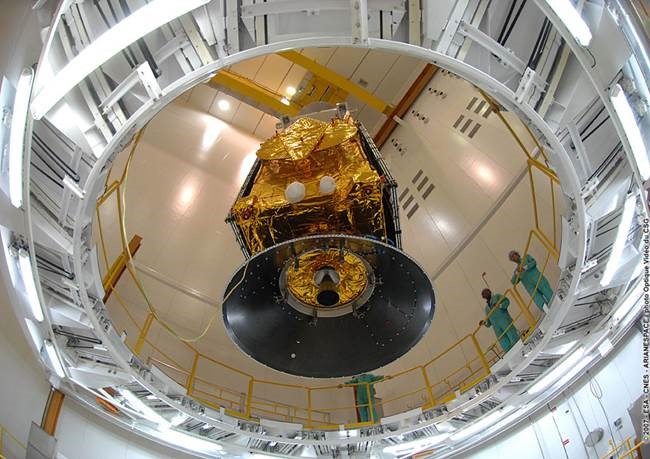 RascomStar has two Satellite Control Stations, one in Gharyan, Libya and the other in Fucino in Italy, plus a mission control facility located in Douala, Cameroon. ViaSat Inc. built and installed the satellite ground terminals, gateway antennas and other ground gear in Africa, under contracts valued at about 53 million USD.

Company History
In 1992 the African created the Regional African Satellite Communications Organization: RASCOM. The main objective of RASCOM was the implementation of a telecommunications infrastructure capable of ensuring the sustainable development of telecommunications over the entire African continent with special emphasis on providing rural telecommunication services in each African country.
In 1998 RasCom-QAF and RASCOM entered into a concession agreement, referred to as the Execution Agreement. Under this Execution Agreement, RASCOM assigned the frequency rights and other orbital rights obtained for the project to RasCom-QAF for the duration of the concession and established terms and conditions for the construction, deployment and operation of the space segment and ground segment of a pan-African satellite telecommunications system.
In 2002 RasCom-QAF was registered as a Mauritius company, with a global business license. The three founding shareholders were RASCOM, Alcatel and GPTC.
In 2003 the company entered into the first contract for the manufacture of the first RasCom-QAF satellite and the delivery of the satellite in-orbit as well as the supply of a ground control system to be installed in Gharyan, Libya.
In 2004 additional frequency resources at 3° East were obtained for the RasCom-QAF 1 (RQ1) satellite.
In 2006 RasCom-QAF decided to simplify its corporate structure and consolidated R-QAF with RascomStar-QAF in an assignment of all R-QAF's assets and obligations to RascomStar-QAF. Libya Africa Investment Portfolio (LAP) entered into a subscription agreement to become a shareholder in RascomStar-QAF.
On December 21st, 2007 launch operator Arianespace launched the RasComStar-QAF 1 spacecraft from Kourou, French Guyana on the Ariane 5GS rocket. It was the first satellite entirely dedicated to the African continent. Thales Alenia Space built the satellite in the Cannes Mandelieu Space Center, France and announced on 29 December that year that a helium leak aboard the spacecraft would delay its activation. On 4 February 2008 Thales Alenia Space announced the satellite had reached its intended geostationary orbit at 3°E. Its lifetime was expected to be slightly over 2 years. The satellite was moved to an orbital graveyard slot.
In 2008 the commercial Operation on RasComStar-QAF 1 (Bandwidth Lease Services – R*BCS) was started. The opening of Missions Facilities in Douala (Cameroon) were also planned that year, as well as the assembly of RasComStar-QAF 1 replacement Satellite, RasComStar-QAF 1R (RQ1R) was supplied by Thales Alenia Space in September.
In 2009 RascomStar-QAF was honored by SATCOM STARS during the SATCOM AFRICA 2009 show as winner of the award for "Innovative Application of Satellite Technology in Africa 2009".
On August 4th, 2010 launch operator Arianespace successfully launched in a dual launch with NileSat 201 from satellite operator NileSat from Egypt, the RasComStar-QAF 1R spacecraft on an Ariane 5ECA rocket. The satellite is located at 3° East covering the Africa continent and Mauritius.

All trademarks, logos and images mentioned and showed on this page are property of their respective owners.

Resources
www.rascomstar.com
www.rascom.org
www.wikipedia.org
www.satbeams.com
www.arianespace.com
www.spaceflightnow.com edition February 6th, 2008
www.spacenews.com edition July 9th, 2009
www.space.com edition August 5th, 2010
www.spacenews.com edition October 22nd, 2010
www.space.skyrocket.de
www.space-travel.com
www.investors.viasat.com
Satellite fleet by RasComStar