Prométhée
Prométhée is a privately-held New-space company that develops a constellation of 20 Earth Observation Nano-satellites and an image analysis platform intended to provide easily interpretable information. The company's platform facilitates observation space data for applications in agriculture, the environment, water monitoring, smart cities through the use of Smallsats, enabling governments and commercial organizations to provide environmental and strategic intelligence services.
The company was founded in 2020 and is based in Paris region with a technical facility set up in Toulouse, south of France. The scope of application proposed by Prométhée covers fields related to national sovereignty and resilience such as urban planning management, protection of water resources, critical infrastructures, fight against deforestation, illegal fishing, ecological efficiency of agriculture, defense, and security.
The goal of Prométhée is to bring less expensive space applications to emerging countries, in particular in Latin America and Africa.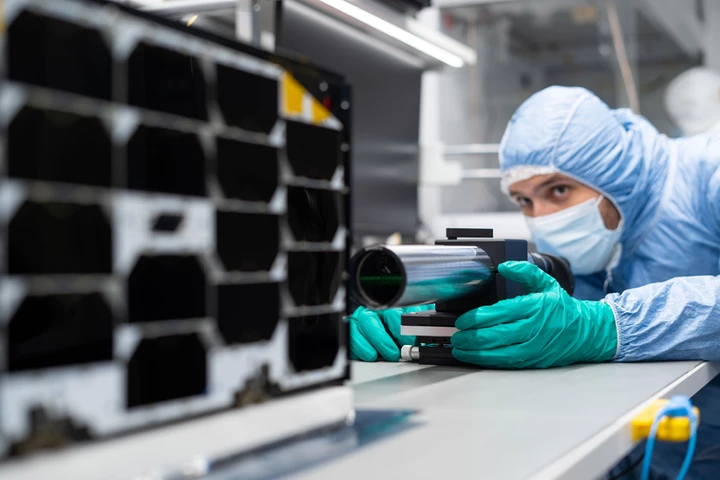 The company contracted mission integrator NanoAvionics from Lithuania in April 2022, to build the first Nano-satellite for the company's planned constellation of Earth observation satellites and image analysis platform. The first satellite will be based on NanoAvionics' flight-proven 16U Nano-satellite bus M16P.  
In addition to the satellite with onboard camera and propulsion, NanoAvionics will also provide Prométhée with full mission services, testing, integration, launch, licensing, and initial satellite operations. The "ProtoMéthée-1" satellite is intended to be launched towards the end of 2023 in low Earth orbit (LEO). The company's service demonstrator will be based on a high revisit rate constellation (20 times more passes per day) and offering hyper-reactivity through inter-constellation connectivity.
After this first phase of systems development, the company plans to launch the first demonstrator of the Japetus constellation at the end of 2024.

Company History
Prométhée was founded in January 2020 by Giao-Minh Nguyen (CEO) and Olivier Piepsz (President). Nguyen has worked for various space companies such as ArianeGroup and held a VP postion at Nano-satellite manufacturer Open Cosmos. Piepsz has an Aeronautics and Aerospace background and studied at the Massachusetts Institute of Technology (MIT) in Cambridge, USA. He held various senior management positions in international organizations.
In September 2020 the company raised 2.2 million euro in funding for its Earth Observation constellation of Nano-satellites. Private Equity Fund Jones Day represented the company with the seed round of financing that was led by three industrials alongside business angels. The funds were raised from space sector investors including Unseenlabs investor Hemeria as well as the ADF Group and Comat.
In April 2022 Prométhée completed a new round of financing of 4.7 million in funding for its Earth Observation constellation of Nano-satellites. The second round of funding was completed 2nd half of April with contributions from strategic investors such as Bpifrance, public funds, regional banks and new investment funds.
On April 28th, 2022 Prométhée contracted mission integrator NanoAvionics to build the first Small-sat for the company's planned constellation of Earth Observation satellites and image analysis platform. The satellite, ProtoMéthée-1, will be based on NanoAvionics' flight-proven 16U Nano-satellite bus.

All trademarks, logos and images mentioned and showed on this page are property of their respective owners.

Resources
www.promethee.earth
www.satelliteevolution.com
www.nanoavionics.com
www,news.satnews.com edition April 28th, 2022
www.spaceref.com edition April 28th, 2022
www.newspace.im
www.pitchbook.com
www.spacewatchafrica.com
www.smallsatnews.com edition April 29th, 2022
www.jonesday.com
www.jibeop.com
www.hemeria-group.com
www.rocketreach.co