Kleos Space
Kleos Space is a start-up company developing a constellation of radio-frequency monitoring satellites, headquartered in Luxembourg and offices in the UK and USA. The company locates radio transmissions in key areas of interest around the globe, efficiently uncovering data points to expose human activity on land and sea.
Using clusters of four satellites, proprietary radio frequency data (RF Data) is collected, transmitted to the ground, processed and delivered to customers worldwide. Customers, including analytics and intelligence entities, will license data on a subscription basis (Data-as-a-Service aka DaaS), for government and commercial use cases, aiding better and faster decision making.
In July 2021 the company reported over 160 prospects in its business pipeline, including defense entities, naval forces, coast guard, border control and national security agencies from several countries.
The company plans for as many as 20 clusters of satellites, designed to detect and geolocate RF transmissions for applications ranging from combating piracy and people and drugs smuggling to illegal fishing.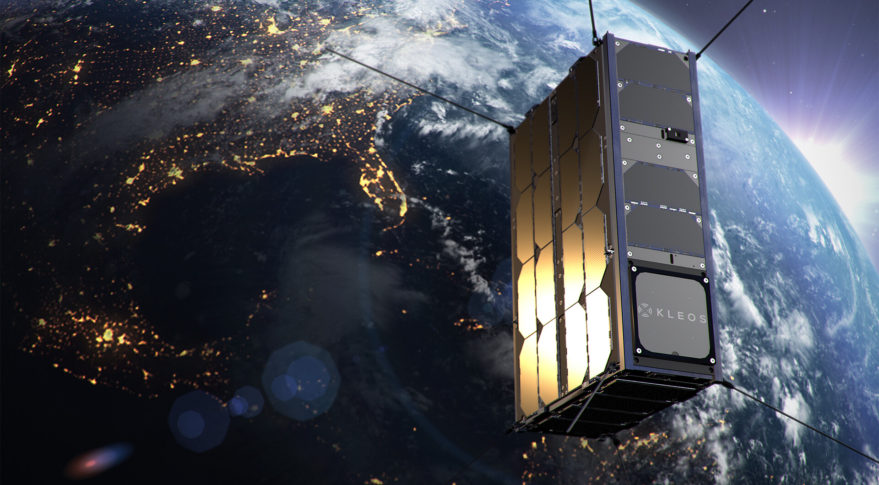 Kleos' first satellite cluster, the Scouting Mission (KSM1), is the world's first four satellite clusters flown in a formation targeting a precision geolocation capability. The cluster was successfully launched in November 7th, 2020 on a PSLV launch vehicle operated by ISRO from India. The launch was scheduled for late 2019 on Rocket Lab's Electron rocket but was moved to ISRO, due to delays caused by the COVID-19 pandemic events. It became ISRO's first launch of 2020.
The company's second satellite cluster, the Vigilance Mission (KSF1), successfully launched on June 30th, 2021 with the Transporter-2 mission on a Falcon 9 rocket operated by SpaceX.
Kleos' third cluster, the Patrol Mission (KSF2), was launched on January 13th, 2022 with the Transporter-3 rideshare mission on a SpaceX' Falcon 9 rocket. The fourth cluster, the Observer Mission, is targeted for April 2022 with SpaceX' Transporter-4 mission. These satellite clusters form the foundation of a global high-capacity constellation of up to 20 satellite clusters, which will deliver high value global observation.

Company History
Kleos Space was founded in 2017 by CEO Andy Bowyer and CIO Miles Ashcroft. Bowyer has 15 years' heritage delivering complex Space contracts, including missions to Mars and Mercury as co-founder of Magna Parva, a UK-based Space engineering company. Ashcroft co-founded Magna Parva and is Member of The Royal Aeronautical Society. He received an undergraduate degree from the University of Salford, UK.
In August 2018 Kleos Space raised 6.96 million euros (8 million USD) from investors and began trading on the Australian Stock Exchange.
On September 19th, 2018 Kleos signed a launch contract for the first launch of its satellite cluster, the Scouting Mission (KSM1), with launch operator Rocket Lab from New Zealand but switched to the ISRO's PSLV rocket for a rideshare mission, when Rocket Lab suffered from delays.
In August 2019 Kleos Space and LEO satellite operator Spire Global, operating the LEMUR constellation equipped with sensors to gather atmospheric data and receivers to track ships and aircraft (AIS), announced plans to create new satellite-derived the 'Safety at Sea Collaboration', providing effective tools to help government and maritime agencies spot ships attempting to evade detection.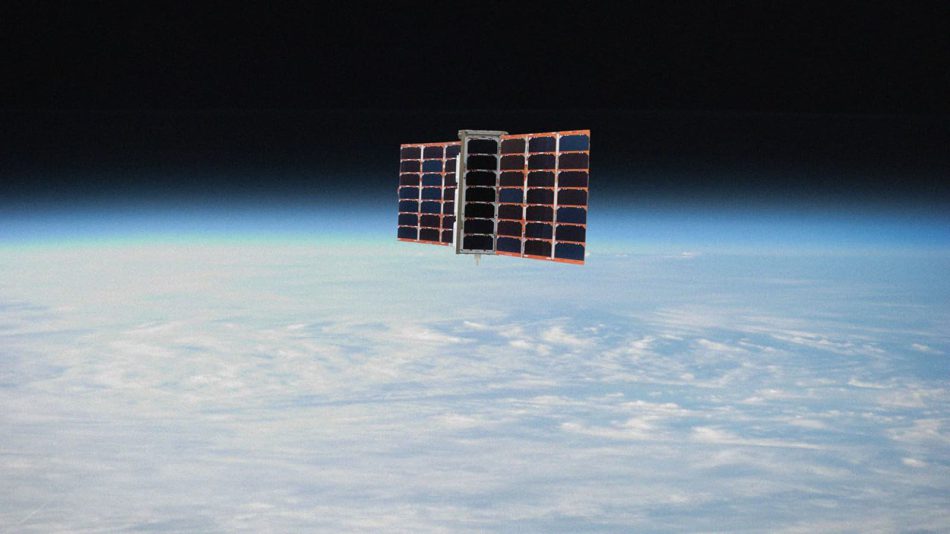 In February 2020 the company received a 3.4 million-euro (3.7 million USD) loan from Dubai-based Winance to keep the company 'well-funded' while it awaits the launch of its first satellites. Kleos waited more than a year to launch the satellites, that were originally booked on a Rocket Lab Electron for a late 2018 flight.
IIn April 2021 the company signed a multi-year distribution agreement with the US Government IT solutions provider Carahsoft Technology Corporation. The contract provides Kleos with direct access to Carahsoft's US federal, state and local government contracts, including the General Services Administration schedule, NASA's Solution for Enterprise-wide Procurement (SEWP), Federal Information Technology Acquisition (FITARA), and ITES-SW2, which supplies enterprise IT infrastructure for the US Army and Department of Defense.
In June 2021 Kleos secured 7.9 million euro in capital from new and existing investors, including Perennial Value Management and Thorney Investment Group. The finance would allow Kleos to expand its engineering and customer satisfaction teams in Luxembourg, UK and USA to meet customer needs, and to further scale its offering.
In September 2021 the company raised 9.4 million USD by trading publicly on stock exchanges in Germany and Australia, to grow its constellation.
In October 2021 Kleos Space ordered four more RF reconnaissance satellites, securing a launch in mid-2022 to improve data collection and revisit times. Netherlands-based Innovative Solutions in Space (ISISPACE) will build the venture's fourth cluster of satellites, the Observer Mission (KSF3). Launch operator SpaceX orbited the cluster on the Transporter-4 Rideshare mission that was launched in April 1st. 2022, ISISPACE also supported Kleos Space's second cluster of satellites.

| | | | | |
| --- | --- | --- | --- | --- |
| Satellite Cluster | Mission | Launch Date | Launcher | Launch Operator |
| KSM1 | PSLV-C49/EOS-1 | Nov 7th, 2020 | PSLV | ISRO India |
| KSF1 | Transporter-2 | June 30th, 2021 | Falcon 9 | SpaceX USA |
| KSF2 | Transporter-3 | Jan 13th, 2022 | Falcon 9 | SpaceX USA |
| KSF3 | Transporter-4 | April 1st, 2022 | Falcon 9 | SpaceX USA |

All trademarks, logos and images mentioned and showed on this page are property of their respective owners.

Resources
www.kleos.space
www.spacenews.com edition August 23rd, 2018
www.rocketlabusa.com
www.spacenews.com edition August 8th, 2019
www.isro.gov.in
www.iafastro.org
www.spacenews.com edition February 18th, 2020
www.spacenews.com edition November 7th, 2020
www.parabolicarc.com
www.marketscreener.com
www.spaceref.com edition July 5th, 2021
www.spacenews.com edition October 19th, 2021
www.satellitetoday.com edition October 20th, 2021
www.nanosats.eu
www.spacenews.com edition January 13th, 2022
www.spacex.com
www.spaceanddefense.io
Satellite fleet by Kleos Space