Asia Broadcast Satellite (ABS)
Asia Broadcast Satellite (ABS) operates 6 satellites in orbit serving 93% of the world. The Company delivers a complete range of end-to-end solutions from Direct-to-Home (DTH) and cable TV distribution (CATV) through to cellular backhaul, VSAT and data services with diverse transit through our European, Middle-East and Asian Internet gateways. Headquartered in Bermuda, ABS has offices across the world in the USA, United Arab Emirates, South Africa, Philippines, Indonesia and Hong Kong.
Asia Broadcast Satellite is one of the fastest growing satellite operators in the world. ABS serves a global customer base with representatives in Asia, the Middle-East, Europe and North America. ABS offers a complete range of End-to-End solutions including Direct to Home (DTH) and Cable TV distribution (CATV), Cellular Backhaul, VSAT and Internet Backbone services with diverse IP transit through its European and Asian internet gateways. ABS currently hosts over 175 TV channels making it as one of the fastest growing and top satellite distribution platforms and broadcaster of TV channels in the Asia Pacific.
ABS is rapidly expanding its satellite fleet and business worldwide through the recent acquisitions of ABS-7 (formerly Koreasat-3), ABS-1A (formerly Koreasat-2) and ABS-5 (formerly Agila-2). Both ABS-1A, constructed by Lockheed Martin and ABS-5, built by Space Systems/Loral are retired and moved into inclined orbit.
ABS had a strategic cooperation with Eutelsat satellite operator for the ABS-1B/Eutelsat W75 satellite at 75° East. Eutelsat co-located their formerly EUROBIRD-4 satellite, built by Airbus Defense & Space, to address markets in the Middle-East, central Asia and Russia.
In February 2014 the ABS-2 state-of-the-art high-powered spacecraft was successfully launched as the largest satellite in the eastern hemisphere. ABS-2 and is located at the 75° East Longitude, ABS' prime orbital location covering four-fifths of the world's population across the Indian Ocean region.
On March 1st 2015 ABS successfully launched their ABS-3A satellite, built by Boeing, that was located at 3° West and connecting the Americas, Europe, Africa and the Middle-East. It will extend ABS' C- and Ku-band coverage into the Atlantic Ocean Region. Three C-band beams will cover the Americas, the Middle-East and Africa along with a global beam. Four Ku-band beams will cover Europe, MENA, South Africa and the Americas.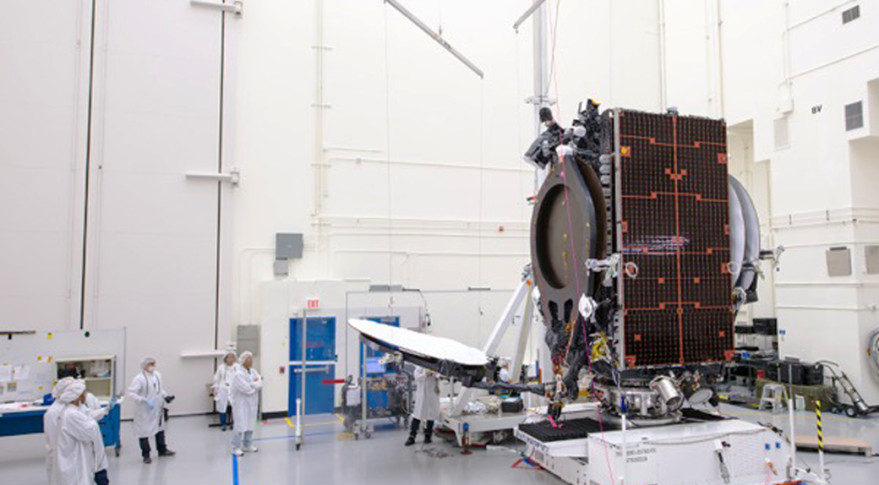 On June 14th 2016 the ABS-2A satellite, constructed by Boeing, was launched by launch operator SpaceX with their Falcon 9 rocket. The satellite was co-located with ABS-2 at the prime location at 75°E. ABS is committed to maintaining its aggressive growth through the announcement of more strategic partnerships, acquisitions and further additions to its satellite fleet.
In 2015 ABS ordered the all electric ABS-8 satellite with Boeing. ABS-8 would replace ABS-7 satellite at 116.1°East, and would also deliver significant expansion capacity for Asia, Russia and the Middle-East. The satellite was expected to launch late 2017 with launch operator SpaceX, but ABS terminated the order 6 weeks after the agreement with Boeing, due to the U.S. Export-Import Bank's loss of its operating charter due to congressional opposition. Boeing and ABS are trying to renegotiate the satellite contract.

Company History
Asia Broadcast Satellite found its roots back in the 90's. Mabuhay Philippines Satellite Company, MPSC (formerly Mabuhay Investment Corporation (MIC), a holding company owned by the Philippine Long Distance Telephone Company) was founded in November 1994. The company was established primarily to build, own, operate and maintain an international satellite providing telecommunications and broadcasting on a domestic and international level. It once owned the in 1999 launched Agila-2 (146° East), satellite, which provides the most powerful coverage in the Asia-Pacific region. Its control station is located at the MPSC Space Center in the Subic Bay Freeport Zone. Aside from satellite operation, it also provides satellite-related services. It currently operates two space centers, namely the Mabuhaysat Subic Space Center, its main hub, and the Mabuhaysat Zamboanga Space Center at Zamboanga City, its back-up hub.
The majority of the board of directors agreed, at a meeting held on April 10, 2003, to eliminate the word "Philippines" from the company's name, as the company was set to be the ideal satellite operator internationally, not only within the Philippines.
On November 6th 2009, MSC's communication satellite operation business was sold to Asia Broadcast Satellite (ABS) after they signed an agreement. ABS was established to meet the growing demands of broadcast and telecommunications operators in Africa, Russia, Asia and the Middle-East regions. In September 2006, ABS successfully concluded the acquisition of the Lockheed Martin Intersputnik-1 (LMI-1) satellite that was renamed ABS-1 satellite.
In November 2010, the Permira funds and the ABS management team announced the successful acquisition of ABS from Citi Venture Capital International and Asia Debt Management. ABS is majority owned by the Permira funds, which are advised by European Private Equity firm Permira. Historically the Permira funds have been a leading investor in the satellite industry with substantial ownership stakes in Intelsat and Inmarsat.
On January 13th, 2012 after the Securities and Exchange Commission (SEC) approved the amendment on its articles of incorporation, Mabuhay Satellite Corporation was renamed Mabuhay Investment Corporation.

All trademarks, logos and images mentioned and showed on this page are property of their respective owners.

Resources
www.absatellite.net
www.sslmda.com
www.wta.com
www.satbeams.com
www.spacenews.com
www.space.rocket.de
wws.seradata.com edition August 25th 2015
www.spacenewsmag.com edition December 5th 2016