ABS-4 (MobiSat-1) at 61° East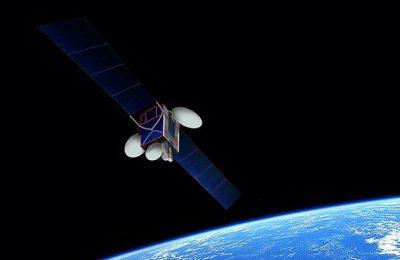 ABS-4 satellite is located at 61° East and was owned by Mobile Broadcasting Satellite or Hanbynul, a mobile broadcasting satellite jointly built for the Japanese Mobile Broadcasting Corp. and the South Korean SK Telecom.
Due to financial issues the broadcasting operations were stopped on 31 March 2009. Asia Broadcasting Satellite purchased the MBSat satellite in 2013 and moved it to 75° E and later to 61° E. ABS renamed it ABS 2i and later it was renamed ABS-4 (Mobisat-1).
The satellite was built by Space Systems/Loral (SS/L) and is based on SS/L's FS1300 bus. It provides 2.400 kW RF-power over 25 MHz of S-band spectrum to run more than 50 channels of audio and video from 16 S-band transmitters operating at 120° W. In addition, the satellite provided a 25 MHz Ku-band service link to transmit the broadcast signal to terrestrial repeaters. The satellite generated more than 7.400 kW of dc-power continuously throughout its planned 12 year life. The satellite deployed a 12 meter antenna reflector to transmit the MBC programming.
The system was able to broadcast more than 50 programs simultaneously and is equipped with S-band and Ku-band coverage over the MENA region. It is a geostationary mobile multimedia satellite that provides direct broadcast of digital audio and video content to mobile users via two high-powered cross polarized Ku/S-band beams: West Beam and East Beam.
ABS-4 is also capable of distributing the digital data content to terrestrial repeater networks within the beam via two Ku/Ku-band beams.