Spacecom
Space Communications (Spacecom)
Spacecom Communications (Spacecom) is a leading global fixed-satellite operator and satellite service provider, offering tailored end-to-end communication solutions to the Media and Broadband industries. The company is operating the advanced AMOS satellite fleet and is headquartered in the city of Ramat Gan in Israel.
Spacecom provides innovative broadcast and broadband satellite services with Pan-European, Pan-African, Middle-Eastern, Russian and Asian coverage and cross region connectivity.

Company History
Spacecom was established in 1993 with a defined goal of marketing AMOS 1, a new built communication satellite manufactured by Israel Aerospace Industries (IAI) and launched in 1996. Spacecom operates the AMOS (Affordable Modular Optimized Satellite) communications satellite fleet, covering diverse territories with an International global expansion growth strategy. Spacecom today is an established market leader in Europe, the Middle East with the 4°W orbital slot 'hot spot', has established a significant footprint in Africa and North America and is now expanding to Asia.
Until 2005, Spacecom was a private company controlled by four companies, including IAI and Eurocom Group. It went public on the Tel Aviv Stock Exchange in 2005.
Spacecom has an excellent reputation in the market with an experienced and stable management and strong financial background.
As per March 5th, 2015 the company was seeking for buyers and in August 2016 Spacecom's shareholders agreed with the sale of Spacecom to Chinese telecommunications company Beijing Xinwei Technology Group Co. Ltd. in a 289 million USD deal.
Spacecom was integrated into a Luxembourg-based company called Luxembourg Space Telecommunication, S.A., and the actual sale was handled by Israeli-based Big Bird, Ltd. Both Luxembourg Space Telecommunication, S.A. and Big Bird, Ltd. are owned by Beijing Xinwei Technology Group, Co. Ltd.

AMOS Satellite Fleet
In May 1996 launch operator Arianespace launched Spacecom's first satellite, AMOS-1, to provide geostationary services until mid-2008. In 2009 the satellite was sold to satellite oprator Intelsat, which would use it from an inclined orbit under the designation Intelsat-24.
On December 27th 2003 launch operator ILS orbited AMOS-2 with a Soyuz Fregat launcher and moved the satellite to the 4°W orbital slot, where it is expected to provide services through 2016.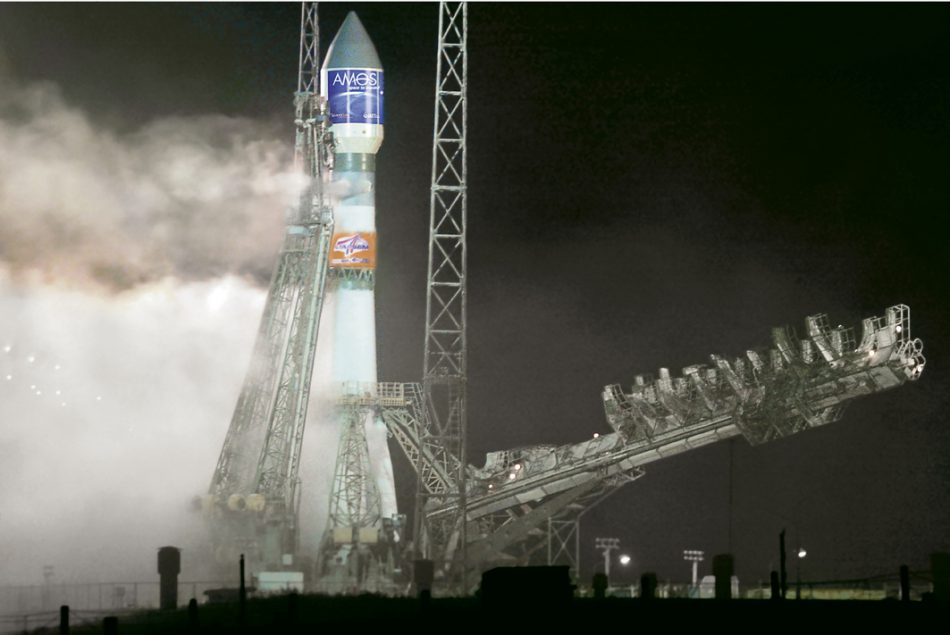 Launch operator ILS launched AMOS-3 in April 2008 and moved the satellite to the 4°W orbital position, broadening Spacecom's service offerings with additional capacity, expanded coverage areas and advanced capabilities, including Ka-band and steerable beams.
On December 11th 2011 launch operator ILS orbited the AMOS-5 satellite and moved it to the 17°E orbital location. The satellite, built by Russia based ISS Reshetnev and Thales Alenia Space, would deliver high-power C-band and Ku-band capacity to the entire African continent, with access to Europe and the Middle-East.
In August 2013 AMOS-4 was successfully launched by a Zenit-3SLB rocket to the 65°E orbital location. Its steerable Ku-band and Ka-band beams extend Spacecom's footprint to Asia and Russia. AMOS-4 also included a Ka-band beam with coverage over China. The satellite's payload was constructed by Thales Alenia Space. The launch was conducted by Space International Services (SIS), a company that was set up in 2002 by launch operator Sea Launch with its Russian and Ukranian partners. The Zenit 3SLB is the land version of Sea Launch' Zenit 3SL that was failed in previous launch of Intelsat's Intelsat-27 satellite that was lost.
In September 2015 Spacecom lost contact with its AMOS-5 satellite. All signals from the satellite were suddenly lost and recovery efforts were without success. The satellite was declared as total loss and became a 'Zombie,' roaming through the Geostationary Belt of satellites with no control from the ground.
AMOS-6 was planned for launch in September 2016, to be co-located at the 4˚W orbital position with AMOS-2 and AMOS-3. It would provide steerable Ku-band with Pan-European and Middle-East coverage, and a Ka-band beam for broadband services with coverage in Africa and Europe. On September 1st 2016, the AMOS-6 satellite was destroyed during the launch that was performed by SpaceX with a Falcon 9 rocket.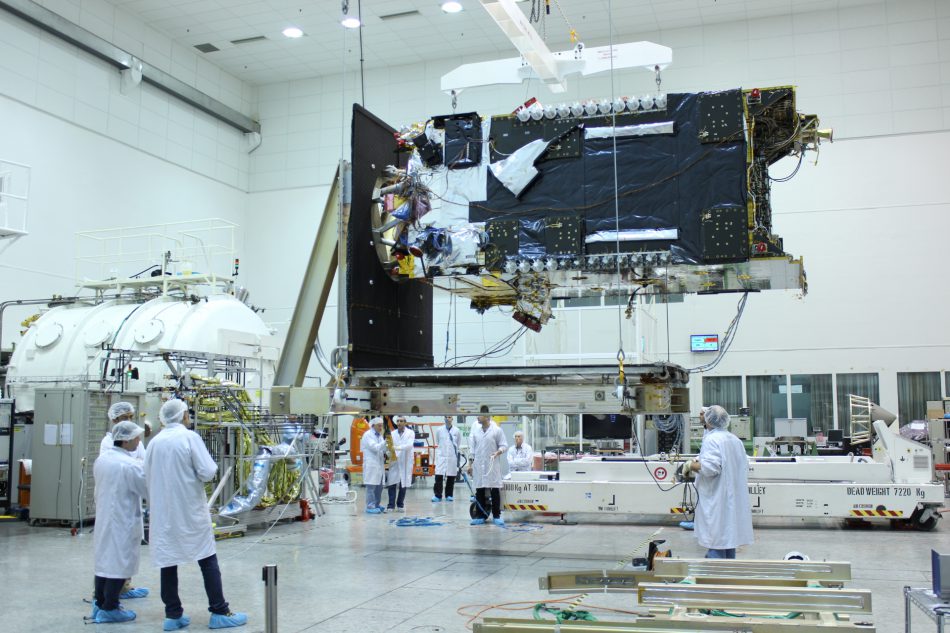 In December 2016 Spacecom contracted Boeing to built the AMOS-17 spacecraft, designed to provide broadcast and broadband connectivity services across sub-Saharan Africa, Europe, the Middle East and parts of Asia. The satellite replaced AMOS-5, that ceased communicating in November 2015. The AMOS-17 satellite was launched by launch operator SpaceX on August 6th on an expandable Falcon 9 rocket.
In February 2017 Spacecom agreed on a 22 million USD contract to borrow AsiaSat-8 satellite from AsiaSat satellite operator, as Spacecom prepared a replacement for AMOS-6, that was lost in 2016. Spacecom rebranded the 24 Ku-band transponders and four steerable beams as AMOS-7. The satellite functions as a quickly needed replacement, since AMOS-6 was supposed to replace AMOS-2 that was launched in 2003.
In March 2018 Spacecom ordered the AMOS-8 satellite with Space Systems/Loral (SS/L) to replace the AMOS-6 satellite that was destroyed during SpaceX's Falcon 9 fueling mishap in 2016. In September Israel's Ministry of Science announced that AMOS-8 will be built in Israel by manufacturer IAI with government financial support.

All trademarks, logos and images mentioned and showed on this page are property of their respective owners.

Resources
www.amos-spacecom.com
www.nasaspaceflight.com edition August 31st 2013
www.haaretz.com edition March 5th 2015
www.spaceflight101.com edition November 25th 2015
www.satbeams.com
www.wikipedia.org
www.space.skyrocket.de
www.satellitetoday.com edition Sept 1st 2016
www.globes.com.il edition August 24th 2016
www.spacenews.com edition September 27th 2017
www.spacewatchme.com
www.spacenews.com edition September 16th 2018
www.spacenews.com edition August 6th 2019
www.bloomberg.com