Amazon Kuiper Systems
Amazon Kuiper Systems is a subsidiary of e-commerce giant Amazon.com. The company was formed in 2019 to deploy a large broadband satellite internet constellation to provide broadband internet connectivity to the USA and other parts of the world. Amazon's budget for Project Kuiper is more than 10 billion USD.
The deployment is also referred to by its project name 'Project Kuiper' named after the Dutch-American Astronomer Gerard Kuiper (1905-1973) that invented the Kuiper Belt, a circumstantial 'disc' that surrounds our solar system and composed mainly of methane, ammonia, and water.
The aim is to serve individual households, as well as schools, hospitals, businesses, government agencies and other organizations operating in places without reliable broadband. Kuiper's satellites will work in three orbital rings, at 590km, 610km and 630km above the surface, giving a latency of about 4ms.
Amazon Kuiper Systems LLC. does not yet have a timeline around deployment or availability of their network for customers, but Amazon is clearly investing in the project with the construction of new dedicated facility, which will be located in Redmond, WA, USA, near Amazon's overall home base in Seattle. The new facility will cover 219,000 sq. ft (20,345m2) across two separate buildings housing R&D labs, office space and even prototype manufacturing for onsite satellite hardware production. The new building was opened in 2020.

Company History
In April 2019 Amazon announced that they would fund and deploy a large broadband satellite internet constellation called Project Kuiper. It is expected to take up to a decade to fully deploy all 3,236 satellites planned for the full constellation in order to provide internet to tens of millions of people who lack basic access to broadband internet. Amazon has no intention to sell broadband service directly to consumers, but will offer broadband service through partnerships with other companies.
In December 2019 Amazon requested the FCC to waive requirements (eg. to have applied by 2016) that competitors SpaceX and OneWeb had to follow in order to get their large satellite internet constellations licensed. As of December 2019, the FCC had not yet ruled on the request. SpaceX and others asked the FCC to reject the waiver request.
In July 2020 Amazon received regulatory approval from the FCC to build a constellation of 3,236 satellites. According to the FCC order, Amazon is required to launch and operate 50% of its satellites no later than July 30th 2026. At the time, Amazon pledged to invest 10 billion USD into the project.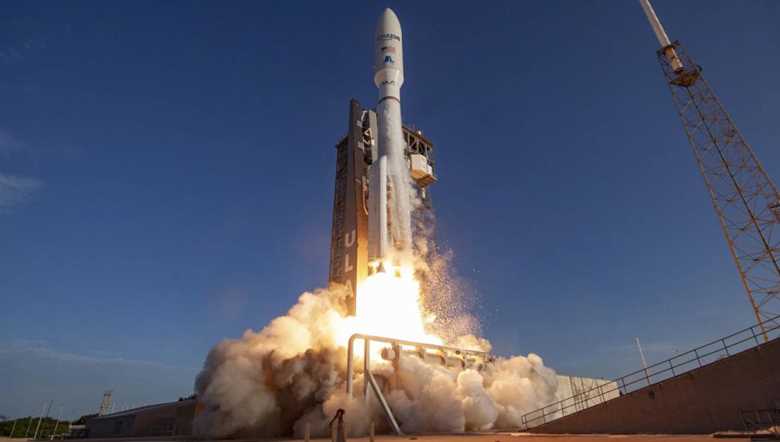 In April 2021 Amazon signed a launch contract with launch operator ULA for nine Atlas V rocket launches for its Project Kuiper satellite constellation. The Atlas V missions will launch from Space Launch Complex 41 at Cape Canaveral Space Force Station in Florida. Amazon also announced that they would not plan to exclusively use launch capacity from Jeff Bezos' Blue Origin company, but rather were open to launch capability offers from all providers.
In July 2021 Amazon acquired the Satellite Connectivity team from Facebook to work on the Kuiper Project. Amazon paid Facebook an undisclosed amount as part of the deal, which now has the employees working on delivering internet connectivity from 'low Earth orbit satellites.'
The move brought an end to Facebook's efforts to deliver internet connectivity to remote areas via its own satellites. This effort started in 2018 as a way 'to bring broadband connectivity to rural regions where internet connectivity is lacking or nonexistent'. Facebook had also tried to use internet drones to bring connectivity to remote areas, but ended that effort in 2018.
Facebook's connectivity plans took a huge blow when the AMOS-6 satellite, operated by satellite operator SpaceCom from Israel, was destroyed during a SpaceX' Falcon 9 rocket test fire. Facebook had planned to lease capacity off this satellite and after the failure, it never pursued a replacement.
In November 2021 Amazon signed a multi-launch agreement with launch operator ABL Space Systems, which is developing the RS1 rocket, for launches from Cape Canaveral Space Force Station in Florida. The RS1 rocket is designed to take 1,350 kg to Low-Earth Orbit (LEO) for 12 million USD.
In April 2022 Amazon signed a multi-launch deal with launch operators ULA, Arianespace and Blue Origin to provide a combined 83 launches to send the majority of Amazon's planned 3,236 Kuiper satellites into space. The contract includes 38 launches on ULA's Vulcan Centaur rocket, 18 on Arianespace's Ariane 6 and 12 launches on Blue Origin's New Glenn, with options for 15 additional launches. The deal is in addition to previously announced agreements for nine launches on ULA Atlas V vehicles as well as two RS1 launches from ABL Space Systems to deploy the prototype KuiperSat-1 and KuiperSat-2 satellites in late 2023.

In July 2023 Kuiper invested 120 million USD in a 100,000 sq. ft. factory which is being built near the Kennedy Space Center in Florida. The Kuiper satellites will be built at Amazon's primary factories in Redmond and Kirkland, Washington. Kirkland will assemble five satellites per day and upon completion, the satellites will be shipped to the Florida facility for final testing and integration into their rockets.

On September 5th, 2023 the company signed an agreement with telco multinational Vodafone to expand 4G and 5G services to Vodafone's customers. The deal will high-speed broadband to unserved communities in Europe and Africa without the cost of traditional fiber build-out. When Kuiper is operational, the companies plan to install Project Kuiper customer terminals alongside cellular towers, using Project's Kuiper's satellite links to connect from the towers back to the companies' core networks. This process is known as cellular backhaul via satellite.

Satellite Operations
The Amazon Kuiper Systems LLC. satellites are projected to use an orbit with a height between 590 and 630km (370 and 390 mi). Kuiper is planned to work in concert with Amazon's previously announced large network of 12 satellite ground station facilities (the 'AWS Ground Station unit') announced in November 2018.
As of April 2021, the Kuiper System is planned to consist of 3,236 satellites operating in 98 orbital planes in three orbital shells, one each at 590 km (370 mi), 610 km (380 mi), and 630 km (390 mi) orbital altitude.
The president of Kuiper Systems LLC. is Rajeev Badyal, a former VP of SpaceX' Starlink satellite internet constellation who was fired in 2018.

Satellite Antennas
In December 2020 Amazon revealed the design of the antennas its customers will use to tap into the company's upcoming massive satellite constellation.
The antenna, which is a phased-array design, underwent development and testing. With a diameter of just 12 inches across, the antenna is smaller and lighter than legacy antenna designs. The antenna can provide maximum throughput of up to 400 Mbps and can be used to stream 4K-quality videos from geostationary satellites, spacecraft that are located about 22,000 miles above the Earth.
The 12-inch diameter makes the Amazon antenna much smaller than the SpaceX' Starlink antenna. To test out SpaceX's Starlink hardware, beta-testers had to pay an upfront cost of 499 USD for all of the equipment and then an additional 99 USD a month.

All trademarks, logos and images mentioned and showed on this page are property of their respective owners.

Resources

www.aboutamazon.com
www.blueorigin.com
www.techcrunch.com edition December 18th, 2019
www.theverge.com edition December 16th, 2020
www.livemint.com edition April 20th, 2021
www.ulalaunch.com
www.satellitetoday.com edition April 20th, 2021
www.capacitymedia.com edition April 21st, 2021
www.pymnts.com edition July 14th, 2021
www.theverge.com edition July 14th, 2021
www.satellitetoday.com edition November 1st, 2021
www.satellitetoday.com edition April 5th, 2022
www.smallsatnews.com edition July 25th, 2023
www.satellitetoday.com edition September 5th, 2023