Optus Australia
Optus Australia (Singtel Optus Australia)

Optus Australia is still the 2nd largest telecommunications company in Australia, and is a wholly owned subsidiary of SingTel from Singapore. The company primarily trades under the Optus (Optus is Latin for "to choose" or "to decide") brand, while maintaining several wholly owned subsidiary brands, such as Virgin Mobile Australia in the mobile telephony market, Uecomm in the network services market and Alphawest in the ICT services sector.
Optus Pty. is operating five satellites in orbit, the D-series of communication satellite fleet (Optus-D1, D2 & D3) and Optus C1 and Optus 10, delivering services to rural and remote areas in Australia offering expertise and proven capability to effectively meet domestic and regional satellite communications needs. Optus has the ability to deliver service across Australia, New Zealand, South East-Asia, Hawaii, Norfolk Island, Papua New Guinea, Lord Howe Island, Cocos-Keeling Islands, Christmas Island and McMurdo Sound.
The company runs national teleports in Darwin, Perth, Adelaide, Canberra & Sydney and was originally known as AUSSAT Pty. Ltd. prior to privatization, when it became Optus Communications Pty. Ltd. It was later renamed to Cable & Wireless Optus Pty. Ltd. When it was acquired by Singapore based SingTel in 2001.

Company History
Optus Pty. can trace its beginnings back to the formation of the Government-owned AUSSAT Pty Ltd. in 1981. The company was one of Australia's national satellite companies and was one of the first national communications satellite systems in the world. It became a publicly owned company known as AUSSAT and delivered satellite television, telephone and other services. It is credited with being responsible for greatly improved outback communications.
AUSSAT had its origins with Kerry Packer in 1977, then the owner of the Channel 9 television stations in Sydney and Melbourne. Packer wanted to share programming in real time with his stations and created broadband links into Sydney from other parts of Australia.
Packer was frustrated by Telecom Australia's high prices and lack of flexibility. Packer's intentions were people in remote and rural Australia would be able to receive TV, radio and reliable telephone service for the first time.
However, AUSSAT came to a sticky end due to a number of wrong decisions and as a result predicted revenue were not achieved and the company generated large losses.
Even though the system was used extensively for TV networking and broadcasting, by the end of its life as a government-owned company AUSSAT had generated losses of 136 million USD.
In 1982, AUSSAT selected the Hughes 376 established satellite design for their initial satellites, with the first two satellites; the AUSSAT-A1 and AUSSAT-A2, were launched in August 1985 by NASA on a Space Shuttle. The third, AUSSAT-A3, was launched in September 1987 by launch operator Arianespace on the Ariane-3 rocket.
AUSSAT satellites were used for both military and civilian satellite communications, and delivering television services to remote outback communities.
With AUSSAT operating at a loss and with moves to deregulate telecommunications in Australia, the government decided to sell AUSSAT in December 1991, coupled with a telecommunications license. This license was sold to Optus Communications, a consortium including:
logistics company Mayne Nickless (25%),
UK telecommunications company Cable & Wireless (25%),
US telecommunications company BellSouth (24.5%),
AIDC Limited (10%),
insurance & investment company AMP (10%),
insurance & investment company National Mutual (5%).
The new telecommunications company was designed to provide competition to then government owned telecommunications company Telecom Australia, now known as Telstra.
After privatization, AUSSAT became Optus and its first offering to the general public was to offer long distance calls at cheaper rates than that of its competitor Telstra. Through its Optus 'Yes' brand, the company provides broadband, and wireless Internet services. Other wholesale services include Satellite and 4G Mobile.
The AUSSAT-A1, -A2 and –A3 satellites were renamed into Optus-1, -2 and -3.
In 1997 UK-based Cable & Wireless acquired the 24.5% stake of Optus Communications from Bell South for about 750 million USD. The deal gives C&W 49% of the company, which is both Australia's second telephony company and owner of the emerging pay-TV network Optus Vision, head- to-head rival with Foxtel that is jointly owned by Rupert Murdoch's NewsCorp. and Australia's major telecommunications company, Telstra. Optus Communications, Ltd. was renamed Cable & Wireless Optus.
On October 23rd, 2001 Singapore-based SingTel and its wholly owned subsidiary, SingTel Australia Investment, Ltd. (SingTel Australia), completed the acquisition of all of the outstanding ordinary shares in Cable & Wireless Optus, Ltd. With the acquisition SingTel Australia now holds 100% of the ordinary shares in Optus. SingTel renamed Cable & Wireless Optus in SingTel Optus.

FedSat
Australia's 'Federation Satellite One' (FedSat-1) was an Australian scientific research satellite. The launch of the a 58kg microsatellite provided a landmark moment in Australia's satellite and space communication research program and was the first Australian-built satellite in more than 30 years. FedSat was launched from Tanegashima Space Centre in southern Japan on 14 December 2002. It was the first foreign satellite to be launched by Japan's NASDA Mitsubishi Heavy Industries H-IIA rocket, operated by launch provider MHI Launch Services, and was one of four satellites successfully released into an 800km high orbit by the vehicle's fourth flight (NASDA was merged with JAXA).
FedSat was developed by the Cooperative Research Centre for Satellite Systems, a cooperative made up of several universities, commercial organizations and government entities. The ground station is at the Institute for Telecommunications Research, part of the University of South Australia, near Adelaide. Since 2005 it was operated by the Australian Department of Defense.
In February 2014 the National Broadcast Network (NBN, Co.) of Australia chose SingTel Optus for a five-year contract to operate two purpose-built satellites to deliver high speed broadband across rural and remote Australia.
Optus launched 10 satellites as from 1985 and has currently a fleet of five satellites in orbit with Optus 10 being most recent launch in September 2014.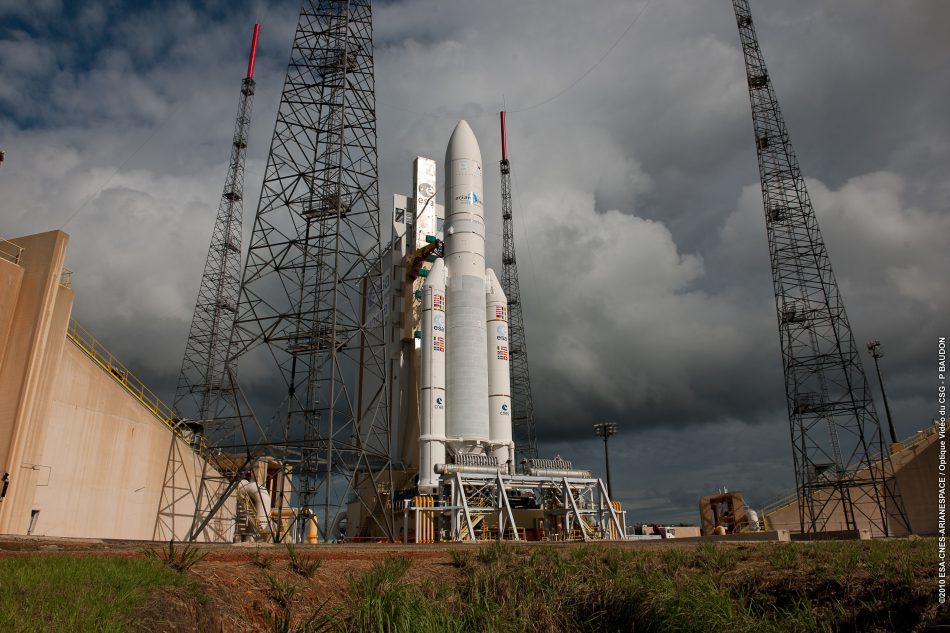 In July 2020 Optus Pty. Ltd. signed a contract with Airbus Defence and Space for a new OneSat software-defined satellite, Optus 11. The satellite will be deployed for Australia and New Zealand in 2023 at the current Optus D1 160° East orbital location. Optus 11 will be the first satellite covering Asia-Pacific to launch a software-defined satellite that can provide both flexible concurrent broadcast and broadband services via a very high throughput satellite (VHTS) design. The satellite is fully configurable in space, which means its location, coverage, bandwidth and capacity can be changed in orbit as customer demands evolve. In contrast, traditional satellites are limited by on-ground configurations that cannot be altered after launch.

Key Dates
1980: The National Satellite System group formed within the Overseas Telecommunications Commission to establish Australia's national satellite system.
1981: The Australian Government forms AUSSAT, a government owned company to own and operate the national satellite system.
1985: Australia's first two satellites are launched (A1 in August and A2 in November) and domestic satellite services commence in Australia; particularly remote & rural TV broadcasting.
1987: AUSSAT A3 launched in September to meet the ever-growing demand for satellite services in Australia. A3 adds South West Pacific services including New Zealand coverage.
1992: Optus acquired AUSSAT and became Australia's first privately owned communications carrier, a consortium which included Cable & Wireless. Cable & Wireless Optus launched the B1 satellite in August.
1994: Optus B3 satellite launched in August and placed into a storage orbit. Optus MobileSat Service launched in August. The world's first land mobile satellite telephone service.
1995: Optus B3 satellite was commissioned and the first Australian pay-TV services commenced via satellite.
1998: Cable & Wireless Optus launched Aurora services and established B3 as Australia's hotbird. Optus B1 was confirmed as New Zealand's hotbird.
2001: Singapore Telecommunications Ltd. (SingTel) acquired Cable & Wireless Optus Ltd.
2003: Optus launched in June the world's largest and most complex hybrid commercial and military communications satellite, the Optus C1, together with the Australian Defence Force. The satellite was built by Space Systems/Loral (SS/L) and was launched on a Ariane 5G rocket operated by Arianespace.
2006: Optus D1 satellite, manufactured by Orbital Sciences (Orbital ATK), was launched by Arianespace on an Ariane 5 launcher from the Spaceport in French Guiana.
2007: Optus launched its 8th satellite, Optus D2, to replace the aging B3. The satellite was constructed by Orbital Sciences Corp. (Orbital ATK) and launched by Arianespace on October 5th.
2009: Optus launched its 9th satellite, Optus D3. The satellite has a 15+ years life span and was constructed by Orbital Sciences Corp. (Orbital ATK) and was launched by Arianespace on July 31st.
2014: Optus launched its 10th satellite, Optus-10. The satellite was constructed by Space Systems/Loral (SS/L) and was launched by Arianespace on September 11th.
2020: Optus ordered the Optus 11 satellite with Airbus Defense & Space, providing flexible concurrent broadcast and broadband services via a very high throughput satellite (VHTS) design. The satellite is planned for launch in 2023.

All trademarks, logos and images mentioned and showed on this page are property of their respective owners.

Resources
www.optus.com.au
www.singtel.com
www.space.skyrocket.de
www.sslmda.com
www.itnews.com.au
www.bloomberg.com
www.wikipedia.org
www.sky-brokers.com
www.eoas.info
www.unisa.edu.au
www.adage.com edition July 2nd, 1997
www.theaustralian.com.au edition January 25th 2011
www.csiropedia.csiro.au
www.businesstimes.com.sg edition July 2nd, 2020