ASAL (Agence Spatiale Algérienne)
The Agence Spatiale Algérienne (ASAL) is the Algerian Space Agency that is operating five different satellites for earth-, agriculture- and disaster monitoring (DMC – Disaster Monitoring Constellation). The Alsat-1, Alsat-1B, Alsat-2A, Alsat-2B and Alsat-1N satellites were all manufactured by the Indian ISRO satellite manufacturer and launched on a PSLV-C35 launch vehicle of ISRO satellite launch operator.
Agence Spatiale Algérienne (ASAL) was established on January 16th, 2002 in Bouzareah, Algiers and is in charge of the Algerian space program. ASAL consists of a central structure and four operational entities;
Center of Space Techniques (CTS),
Space Applications Center (SAC),
Satellite Development Center (SDC),
Telecommunications Systems Operating Center (TSOC).
ASAL is also operating the AlcomSat-1 communications satellite located at 24.8°W orbital position. The satellite will provide telecommunications, broadband internet, audio transmission, broadcast and television, satellite-based navigation, remote education, as well as enterprise and emergency communications. The coverage areas include Algeria, Sahel and other regions in North Africa.

AlcomSat-1 communications satellite
AlcomSat-1 was the first Algerian communication satellite that was launched in December 2017 by Chinese launcher Long March 3B operated by China Great Wall Industry Corp. (CGWIC) from the Xichang Satellite Launch Center, located 2,200 km southwest of Beijing. The satellite was designed for 15 years operational lifetime and is a partnership between Algerian Space Agency (ASAL) and China.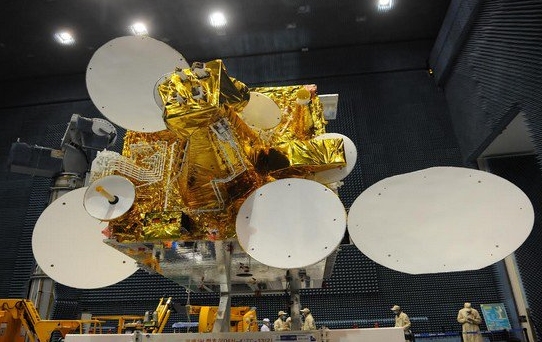 The Alcomsat-1 launch comes several years after it was originally scheduled for launch in 2014. The Chinese made Algerian satellite is dedicated to space communications, providing broadcast services, Internet, telephony and VSAT services.
The satellite was developed by the Chinese Academy of Space Technology (CAST) and is based on the DFH-4 platform. Its communications payload is composed of 33 operational transponders (19 in Ku-band, 12 in Ka-band and 2 in L-band).
Alcomsat-1 spacecraft is operated by the ASAL and the China Great Wall Industry Corporation (CGWIC) was responsible for the development, manufacture, launch and orbital delivery of Alcomsat-1, as well as the built of two ground control stations in Médéa and Ouargla, Algeria. The two stations will be used to control the satellite and will be operated by Algerian trained in China.

All trademarks, logos and images mentioned and showed on this page are property of their respective owners.

Resources
www.asal.dz
www.satbeams.com
www.cgwic.com
www.alc.narss.sci.eg
www.nasaspaceflight.com edition December 10th, 2017
www.africanews.space edition December 11th, 2019
www.aerospace-technology.com
www.space.skyrocket.de
www.amsat-uk.org
www.allafrica.com
Satellite fleet by ASAL (Agence Spatiale Algérienne)