KazSat
The National Space Agency of the Republic of Kazakhstan, also known as KazSat, is Kazakhstan's national space agency operating three communication satellites in orbit.
The company is monitoring the satellites KazSat-1, KazSat-2 and KazSat-3 satellites from their teleport in Kazachstan. KazSat-1 satellite was lost two years after its launch.

Company History
KazSat was officially established in March 2004. The launch of KazSat-1 satellite in 2006 was marking the beginning of Kazakhstan's independent space program.
KazSat-1, the first Kazakh communications satellite, was launched on June 17th, 2006 on a Proton-K rocket operated by launch operator ILS. The spacecraft contained 12 Ku-band transponders (each 72 MHz), KazSat and was located at 103° West orbital location. The satellite was manufactured by Khrunichev Space Center in cooperation with Thales Alenia Space. In June 2008 Kazsat-1, designed for an operational lifetime of just over 12 years, failed to respond to commands and was lost after only two years in orbit.
The KazSat-2 was designed to provide communication services to local broadcasters and Internet companies in Kazachstan. The satellite experienced a series of delays, but was launched on July 16th, 2011 on board a Proton rocket operated by ILS. KazSat-2 was constructed by Krunichev and Thales Alenia Space from Italy.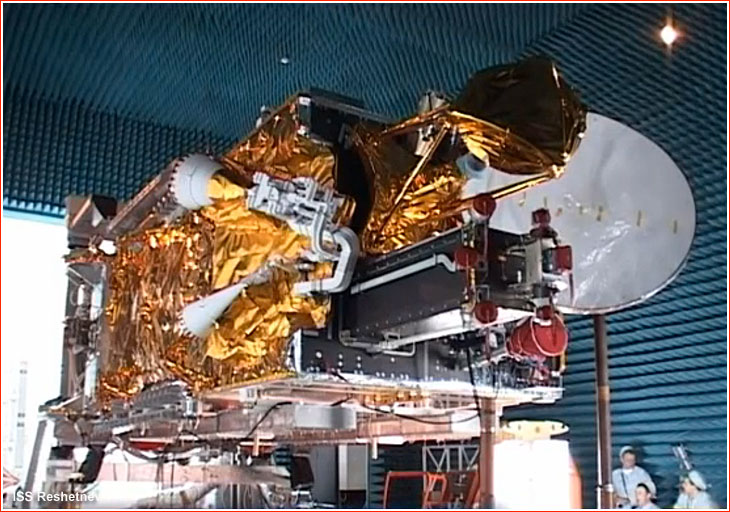 In 2011 KazSat signed also the contract with ISS-Reshetnev and Thales Alenia Space for their third telecommunications satellite, KazSat-3. The satellite was launched 28 April 2014 from Cosmodrome Baikonur in Kazakhstan with a Proton-M carrier rocket operated by launch operator ILS. KazSat-3 is designed for services of telecommunications, television broadcasting and high-speed Internet access in Kazakhstan and neighboring countries. The spacecraft is developed and produced under the contract with the Republican Centre of Space Communication within the project of creating a republican national telecommunications and broadcasting space system.
On March 31st 2017, KazSat lost contact with its KazSat-2 satellite. The satellite was used by 13 telecommunications and broadcasting operators and communication was rerouted to the KazSat-3 satellite.

All trademarks, logos and images mentioned and showed on this page are property of their respective owners.

Resources
www.rcsc.kz
www.wikipedia.org
www.space.skyrocket.de
www.satbeams.com
www.eurasianet.org edition April 4th, 2017