OHB System
OHB System AG. (Otto Hydraulik Bremen GmbH) is an European multinational technology corporation and the third largest space Company in Europe. It belongs to the listed high-tech group OHB SE, where around 3,000 specialists and executives work on key European space programs. Headquartered in Bremen, Germany, the corporation consists of the two business divisions Space Systems and Aerospace + Industrial Products.
With two strong sites in Bremen and Oberpfaffenhofen in Germany and more than three decades of experience, OHB System specializes in high-tech solutions for space, science and industry. A key product of the company is a fully integrated satellite.
The company was founded in 1958 as a marine systems outfitter. However, the activities of the company shifted toward space technology in the 1980's after the couple Christa Fuchs and Manfred Fuchs took over leadership of the company.
The company has been working on numerous prestigious German, European and international projects related to small satellites, manned space flight as well as security and reconnaissance technologies.
In 2004 OHB AG founded Luxspace as a daughter company and began operations as a joint venture with SES Astra in January 2005. LuxSpace is a global leader in Automatic Information System (AIS) and offers global tracking of ships and vessels and constructed two micro-satellites, VesselSat-1 (aka Orbcomm FM43, V1) and VesselSat-2 (aka Orbcomm FM43, V2). Both spacecraft were built in 2010 and 2011. The satellites were leased to ORBCOMM, the exclusive licensee for the AIS data collected by VesselSat-1 and VesselSat-2.
VesselSat-1 was launched from Indian ISRO's Satish Dhawan Space Center in October 2011 on a PSLV-CA launch vehicle. The launch was a multi-payload mission with three other satellites.
VesselSat-2 was launched in January 2012 as a secondary payload on the China's CGWIC Long March 4B carrier rocket which was carrying Ziyuan 3 Earth Observation satellite.
The first SmallGEO mission based on the new satellite platform was launched with a payload for the Spanish satellite operator Hispasat. The H36W-1 satellite, built under a public-private partnership between ESA, OHB and Hispasat was launched on a Soyuz rocket from French Guiana by launch operator Arianespace on January 28th 2017.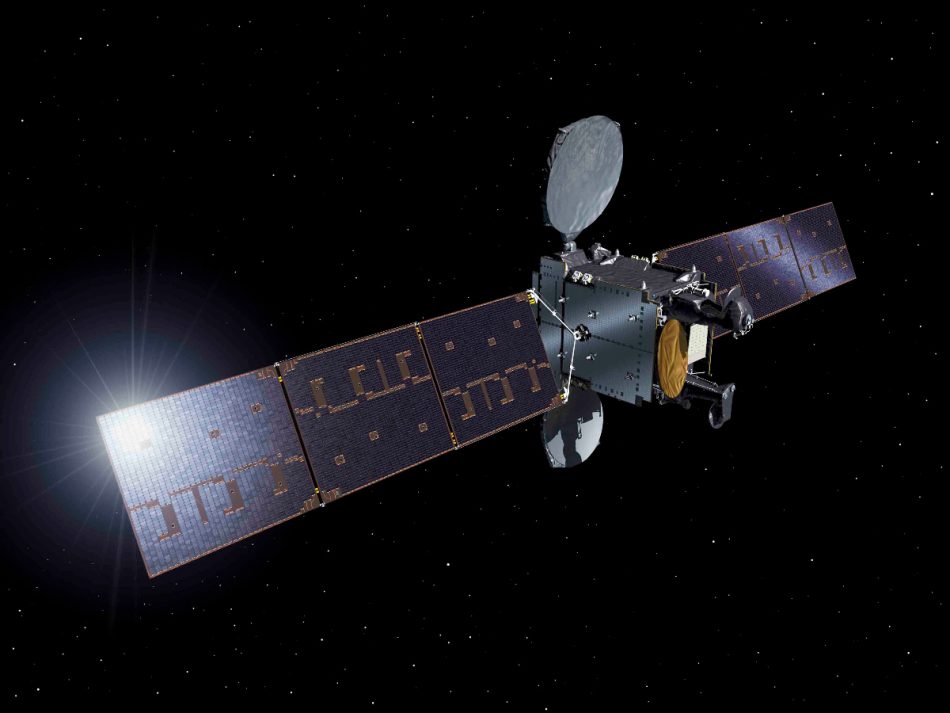 H36W-1, located at 36° West, has 20 Ku-band transponders and additional capacity for up to 3 Ka-band transponders and will provide Spain, Portugal, the Canary Islands and South America with multimedia services.
OHB builds Europe's Galileo navigation satellites, and is competing for participation in several Copernicus environmental-monitoring program satellites.
The COVID-19 pandemic delayed OHB with completing spacecraft and getting them launched. OHB's subsidiary LuxSpace built is stuck on the ground since Arianespace suspended activity at their spaceport in French Guiana. That satellite is awaiting a launch on an Arianespace Vega rocket.
Key Dates
1958: The Company was founded as a marine systems outfitter.
1981/1982: Otto Hydraulik Bremen GmbH (OHB) acquired by the Fuchs family.
1983-1994: Payloads for shuttle and Spacelab missions engineered by Kayser-Threde.
1985: Space activities commenced in Bremen, Germany.
1985/1993: Contributions made to German D-1 and D-2 shuttle missions by Kayser-Threde and OHB-System. Various further experimental equipment developed by Kayser-Threde for Space Shuttle missions.
1992/1997: Industrial system management for German MIR missions assigned to OHB-System in Bremen and Kayser-Threde GmbH. in Munich, Germany. Further research equipment such as eye measuring systems developed.
1993: ORFEUS, the first telescope developed under the lead management of Kayser-Threde, launched into space (repeat flight in 1996).
1996: Development of infrastructure elements and payloads for the International Space Station ISS in Bremen and Munich, Germany.
1997: Development work on the air-borne SOFIA IR observatory commenced in Munich by Kayser-Threde and syndicate partner and affiliate MT Aerospace. In operation since mid-2010.
Instrumented MAQSAT dummy satellite supplied by Kayser-Threde for the Ariane 5 qualification flight for launch operator Arianespace.
1999: Launch of the XMM-Newton x-ray telescope fitted with mirror modules supplied by Kayser-Threde.
2001: PKE-Nefedoc plasma crystal experiment the first scientific experiment on board the Russian segment of the ISS.
2002: OHB-System and OHB Teledata merged under the roof of OHB Technology AG.
2004: OHB-System involved in the development of protective shields and cable harnesses for the ATV fleet for the ISS. Luxpace is founded, headquartered in Luxembourg.
2006: OHB-System awarded contract for the delivery and launch of six ORBCOMM satellites.
2007: OHB-System awarded Small GEO satellite contract by ESA. Erwin Kayser-Threde GmbH, Munich, became an affiliate of OHB System in Bremen, Germany.
2008: Columbus module successfully integrated in ISS. European space transporter ATV successfully docked to International Space Station ISS. Successful launch of the six ORBCOMM satellites (one ORBCOMM CDS, five ORBCOMM quick launches).
2009: Contract signed by OHB-System and Spanish Hispasat S.A. for the development and construction of the Hispasat-AG1 satellite.
2010: OHB System awarded a contract for the construction of the first 14 FOC satellites for the European Galileo satellite navigation system. Thales Alenia Space & OHB-System selected by EUMETSAT and ESA to develop and build the third-generation MTG weather satellites.
2011: Assembly on Mount Wendelstein near Munich of the 20-ton, 2-meter class telescope developed by Kayser-Threde.
2012: OHB System received the order to build eight further Galileo satellites.
2013: TEXUS mission in altitude research programme of DLR and ESA under strong involvement of Kayser-Threde. Also this year OHB System AG was awarded a contract for the development and integration of the SARah radar satellite reconnaissance system for the German federal armed forces.
2014: OHB System and Erwin Kayser-Threde GmbH merged and renamed company into OHB System AG operating two industrial sites in Bremen and Oberpfaffenhofen, near Munich.

All trademarks, logos and images mentioned and showed on this page are property of their respective owners.

Resources
www.ohb-system.de
www.ohb.de
www.satbeams.com
www.wikipedia.org
www.hispasat.com
www.sky-brokers.com
www.directory.eoportal.org
www.satellite-evolution.com
www.luxspace.lu
www.spacenews.com edition March 18th 2020