Galileo GNSS (Galileo Global Navigation Satellite System)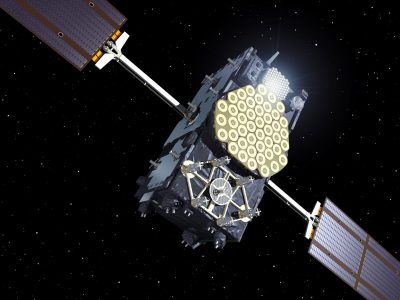 Galileo GNSS (Galileo Global Navigation Satellite System)
The Galileo Global Navigation Satellite System (Galileo GNSS) was implemented by the European Union through ESA in 2016. The system, which cost 10 billion euros, is operated by the European Union Agency for the Space Program (EUSPA) headquartered in Prague, Czech Republic, and has two ground operation centers in Fucino, Italy and Oberpfaffenhofen in Germany. It was named after the Italian astronomer Galileo Galilei with the aim of providing an independent high-precision positioning system for European political and military authorities, eliminating their reliance on the United States Space Force's Navstar GPS system, the Russian GLONASS navigation system, or the Chinese BeiDou system, which can be disabled or degraded by their operators at any time.
The Galileo Space Segment comprises a constellation of 30 Medium Earth Orbit (MEO) satellites, including 3 spares, forming a Walker 27/3/1 constellation. Each satellite broadcasts precise time signals, ephemeris, and other data. The nominal constellation specifications are optimized for circular orbits with an altitude of 23,222 km, an orbital inclination of 56°, three equally spaced orbital planes, nine operational satellites equally spaced in each plane, and one spare satellite transmitting in each plane. The Galileo satellites, weighing 700 kgs/1600 W, are manufactured by Thales Alenia Space and Airbus Defense & Space.
As of July 2018, 26 of the planned 30 active satellites were in orbit, including spares. Galileo started offering Early Operational Capability in December 2016 with a weak signal and was expected to reach Full Operational Capability by 2022, with a full constellation of 24 active satellites in place by 2021.
The Galileo GNSS satellites were orbited between 2011 and 2021 by Arianespace using Soyuz and Ariana V launchers from the European Space Center in Kourou French Guiana.
Currently, the Galileo fleet is the world's most precise satnav system, offering meter-scale accuracy to over 2 billion users globally, with the new G2 satellites expected to offer decimeter-scale precision positioning to all.
The Galileo Second Generation (G2G) satellites will augment the existing fleet of 26 first-generation Galileo FOC satellites and the 12 'Batch 3′ satellites currently in production and testing. The G2 satellites will be constructed in a short timeframe, with the first launch scheduled for late 2023, allowing them to commence operations in space as soon as possible. They will gradually join the existing constellation but will be much larger than existing satellites and equipped with electric propulsion and enhanced navigation antennas. The G2's fully digital payloads are designed to be easily reconfigured in orbit, enabling them to actively respond to users' evolving needs with novel signals and services.
| | | | | | |
| --- | --- | --- | --- | --- | --- |
| Satellite | Name (Nickname) | Mission | Launch Date | Launcher | Launch Provider |
| GIOVE-A | GSAT-0001 | St-15 | Dec 28th, 2005 | Soyuz-FG | Starsem KZ |
| GIOVE-B | GSAT-0002 | ST-21 | Apr 26th, 2008 | Soyuz-FG | Starsem KZ |
| IOV-FM1 | GSAT-0101 (Thijs) | VS-01 | Oct 21st, 2011 | Soyuz-STB | Arianespace FG |
| IOV-FM2 | GSAT-0102 (Natalia) | VS-01 | Oct 21st, 2011 | Soyuz-STB | Arianespace FG |
| IOV-FM3 | GSAT-0103 (David) | VS-03 | Oct 12th, 2012 | Soyuz-STB | Arianespace FG |
| IOV-FM4 | GSAT-0104 (Sif) | VS-03 | Oct 12th, 2012 | Soyuz-STB | Arianespace FG |
| FOC-FM1 | GSAT-0201 (Doresa) | VS-09 | Aug 22nd, 2014 | Soyuz-STB | Arianespace FG |
| FOC-FM2 | GSAT-0202 (Milena) | VS-09 | Aug 22nd, 2014 | Soyuz-STB | Arianespace FG |
| FOC-FM3 | GSAT-0203 (Adam) | VS-11 | Mar 27th, 2015 | Soyuz-STB | Arianespace FG |
| FOC-FM4 | GSAT-0204 (Anastasia) | VS-11 | Mar 27th, 2015 | Soyuz-STB | Arianespace FG |
| FOC-FM5 | GSAT-0205 (Alba) | VS-12 | Sep 11th, 2015 | Soyuz-STB | Arianespace FG |
| FOC-FM6 | GSAT-0206 (Oriana) | VS-12 | Sep 11th, 2015 | Soyuz-STB | Arianespace FG |
| FOC-FM7 | GSAT-0207 (Antonianna) | VA-233 | Nov 17th, 2016 | Ariane 5ES | Arianespace FG |
| FOC-FM8 | GSAT-0208 (Andriana) | VS-13 | Dec 17th, 2015 | Soyuz-STB | Arianespace FG |
| FOC-FM9 | GSAT-0209 (Liene) | VS-13 | Dec 17th, 2015 | Soyuz-STB | Arianespace FG |
| FOC-FM10 | GSAT-0210 (Danielé) | VS-15 | May 24th, 2016 | Soyuz-STB | Arianespace FG |
| FOC-FM11 | GSAT-0211 (Alizée) | VS-15 | May 24th, 2016 | Soyuz-STB | Arianespace FG |
| FOC-FM12 | GSAT-0212 (Lisa) | VA-233 | Nov 17th, 2016 | Ariane 5ES | Arianespace FG |
| FOC-FM13 | GSAT-0213 (Kimberley) | VA-233 | Nov 17th, 2016 | Ariane 5ES | Arianespace FG |
| FOC-FM14 | GSAT-0214 (Thijmen) | VA-233 | Nov 17th, 2016 | Ariane 5ES | Arianespace FG |
| FOC-FM15 | GSAT-0215 (Nicole) | VA-240 | Dec 12th, 2017 | Ariane 5ES | Arianespace FG |
| FOC-FM16 | GSAT-0216 (Zofia) | VA-240 | Dec 12th, 2017 | Ariane 5ES | Arianespace FG |
| FOC-FM17 | GSAT-0217 (Alexandre) | VA-240 | Dec 12th, 2017 | Ariane 5ES | Arianespace FG |
| FOC-FM18 | GSAT-0218 (Irina) | VA-240 | Dec 12th, 2017 | Ariane 5ES | Arianespace FG |
| FOC-FM19 | GSAT-0219 (Tara) | VA-244 | July 25th, 2018 | Ariane 5ES | Arianespace FG |
| FOC-FM20 | GSAT-0220 (Samuel) | VA-244 | July 25th, 2018 | Ariane 5ES | Arianespace FG |
| FOC-FM21 | GSAT-0221 (Anna) | VA-244 | July 25th, 2018 | Ariane 5ES | Arianespace FG |
| FOC-FM22 | GSAT-0222 (Ellen) | VA-244 | July 25th, 2018 | Ariane 5ES | Arianespace FG |
| FOC-FM23 | GSAT-0223 (Nikolina) | VS-26 | Dec 5th, 2021 | Soyuz-STB | Arianespace FG |
| FOC-FM24 | GSAT-0224 (Shriya) | VS-26 | Dec 5th, 2021 | Soyuz-STB | Arianespace FG |
| FOC-FM25 | GSAT-0225 (Patrick) | | 2023 | Ariane 62 | Arianespace FG |
| FOC-FM26 | GSAT-0226 (Juliana) | | 2023 | Ariane 62 | Arianespace FG |
| FOC-FM27 | GSAT-0227 | | 2023 | Ariane 62 | Arianespace FG |
| FOC-FM28 | GSAT-0228 | | 2023 | Ariane 62 | Arianespace FG |
| FOC-FM29 | GSAT-0229 | | 2023 | Ariane 62 | Arianespace FG |
| FOC-FM30 | GSAT-0230 | | 2023 | Ariane 62 | Arianespace FG |
| FOC-FM31 | GSAT-0231 | | 2024 | Ariane 62 | Arianespace FG |
| FOC-FM32 | GSAT-0232 | | 2024 | Ariane 62 | Arianespace FG |
| FOC-FM33 | GSAT-0233 | | 2025 | Ariane 62 | Arianespace FG |
| FOC-FM34 | GSAT-0234 | | 2025 | Ariane 62 | Arianespace FG |
Galileo GNSS (Galileo Global Navigation Satellite System)