Eutelsat 13G (HOTBIRD 13G) at 13° East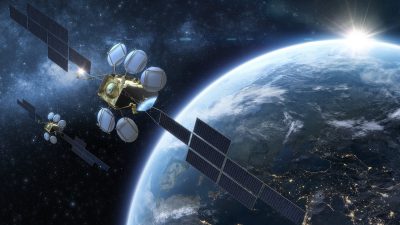 Eutelsat 13G (HOTBIRD 13G) at 13° East is operated by satellite operator Eutelsat from France. In August 2018 Eutelsat ordered two new large satellites (HOTBIRD 13F & 13G) from manufacturer Airbus Defense & Space to replace the three existing satellites at its HOTBIRD flagship neighborhood. The HOTBIRD family at 13° East forms one of the largest broadcasting systems in Europe, delivering 1,000 television channels to more than 160 million TV homes in the EMEA region.
The Hotbird-13G weighs 4,500kgs and is equipped with 80 Ku-band transponders. The satellite is designed to operate for 15 years, using all-electric propulsion and has 22kW of power capability provided by two large solar panels. The all-electric propulsion system enables a reduced launch mass for the satellite, which do not have to carry large amounts of liquid fuel.
The Eutelsat 13G (HOTBIRD 13G) at 13° East was launched on November 3rd 2022 by SpaceX on a Falcon 9 rocket launcher from the Space Launch Complex 40 (SLC-40) of the Cape Canaveral Space Force Station (CCSFS) USA. The satellite was intended to be launched on the Ariane 6 launcher operated by Arianespace, but delays for that rocket caused Eutelsat to turn to SpaceX.
Eutelsat 13G (HOTBIRD 13G) at 13° East