Arabsat
The Arab Satellite Communications Organization (Arabsat) is a leading communications satellite operator in the Arab World, headquartered in the city of Riyadh, Saudi Arabia. Arabsat owns and operates 7 satellites, at 3 orbital positions, 20°, 26°, 30.5° East: Arabsat-5C (20°E), BADR-4, BADR-5, BADR-6 and BADR-7 (26°E), Arabsat-5A and Arabsat-6A (30.5°E).
The Company was created to deliver satellite-based, public and private telecommunications services to the Arab States, in accordance with International Standards. With more than 20 member countries, the organization plays a vital role of enhancing communications in the Arab World.
The Arabsat satellites are a series of geostationary communications satellites launched from 1985 through 2011. Some of the later satellites in the series remain operational in orbit, while others have been retired and are derelict.

Company History
The establishment of Arab Satellite Communications Organization goes back to the end of the 1960's. In 1967, information ministers of Arab states developed a series of principles in relation to a satellite network. The goal of this network was to create an integration among the countries of the Arab League in terms of the social and cultural activities. On the other hand, the Arab States Broadcasting Union (ASBU) was founded in 1969. Saudi Arabia did not join this Egypt-led and Cairo-based union until 1974, most probably due to the tense relationship between Saudi Arabia and Egypt at that time.
On April 14, 1976, The Company was formed under Arab League jurisdiction to serve the information, cultural and educational needs of its member states. Saudi Arabia was the main financier of the new organization due to its expanded financial resources as a result of oil-boom period. Also The Companies headquarters was already located in Riyadh.
Launch operator Arianespace' Ariane rocket performed the first launch Arabsat-1A. The U.S. space shuttle Discoverylaunched Arabsat's second satellite, Arabsat-1B, in 1985. Arabsat-1A and -1B were switched off in 1992 and 1993, respectively. They were moved in an orbital graveyard.
In February 2013 The Company purchased a 99% stake in Greece-based satellite operator Hellas-Sat from OTE for 208 million plus 7 million euros in dividends. Hellas-Sat was Arabsat's first major acquisition.
On November 10th 2015 Arianespace successfully launched Arabsat's BADR-7 (Arabsat-6B) satellite in tandem with GSAT-15, of satellite operator ISRO from India, from the Spaceport in Kourou, French Guiana, atop an Ariane 5 launcher.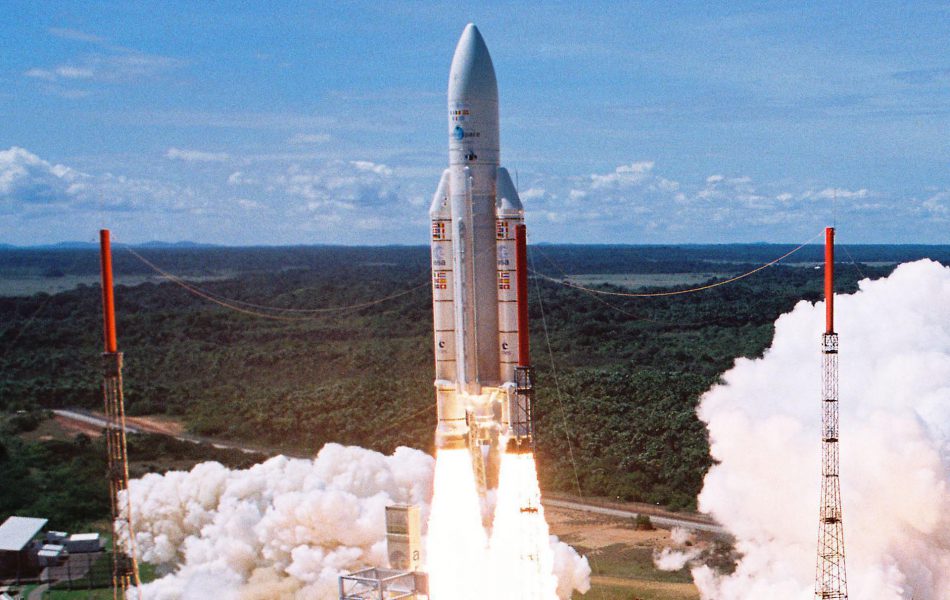 On April 11th 2019 launch operator SpaceX launched ArabSat-6A with a Falcon Heavy rocket from Kennedy Space Center in Florida, USA. The 6.460 kgs heavy satellite was built by Lockheed Martin Space Systems on a modernized A2100 bus and is one of the two satellites of the Arabsat-6G program, ordered by the Arab League to supply the communications needs of member states.

Shareholders
All Arab League states except for Comoros are shareholders of Arabsat:
Saudi Arabia 36.7%
Kuwait 14.6%
Libya 11.3%
Qatar 9.8%
United Arab Emirates 4.7%
Jordan 4%
Lebanon 3.8%
Bahrain 2.5%
Syria 2.1%
Iraq 1.9%
Algeria 1.7%
Yemen 1.7%
Egypt 1.6%
Oman 1.2%
Tunisia 0.7%
Morocco 0.6%
Sudan 0.3%
Mauritania 0.3%
Palestinian Authority 0.2%
Somalia 0.2%
Djibouti 0.1%

All trademarks, logos and images mentioned and showed on this page are property of their respective owners.

Resources
www.arabsat.com
www.wta.com
www.satbeams.com
www.intelsat.com
www.wikipedia.org
www.space.skyrocket.de
www.satflare.com
www.tbs-satellite.com