Hellas-Sat
Hellas-Sat Consortium Ltd. (Hellas-Sat) is the satellite operator from Greece and the owner and a wholesaler of capacity and services of the Greek/Cypriot Hellas-Sat 2 satellite which was launched successfully on 13 May 2003 to the 39° E orbital position in the Geostationary Satellite Orbit. The satellite was controlled via two proprietary TT&C stations located in Greece and Cyprus. Hellas-Sat has its headquarters on Cyprus. In 2013 Arabsat from Saudi Arabia acquired Hellas-Sat.
The company has developed a network of strategically located teleport partners with DVB platforms, carrying over 100 Arabic television channels, including MBC and Rotana DTH platforms and IP-based services through its two fixed beams over Europe, and two steerable beams over the Middle East and South Africa. It offers high-power, direct-to-home transmissions as well as occasional video feeds and Internet access services.
The Hellas-Sat satellite fleet reportedly caters to an audience of almost three million DTH subscribers in Central and Eastern Europe, who watch premium satellite TV services from three DTH platforms, namely Dolce in Romania, Bulsatcom and others.
The Hellas-Sat group consists of two companies:
Hellas-Sat Consortium, Ltd. a joint Greece-Cyprus venture registered in Cyprus with the Hellenic Telecommunications Organization (OTE) as the majority shareholder, partnered with other strategic investors from Greece and Cyprus.
Hellas-Sat SAT S.A is registered in Greece being subsidiary of the Cyprus Company. The Greek company manages and operates the uplink infrastructure of the Hellenic Telecommunications Organization (OTE) which is able to access 5 transponders providing multiplexing facilities for Video and Radio services, Conditional access for pay TV services and IP/data handling.
Company History
The Company was founded in 2001 and is a subsidiary of Hellenic Telecommunications Organization (OTE S.A.), the biggest telecommunications provider in South-eastern Europe.
On May 13th 2003 Hellas-Sat 2 satellite was launched aboard of the Atlas V rocket operated by Lockheed Martin, later to become United Launch Alliance (ULA). The satellite, built by EADS Astrium (Airbus Defense & Space) had an expected lifetime of 15 years.
The Hellas-Sat 2 satellite has a rather complicated history; The satellite was ordered by Intelsat satellite operator as Intelsat K-TV and transferred to New Skies Satellites (NSS) as NSS K-TV, later renamed as NSS-6, on 30 November 1998. The satellite was so delayed that NSS did not want it anymore. It was resold to Intelsat in early 2001 and renamed Intelsat APR 3. It should have served at 85.0° East (originally it was planned for 95.0° East). Satellite operator Sino Satellite Communications (aka Chinasat) would use on the to-be-launched Intelsat satellite at 178.0° East. In September 2001, another problem occurred, Intelsat cancelled the acquisition of the satellite because the export license to have it launched in China's CGWIC on a Long March 3B rocket, was not granted by the US government.
In February 2013 Saudi Arabia based Arabsat purchased Hellas-Sat from OTE for 281 million USD. HellasSat was Arabsat's first major acquisition and will assist Arabsat in reaching its ambitious growth targets.
In June 2015 satellite manufacturer Thales Alenia Space and satellite operators Inmarsat and Hellas-Sat agreed on the construction of a powerful satellite, the Inmarsat S/Europasat/Hellas-Sat 3. The satellite will provide Mobile Satellite Services (MSS), Fixed Satellite Services (FSS) and Broadcast Satellite Services (BSS).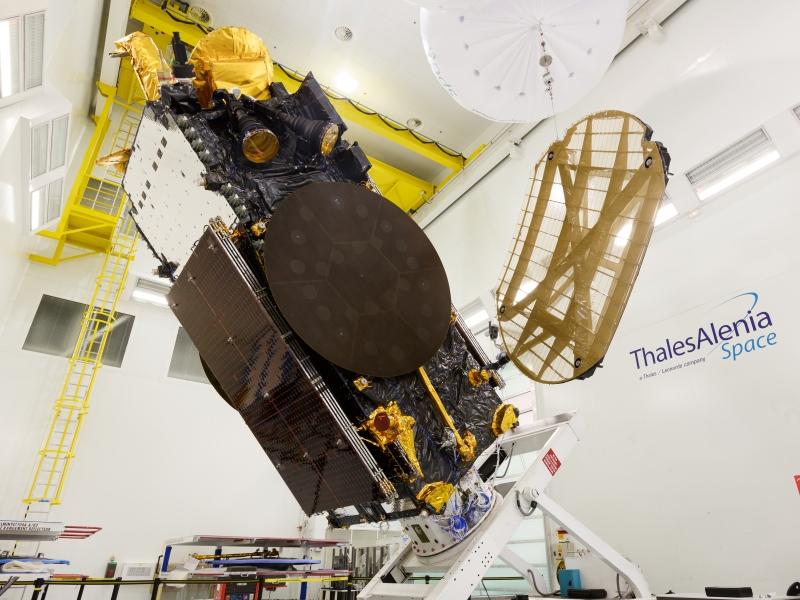 The MSS payload is designed to deliver an S-band service across all 28-member states of the EU; the FSS/BSS coverage zones are Europe, Middle- East and Southern Africa. The Inmarsat S/Europasat payload will offer enhanced mobile services across Europe through a hybrid network, which combines S-Band satellite services with a Complementary Ground Component (CGC) infrastructure. Inmarsat S/Europasat will serve the aviation passenger connectivity services, as well as the safety services for Public Protection & Disaster Relief (PPDR) all over Europe. The Hellas-Sat 3 payload will deliver DTH and Telecom services in its designated coverage areas, maintaining and expanding Hellas-Sat business reach with additional capacities.
On June 29th 2017 the Hellas-Sat 3 satellite was launched successfully to replace Hellas-Sat 2. The satellite weighed about 5.9 tonnes at launch and would offer payload power of about 12.3kW. Inmarsat S/Europasat/Hellas-Sat 3. will be positioned at 39° East.
In March 2017 start-up company Global IP Cayman made an agreement with Hellas-Sat to operate their new GiSAT-1 satellite. The agreement has duration of 15 years, regardless of the life expectancy of the satellite. GiSAT-1 satellite will be controlled from Greek and Cypriot control centers and Teleports by professional engineers.
On February 5th 2019 Hellas-Sat 4/SaudiGeoSat-1 was successfully launched on Ariane 5 by launch operator Arianespace from their Spaceport in French Guiana. The satellite was designed for a 15-year service life and manufactured by Lockheed Martin in Denver, Colorado USA. The satellite was placed at orbital slot 39° East where it will complement the extensive coverage of Hellas Sat 3 providing more reliable services to customers.

All trademarks, logos and images mentioned and showed on this page are property of their respective owners.

Resources
www.hellas-sat.net
www.wikipedia.org
www.arabat.com
www.ote.gr
www.space.skyrocket.de
www.defense-aerospace.com (Source: Astrium; issued May 9, 2003)
www.spacenews.com edition February 7th 2013
www.satelliteprome.com edition June 11th 2019
www.intercomms.net