Eutelsat 10B at 10° East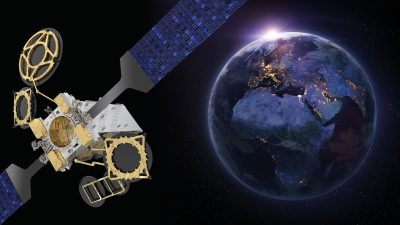 Eutelsat 10B at 10° East
The Eutelsat 10B at 10° East satellite is operated by satellite operator Eutelsat from France. The satellite was ordered in 2019 and is an all-electric satellite built by Thales Alenia Space and based on their Spacebus NEO platform. The satellite embarks a powerful 5GEN digital transparent processor, offering capacity allocation flexibility and an optimal spectrum use.
The HTS Ku-band satellite is covering the North Atlantic corridor, Europe, the Mediterranean basin and the Middle-East, offering significant throughput in the busiest air and sea traffic zones. A second payload provides extended coverage across the Atlantic Ocean, Africa and the Indian Ocean. The payloads will be able to process more than 50GHz of bandwidth, offering a throughput of approximately 35Gbps.
Although Eutelsat had initially contracted launch operator Arianespace for the launch, Eutelsat 10B satellite was successfully launched by launch provider SpaceX using a Falcon 9 expendable rocket that lifted off from Cape Canaveral, Florida, USA on November 22nd 2022.
Eutelsat Communications S.A. is the French-based satellite operator. Providing coverage over the entire European continent, as well as the Middle-East, Africa, India and parts of Asia and the Americas, it is one of the world's three leading satellite providers (SES, Intelsat & Eutelsat) in terms of revenues.
Eutelsat's satellites are used for broadcasting 5,800 TV's, of which 600 are in HD, and 1100 radio stations to over 250 million cable and satellite homes. They also serve requirements for TV contribution services, corporate networks, mobile communications, Internet backbone connectivity and broadband access for terrestrial, maritime and in-flight applications. Eutelsat is headquartered in Paris, France.