Eutelsat 10B at 10° East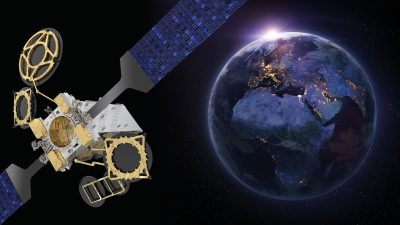 Eutelsat 10B at 10° East
The Eutelsat 10B at 10° East satellite is operated by satellite operator Eutelsat from France. The satellite was ordered in 2019 and is an all-electric satellite built by Thales Alenia Space and based on their Spacebus NEO platform. The satellite embarks a powerful 5GEN digital transparent processor, offering capacity allocation flexibility and an optimal spectrum use.
The HTS Ku-band satellite is covering the North Atlantic corridor, Europe, the Mediterranean basin and the Middle-East, offering significant throughput in the busiest air and sea traffic zones. A second payload provides extended coverage across the Atlantic Ocean, Africa and the Indian Ocean. The payloads will be able to process more than 50GHz of bandwidth, offering a throughput of approximately 35Gbps.
Although Eutelsat had initially contracted launch operator Arianespace for the launch, Eutelsat 10B satellite was successfully launched by launch provider SpaceX using a Falcon 9 expendable rocket that lifted off from Cape Canaveral, Florida, USA on November 22nd 2022.