Avanti
Avanti Communications Group Plc. is a satellite operator, selling wholesale data telecoms products to VSAT resellers, Telco's, Systems Integrators, Mobile Operators, ISP's and Governmental Organizations. Avanti is headquartered in London, UK and has significant operations in Cornwall (UK), Cyprus, Germany and the USA.
Avanti's network consists of four high throughput satellites (HTS) in orbit, called HYLAS-1, HYLAS-2, HYLAS-3 and HYLAS-4 and an international fibre network connecting data centers in several countries. HYLAS stands for Highly Adaptable Satellite, a product of third millennium state of the art European Space technology (ESA).
Inmarsat provides the satellite control center infrastructure and services in London and near Rome in Italy (Fucino Teleport).

Company History
Avanti was founded by astrophysicist David Bestwick in 1996 to advise other firms on how best to use satellite technology.
When David Williams (now CEO) bought into the company in 2002 it was worth £9,000. His wife lent them £10,000 and they started the company in his spare room. Today it has a market value of £340 million and has raised some half a billion pounds of funding.
The HYLAS-1 satellite system has been developed through a Public Private Partnership between ESA and Avanti and was launched in November 2010. It was the first superfast Ka-band in Europe. The Ka-band earth stations for HYLAS-1 are located at Goonhilly and Lands End, Cornwall, UK.
HYLAS-2, was launched in August 2012 and extends Avanti's coverage to Africa, the Caucasus and the Middle-East.
Also in 2012 Avanti announced a conditional placing of 26,785,714 Ordinary Shares with new and existing institutional investors to raise approximately £73.8 million to fully fund the cost of the design, construction and launch of HYLAS-3. The satellite was orbited on August 6th 2019 by launch operator Arianespace. HYLAS-3 will be a hosted payload and is providing Ka-band services, as with HYLAS-1 and HYLAS-2.
HYLAS-4 was launched by Arianespace on an Ariane 5 rocket from French Guyana Spaceport on April 5th 2018. The launch was originally planned in early 2017 but has been delayed to 21 March 2018, and then to 5 April 2018.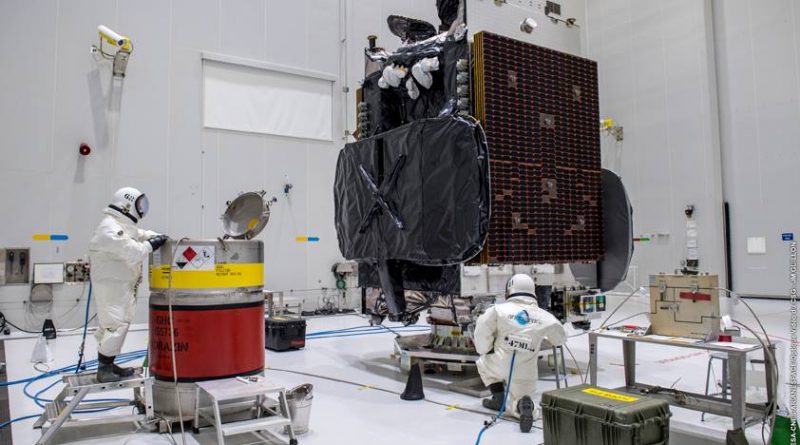 Avanti owned a multiband satellite called ARTEMIS (Advanced Relay and Technology Mission). The satellite, built by Alenia Spazio (curently Thales Alenia Space), and was used operationally for data relay from ESA's satellites in low Earth orbit as of 2005. Avanti took ownership of the satellite from ESA on January 1st 2014.
ARTEMIS operated at the 21.5° East orbital position until 2016, when it was moved to 123° East to cover the L-Band spectrum rights for Indonesia's Ministry of Defense. The satellite was launched by launch operator Arianespace on an Ariane 5 rocket on 12 July 2001, it originally reached an orbit much lower than planned (590 km x 17,487 km) due to a malfunction in the launch vehicle's upper stage. It was remotely reconfigured to reach its intended station by means of a novel procedure. First, over the course of about a week, most of its chemical fuel was used to put it in a 31,000 km circular orbit.
Avanti operated the satellite for three years, when the satellite was retired and de-orbited to a graveyard orbit in 2017.

All trademarks, logos and images mentioned and showed on this page are property of their respective owners.

Resources
www.avantiplc.com
www.wikipedia.org
www.spacenews.com edition 24 October 2013
www.thisismoney.co.uk edition 15 May 2013
www.start-ups.co.uk edition 25 November 2013
The HYLAS ESA-Avanti Success story by A. Cotelessa Harwell (ESA), 19-Oct-2011
www.satbeams.com