Viasat, Inc.
Viasat Inc. provides high-technology networking and signal processing equipment and services for broadband digital satellite and other wireless communications. In fiscal 2002, defense-related contracts accounted for about two-thirds of the company's business, with commercial contracts accounting for the remaining third.
Skybrokers offers for almost 10 years ViaSat Earth Station Antennas, new as well as used. We can provide turnkey solutions, refurbishment and upgrades. We have supported several clients with new and used antennas as well as antenna parts. We have installed over the years many antennas such as the ViaSat 6.1m, the Viasat 7.3m, 9.1m and 11.3m C-band antennas.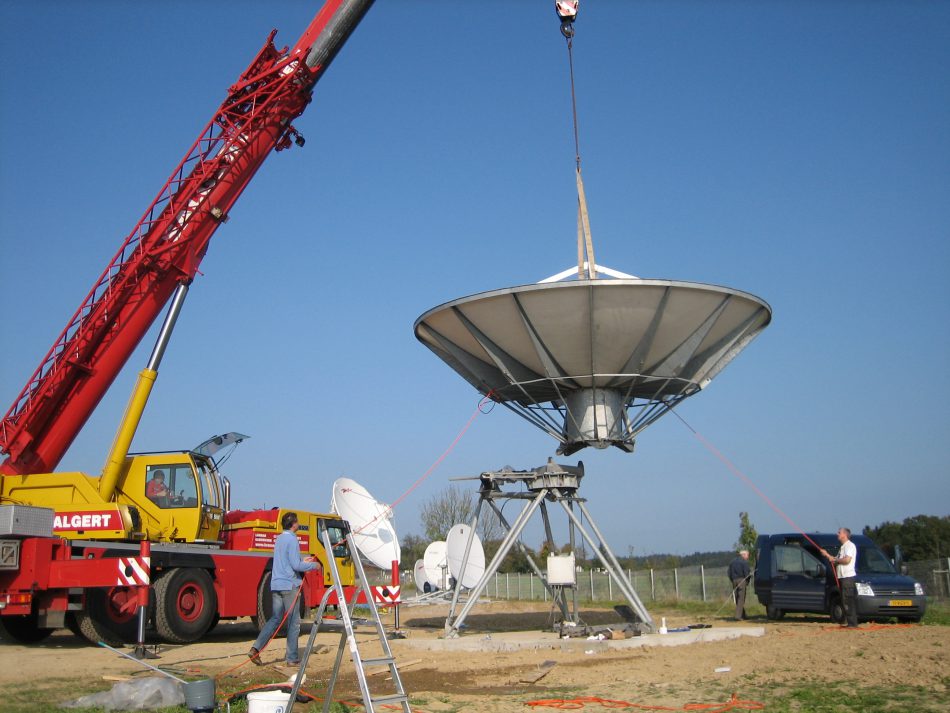 Mark Dankberg, Mark Miller, and Steve Hart started Viasat Inc. in a spare bedroom of Dankberg's house. All three were former executives at M/A-COM Linkabit, a San Diego-based manufacturer of satellite telecommunications equipment and had complementary skills and remain in key roles at the company today. They formed ViaSat for the purpose of obtaining contracts from defense companies that were bidding on satellite programs. ViaSat provided engineering and proposal support for these companies. Dankberg became chairman and CEO, and Miller and Hart shared chief technical officer (CTO) duties, with Hart later becoming vice-president of engineering.
Viasat Company History
The company was founded in 1986 by Mark Dankberg, Mark Miller, and Steve Hart. They started Visat, Inc. in a spare bedroom of Dankberg's house. All three were former executives at M/A-COM Linkabit, a San Diego-based manufacturer of satellite telecommunications equipment and had complementary skills and remain in key roles at the company today. They formed ViaSat for the purpose of obtaining contracts from defense companies that were bidding on satellite programs. It provided engineering and proposal support for these companies. If a company won a defense contract as a result of ViaSat's work, then ViaSat became a subcontractor on the project. After the company received two such contracts, it gained venture capital funding in the amount of 300,000 USD from Southern California Ventures.
ViaSat's business model combined consulting with manufacturing. Although the company began by providing consulting and other support services for defense companies, its work was aimed at developing products to manufacture. Its first breakthrough was the development and manufacture of specialized test equipment, which allowed the testing of sophisticated airborne radio equipment without expensive flight exercises. ViaSat proved its ability to design and manufacture test equipment, and the company began a string of profitable years beginning with its second year in business. Today the company remains a global leader in satellite technology.
ViaSat's initial business was obtaining contracts for engineering & proposal support to defense prime contractors bidding satellite programs. Part of each agreement was the stipulation that, if these customers won contracts as a result, then ViaSat would become a subcontractor. After two such "proposal" contracts, ViaSat obtained venture financing of 300,000 USD from Southern California Ventures.
Even with its beginnings in consulting, every contract was aimed at developing products to manufacture. The first breakthrough was to develop and manufacture specialized test equipment. This product may have been at the periphery of the industry, but created a product basis, and demonstrated our ability to design & manufacture. Despite its very small capitalization and a declining defense budget, the company's strategy resulted in growing revenues every year, and a record of profitability beginning in year two and continuing today.
Communications for the Network Centric Military
ViaSat's initial successes in defense and government related communication products continue today in their Government Systems Division. Products include terminals, control systems, and training terminals for UHF and broadband military satcom; MIDS/Link-16 tactical communication terminals; video data links for UAVs; data messaging processors and software for bringing IP networking to the "tactical edge"; RF communication simulation systems; and secure networking products for encrypting both data communications and data storage within non-secure networks.

Communications for the Enterprise and Consumers
ViaSat Inc. has also built a line of commercial satellite networking systems for fixed sites and mobility. Products include satellite networking systems and managed network services for enterprise IP applications; gateway and customer-premises equipment for consumer and mobile satellite broadband services; antenna systems; satellite transceivers and other RF equipment; communication chipsets; and communication system design and engineering.
The company operates three satellites, ViaSat-1, built by Space Systems/Loral (SS/L) and launched by ILS launch operator from the Baikonur launch site in Kazakhstan in October 2011, the WildBlue-1 and Anik-F2. ViaSat purchased WildBlue in 2009, which had 2 satellites and 400,000 customers that time and had high speed internet services to homes. Earlier, in October 2004, WildBlue launched its Internet service after gaining Ka-band transponder capacity on the Anik F2 satellite operated by Telesat Canada. It conducted formal technical testing until January 2005, followed by nationwide beta testing before the first residential retail customers had services installed in June. The WildBlue service was upgraded in 2007 using the satellite WildBlue-1 satellite which launched the year before.
ViaSat-1 satellite runs on fixed beams and can handle about 1 million users and covers the residential US with additional coverage in Hawaii, Canada and Alaska through a Ka-band connection. ViaSat-1 was expanded with the launch of ViaSat-2 satellite, built by Boeing Commercial Satellite Systems (BCSS) that was launched by Arianespace launch operator on June 1st, 2017. The coverage area includes Mexico, Central America, the Caribbean, parts of northern South America and aeronautical and maritime routes across the Atlantic Ocean.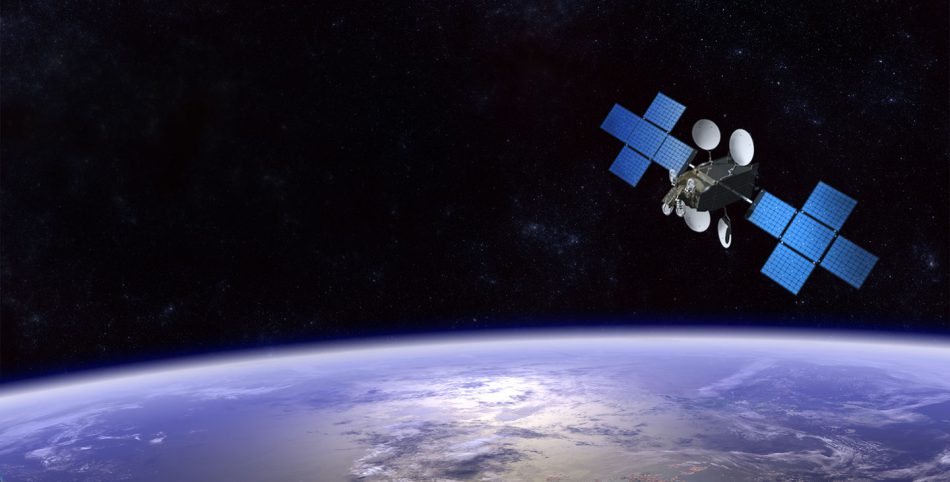 In November 2015, ViaSat Inc. announced that it was planning to order the first of three ViaSat-3 Ka-band satellites that would expand coverage globally with throughput capacity of one terabit per second for each of the satellites. The satellites would be built by manufacturer Boeing Defense & Space and planned launch date was 2020. Due to delivery problem of a third party vendor, the satellites will be delayed until 2021.
Viasat is leasing capacity on other satellites for the global Ka-band coverage, Telesat's Anik-F2, ChinaSat-16 operated by Chinasat to enable Viasat's global airline customers to have roaming connectivity when flying over China. Viasat also partnered with satellite operator nbn Broadcast from Australia to provide the ground-based communications, network management and data processing systems.
Under one roof, ViaSat has assembled virtually all the technologies that are needed to design and develop complete satellite and wireless communication systems, from micro processing chips to satellite payloads. This vertically integrated approach gives ViaSat more freedom to design for optimum performance than if systems are assembled from the products of other manufacturers.
Various acquisitions have systematically brought together this expertise and technology, which enables ViaSat successfully execute larger and more complex projects and anticipate the fast changing marketplace.
Key facts ViaSat:
1986: ViaSat, Inc. is founded by Mark Dankberg, Mark Miller, and Steve Hart.
1996: ViaSat has its initial public offering (IPO) in December.
1997: The company is named one of Forbes magazine's "200 Best Small Companies in America."
2000; Acquisition of Satellite networking and Antenna Systems of Scientific-Atlanta (SA) for 65 million USD and establishes its Satellite Networks Division.
2001: acquires the satellite network terminal business of Lockheed Martin Global Telecommunications and forms its Comsat Laboratories Division.
2001: acquires Comsat Laboratories.
2001: acquires US Monolithics monolithic microprocessor (MMIC) technology and RF technology for $30 million
2005: Efficient Channel Coding Inc, a producer of broadband communication integrated circuits and satellite communication systems was acquired
2006: ViaSat buys Enerdyne and its EnerLinksTM II video data link equipment and digital video system to serve the defense and intelligence markets,
2007: ViaSat acquires Intelligent Compression Technology with patented AcceleNet® WAN and application acceleration.
2007: ViaSat acquires JAST Antenna Technologies microwave circuits and antennas for terrestrial and satellite applications
2009: ViaSat acquires WildBlue Communications and its high-speed broadband service network serving 420,000 subscribers in the U.S
2010: ViaSat buys Stonewood Encryption, encrypted internal and external hard drives, certified to Top Secret levels in Canada and NATO countries
2013: ViaSat acquires LonoCloud with expertise in distributed cloud networking software
2014: ViaSat acquires NetNearU comprehensive network management system for provisioning, operating, and managing Wi-Fi and other Internet access networks
2016: ViaSat acquires Arconics, an international company that provides software for in-flight entertainment (IFE), flight document management software etc. for sharing data in aircraft.
2017: Viasat changed strategy by consolidating the sub-brands Exede and Yonder.
2018: Viasat sold the limited antenna business to CPI, Inc. Viasat kept its Ka-band antenna family.
2020: Viasat-3 satellite is delayed. Manufacturer Boeing Defense & Space was not able to deliver in time.
Along the way, ViaSat has grown to over 2,900 highly skilled professionals. For the fiscal year ending March 29, 2013 revenues hit a record 1.1 billion USD. In addition, the company is an AS9100 certified company for quality assurance. ViaSat began trading as a public company on the Nasdaq Stock Market in December 1996 under the symbol VSAT.
Note: Comsat Labs and Comsat Laboratories are trade names of ViaSat Inc. Neither Comsat Labs nor Comsat Laboratories is affiliated with COMSAT Corporation. "Comsat" is a registered trademark of COMSAT Corporation.
In 2017 introduced a strategy and global brand identity by consolidation of key sub-brands – including Exede™ consumer internet, Yonder™ Ku-band aviation service, among others – under one Viasat master brand. The Company also introduced a new logo and visual identity system to be more uniformly communicating its value to customers, partners and end-user.
On March 12th, 2018 CPI's Antenna Systems Division (ASD) announced the agreement to purchase the limited-motion satellite antenna family from Viasat. Viasat will transfer a range of limited-motion antennas at sizes including 6m, 7.3m, 9.1m, 11.3m, 13.5m and 16/18m, plus a 3.9m truck-mounted antenna, all designed for multi-band operation at C, Ku and DBS frequency bands. These products will be integrated into the CPI ASD satcom product line, which currently extends from nomadic 2.5m antennas up to 9.4m multi-band earth stations. CPI ASD will manufacture the large-diameter antenna products at its facilities in Whitby, Ontario, Canada.
The sale of the limited-motion GEO Satcom antennas will allow Viasat to exit a non-core business in antenna manufacturing to focus on its Ka-band services business and related technologies. As part of the agreement, CPI will serve as a source for Viasat in the fulfillment of satellite ground system orders.
In June 2018 Viasat acquired UK-based Horsebridge Defence & Security, a company that is focused on design, system integration and support of deployable secure networks. Through this acquisition, Viasat enables growth in the UK and gains deeper military communications integration expertise by delivering mission-critical ground-based communication networks and services.
Horsebridge Defence & Security is based in Cheltenham and has developed relationships with the UK Armed Forces, supporting a number of UK Ministry of Defense programs. The team will be integrated into Viasat's Farnborough-based organization, and will have immediate access to The companies full communications portfolio, from the satellite communication and Link 16 mobile networking solutions, to its cyber security and information assurance capabilities.

In November 2021 Viasat acquired UK-based satellite operator Inmarsat in a 7.3 billion USD deal. The acquisition brings together two major satellite operators with businesses in broadband, mobility and defense. The combined company intends to integrate the spectrum, satellite and terrestrial assets of both companies into a global high-capacity hybrid space and terrestrial network, capable of delivering superior services in fast-growing commercial and government sectors.

All trademarks, logos and images mentioned and showed on this page are property of their respective owners.

Resources
www.viasat.com
www.wikipedia.org
www.company-histories.com
www.reuters.com
www.sky-brokers.com
www.spacenewsfeed.com
www.prnewswire.com  edition March 12th, 2018
www.satellitetoday.com  edition June 13th 2018
www.spacenews.com  edition June 9th 2019
www.inmarsat.com
www.satellitetoday.com  edition November 8th, 2021