Viasat 13.5m Ka-band Broadband Gateway Earth Station Antenna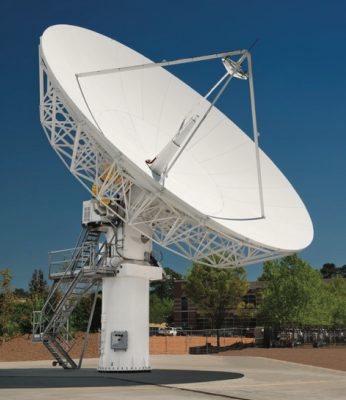 Perhaps you're interested in these alternative products:
Viasat 13.5m Ka-band Broadband Gateway Earth Station Antenna
The Viasat 13.5m Ka-band Broadband Gateway Earth Station Antenna is ideally suited for the latest high-capacity Ka-band satellites. The antenna system offers exceptional broadband support to deliver high-speed Wi-Fi connections for residential, commercial and government services.
Viasat's 13.5m Ka-band antenna is ideally suited for high-performance geostationary Ka-band gateway applications. With decades of experience going into the design, its performance, reliability and maintainability are unmatched.
The shaped Cassegrain antenna with precision machined sub-reflector provides superior gain and sidelobe performance at Ka-band frequencies. Improved high- precision, stretch formed panels are supported by stiff radial trusses attached to a large central hub. The reflector back structure and spars are designed to exacting Ka-band rigidity requirements to provide optimum performance under a wide range of environmental conditions. All aluminum reflector panels, coated with a solar diffusive white paint, minimize thermal effects at Ka-band.
The oversized hub is specifically designed to support multiple redundant suites of HPA's, BUC's and receive chain configurations. The extra-large doorway allows easy access from the large work platform for convenient maintenance of all the electronics. The redundant HVAC system maximizes the electronics Mean Time Before Failures (MTBF) and service availability.
The rugged steel mount delivers Ka-band pointing accuracy in adverse wind conditions. The pedestal design features a precision azimuth bearing with dual drivers for very low backlash.
Viasat's proven antenna control system offers full DC servo performance with adaptive step tracking or monopulse autotracking for unparalleled tracking performance. For quick access and service, the control system is conveniently located on the pedestal.
Features of the Viasat 13.5m Ka-band Broadband Gateway Earth Station Antenna
Antenna patterns compliant with FCC, ITU, ANATEL and Eutelsat regulations
High efficiency shaped Cassegrain optics
2-port and 4-port circularly and linearly polarized feeds available
Precision structural steel mount
Easily accessible hub for electronics packages with hinged door access (accommodates up to 8 HPA's)
Standard accessories include large work platform and stairs, foundation template and anchor bolts, lightning protection kit, rain blower
CE compliant
Low maintenance with auto lubrication and damage resistant feed window

Options 
Hot air de-icing
HPA/LNA/converter mounting
Environmentally controlled hub
Alternate frequency band
Work platform ladder
Equipment hoist
Elevation counterweights
Defrost (feed and subreflector)
TT&C capabilities
Radome
Installation and maintenance services
Viasat 13.5m Ka-band Broadband Gateway Earth Station Antenna
Viasat 13.5m Ka-band Broadband Gateway Earth Station Antenna