KT Sat
KT Sat, Co, Ltd. is a Korea-based satellite operator and a subsidiary of the KT Corp. (KT or KT Telecom), formerly Korea Telecom. KT Sat operates five satellites in orbit, Koreasat-5, Koreasat-5a, Koreasat-6, Koreasat-7 (transponder lease on ABS-7 satellite from ABS satellite operator) and Koreasat-8 (transponder lease on ABS-2 satellite from ABS satellite operator).
KT Sat was established on December 4th 2012 when KT spun off its satellite business in an effort to enhance operational specialization and to foster management efficiency. With KT Sat separated it enabled the company to respond more promptly to the changing market environments as well as increasing competitiveness. KT Sat's expansion started with the launch of two new satellites, Koreasat-7 and Koreasat-5A in 2017 expanding the satellite coverage to Southeast and Southwest Asia, including the Philippines and Indonesia. Customer base also widened since then to Mongolia, Myanmar, Thailand and Afghanistan.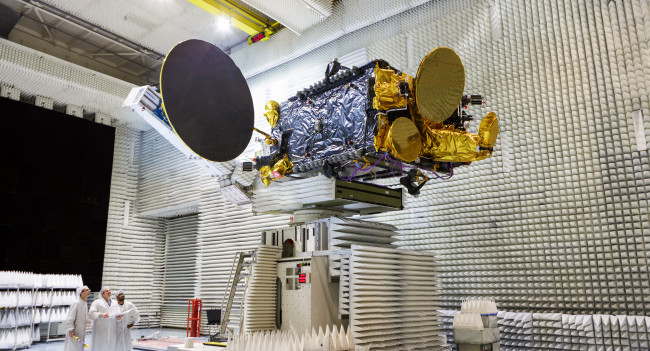 KT Corp. group of companies are Korea-based that mainly provides telecommunication service. KT focuses on information and communications business, and it has the largest portion of the South Korean local telephone and high-speed Internet market.
KT Corp. operates its business through four segments:
Information and Communications Technologies, engaged in providing telecommunication services to individual, home, corporate customers and the convergence business,
Finance, engaged in providing financial services, such as credit card.
Satellite Broadcasting, providing satellite television services,
Security services, satellite service, information technology and network services, global business services providing global network services to multinational or domestic corporate customers and telecommunications companies.
Originally founded in 1981 as a public corporation, KT actively led Korea's transition to the information era and played a key role in promoting the growth of Korea into a globally recognized IT superpower. In 2009, KT merged with its mobile subsidiary KTF, paving the way to the convergence of fixed and mobile services. Since KT initially introduced the Apple iPhone to South Korea, it constantly seeks new business area, such as media, virtual goods, and global business with its domestic businesses experience.
Recently the company is consulting with domestic and international airlines as it prepares to build global commercial networks via Koreasat-5A satellite for in-flight communications.

Company History
KT was the first and is the largest telecom company in Korea. The company's operation initially started in 1885, then known as Hanseong Telegraph Office. In 1980's, KT introduced fixed line telephones to households as a leader in the communication market, and in 1990's, it became a leader both in wired and wireless communication markets by introducing as many as 20 million lines in fixed telephones and mobile phone with PCS as well as high-speed internet ADSL, paving a way for KT to become a representative communication service provider in Korea. After its complete privatization in 2002, KT has led the informatization era by introducing high speed internet and 3G mobile communication service for the first time within the country.
In 2019 KT Sat successfully conducted the world's first 5G data transmission with a satellite connection. The test was carried out using Koreasat-6, positioned at 116° E, and was done in collaboration with the KT Institute of Convergence Technology.
KT SAT plans to launch Koreasat-6A (Mugunghwa-6A) satellite in 2025 to succeed Koreasat-6, which will be decommissioned after 15 years of service. The satellite will provide high-speed data transmission over 10 times faster than that of the classic fixed-satellite service (FSS). Construction will start in 2021 and the launch will be conducted by Arianespace launch operator.

Keydates
Before privatization
1885: Telephone facilities set up between the cities Seoul and Incheon.
1981: KTA established in December.
1984: Tenth in the world to develop the electronic switch TDX-1.
1987: Completed nationwide installation of phone automation service.
1991: Company renamed Korea Telecom.
1993: Total of approximately 20 million telephone lines installed (only 4.5 million existed in 1982), thereby establishing the basis for advancement to the information society.
1995: Mugunghwa-1 satellite (KoreaSat-1) launched.
1996: Mugunghwa-2 satellite (KoreaSat-2) launched.
1996: PCS and CT-2 license acquired. KT Freetel (mobile business) founded.
1997: Status changed from organization which has 50%+ state funding to one with a state funding of smaller scale (below 50%).
1998: Headquarters relocated from Jongno-gu, Seoul, to Bundang-gu, Gyeonggi Province.
1998: Newly listed on stock exchange in December.
1999: Mugunghwa-3 satellite (KoreaSat-3) launched.
2000: Managerial rights of Hansol M.com acquired in June.
2001: Caller ID (CID) service launched in April.

After privatization
2001: Plans for privatization announced. Celebrated 20th anniversary and changed CI from Korea Telecom to KT in May.
2002: Privatization of company completed.
2005: According to Fair Trade Commission data, KT as a corporate group that holds 12 subsidiaries and total assets of 29.315 trillion won, ranked 8th among Korea's conglomerates.
2009: Six days after inauguration as the new Chairman of KT, Suk-Chae Lee announced plans for KT-KTF merger at press conference
2009: Received conditional approval from Korea Communications Commission (KCC) on KT-KTF merger in March.
After KT-KTF merger
2009: KT and its mobile subsidiary KTF merged to form a new unified KT on June 1st
2009: Previous company slogan "All New" replaced with "Olleh Management,"and "Olleh KT" officially launched as the new CI in July.
2009: Koreasat-1 was sold to Europe*Star as Europe*Star B. Koreasat-2 was sold to Asia Broadcast Satellite (ABS) and renamed ABS-1A.
2010: KoreaSat-3 satellite was sold to ABS satellite operator and renamed ABS-7.
2012: KT was awarded the Global Supersector Leader for Telecommunications by Dow Jones Sustainability Indexes for two consecutive years. In that same year KT spun off their satellite business to form KT Sat.
2017: KT Sat launches Koreasat-5a and Koreasat-7 satellites, both satellites constructed by Thales Alenia Space.
2018: KT Sat organizes Korea's first satellite conference.
2019: KT Sat successfully conducted the world's first 5G data transmission using Koreasat-6 satellite.
All trademarks, logos and images mentioned and showed on this page are property of their respective owners.

Resources
www.kt.com
www.ktsat.net
www.corp.kt.com
www.wikipedia.org
www.reuters.com
www.strategos.com
www.space.skyrocket.de
www.satbeams.com
www.sky-brokers.com
www.space.com edition August 22nd 2006
www.spacetechasia.com edition November 27th 2019
www.thefastmode.com
www.koreajoonangdaily.com edition June 18th 2020
www.bloomberg.com
www.telecomtv.com edition June 11th 2018
www.bitcoinexchangeguide.com edition November 26th 2018