Viasat 9.1m Ka-band Broadband Gateway Antenna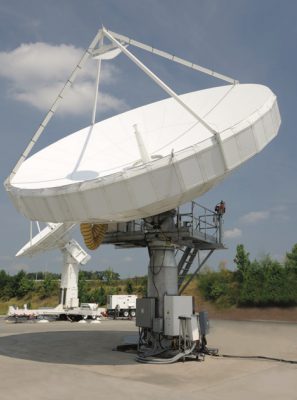 Perhaps you're interested in these alternative products:
Viasat 9.1m Ka-band Broadband Gateway Antenna Rx/Tx 4-port CP feed with motorized Pedestal Mount

The ViaSat 9.1m Ka-band (Tx: 27.5-30.0, Rx: 17.70-20.20GHz) Earth Station Antenna Ka-band is ideally suited to high-performance Ka-band geostationary applications. The shaped Cassegrain reflector provides superior gain and side lobe performance at Ka-band frequencies.
Accurate Tracking with ViaSat's 8860/8861A/8862 Antenna Controller with patented AdaptTrack tracking, 4-port CP feed (2-port LP or CP or 4-port LP feed optional), Elevation over Azimuth Motorized Pedestal Ground Mount, Hub enclosure 208cm (82inch), 121cm (44inch) depth, 48-piece Aluminum panels with heat-diffusing white paint, hot-dipped galvanized steel structure, 200 km/h wind load survival, 72 to 97 km/h wind load at operation. Work platform and ladder, foundation plans and kit, lightning protection kit. Antenna Patterns compliant with FCC, Eutelsat and ITU regulations. Antenna travel: 0-90degr in Elevation, 180degr continuous over Azimuth.
Features Viasat 9.1m Ka-band Broadband Gateway Antenna
Antenna patterns compliant with FCC, ITU, ANATEL and Eutelsat regulations
High efficiency shaped Cassegrain optics
2-port and 4-port circularly and linearly polarized feeds available
Precision structural steel mount
Easily accessible hub for electronics packages with large door access
Standard accessories include large work platform and stairs, foundation template and anchor bolts, lightning protection kit, rain blower
CE compliant
Low maintenance with auto lubrication and damage
resistant feed window

Options
Hot air de-icing
HPA/LNA/converter mounting
Environmentally controlled hub
Alternate frequency band
Work platform ladder
Equipment hoist
Elevation counterweights
Defrost (feed and subreflector)
TT&C capabilities
Radome
Installation and maintenance services
Viasat 9.1m Ka-band Broadband Gateway Antenna
Viasat 9.1m Ka-band Broadband Gateway Antenna