NorthStar Earth & Space
NorthStar Earth & Space is a start-up company that provides satellite-based data and monitoring services for Earth Observation and Space Object Tracking information. Its offerings include collision avoidance, space monitoring and earth data services for sustainability management. It also provides space traffic data.
The company, based in Montreal Canada, is building the SKYLARK network, a low Earth orbit (LEO) satellite constellation of 52 Nano-satellites. These satellites are larger than the typical LEO small satellites.
The satellite constellation will be deployed in two segments. The initial 12-satellite constellation, is designed with optical sensors. The satellites are directed to near-Earth space and will deliver services to enhance Space Situational Awareness (SSA) and the safety of the space environment. The satellites will be tasked with monitoring thousands of natural and human-made objects in low Earth orbit, and sounding an alert if a collision risk is detected.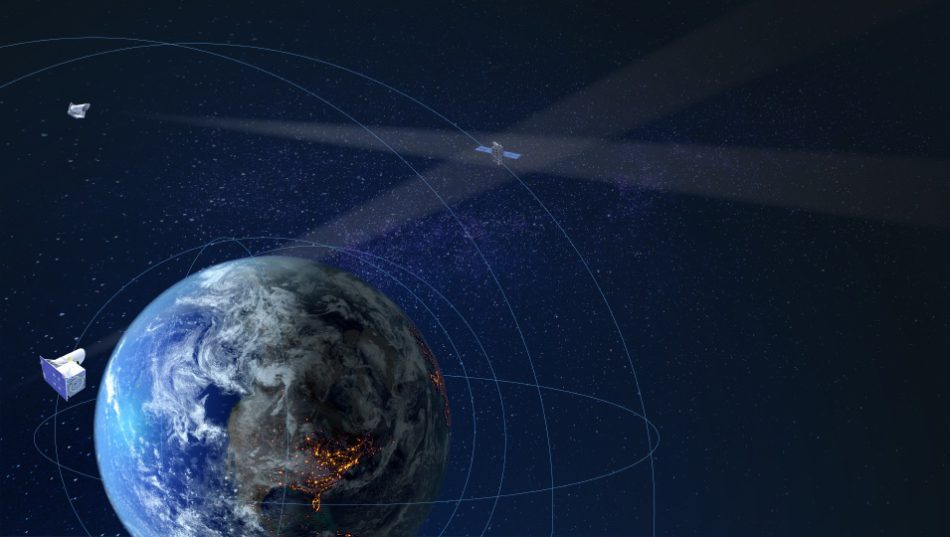 SSA is expected to become more important as thousands more satellites, including spacecraft for the SpaceX Starlink, OneWeb and Amazon Kuiper Systems broadband data networks, are launched in the years ahead.
NorthStar will launch a further 40 satellites to enhance SKYLARK with additional optical sensors, while deploying a combination of hyperspectral and infrared (IR) sensors to provide unique and valuable Earth observation capabilities.
Satellite manufacturer Thales Alenia Space (TAS) to build the first three satellites for a launch in the first quarter of 2023. TAS is providing the satellite payloads, while SmallSat manufacturer LeoStella provides its LEO-100 Multi-mission Bus with a compact optical instrument and oversees the assembly, integration and testing of the satellites. Telespazio will support the implementation of the ground stations in Europe and Canada.

Company History
NorthStar, formerly known as NorStar Space Data, was founded in 2015 by Stewart Bain, NorthStar's current CEO. Bain has been involved in the development and realization of leading-edge technologies for aerospace applications since 1989. Bain holds an MBA from Queen's University in Kingston, Ontario, and a Master of Engineering from Carleton University in Ottawa in Canada.
In November 2018 NorthStar raised 52 million CDN (39.5 million USD) for the initial 40-satellite constellation that would monitor the Earth and objects in space. The funding was done thru the Space Alliance, formed by Telespazio and Thales Alenia Space. Through its investment, the Space Alliance wants to play a leading role in the New Space sector.
In January 2019 NorthStar received 9.5 million USD in funding from the Strategic Innovation Fund, and 3.5 million USD in repayable funding from the Quebec Economic Development Program.
In early 2019 NorthStar established NorthStar Earth & Space Systems, Inc. its American headquarters in McLean, Virginia. The company wanted to address U.S. government and industry stakeholder focus on Space Situational Awareness (SSA), space domain awareness and space traffic management.
On October 27th, 2021, satellite manufacturer Thales Alenia Space signed the first phase of a contract with Northstar to start development and production of the first three SmallSat satellites for SKYLARK.

All trademarks, logos and images mentioned and showed on this page are property of their respective owners.

Resources
www.northstar-data.com
www.businesswire.com edition April 15th, 2015
www.monch.com
www.thalesgroup.com
www.spacenews.com edition November 16th, 2018
www.spaceq.ca edition August 1st, 2019
www.geekwire.com edition October 27th, 2020
www.prnewswire.com edition October 27th, 2020
www.ieeexplore.ieee.org
www.telespazio.com
www.linkedin.com
www.thehindu.com edition November 2nd, 2020
www.crunchbase.com
www.tracxn.com
www.spacenews.com edition August 24th, 2021
www.news.satnews.com edition August 25th, 2021