Viasat 7.3m Ka-band Broadband Gateway Earth Station Antenna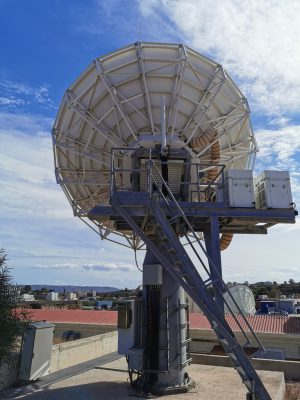 | | |
| --- | --- |
| Condition: | Used and refurbished |
| Model: | VA-7.3-KA |
| Manufacturer: | Viasat, Inc. |
We're sorry but this product is sold
Viasat 7.3m Ka-band Broadband Gateway Earth Station Antenna
The Viasat 7.3m Ka-band Gateway Earth Station Antenna is ideally suited to high-performance Ka-band geostationary applications. The shaped Cassegrain reflector provides superior gain and sidelobe performance at Ka-band frequencies.
High precision stretch formed panels are supported by strong radial trusses attached to a large central hub. Spars support a high-precision machined subreflector.
Thermal effects at Ka-band are minimized by aluminum reflector materials coated with solar diffusive white paint. The reflector back structure and subreflector spars are designed to stringent Ka-band rigidity requirements under wind and gravity loads.
The oversized hub provides a protective enclosure for sensitive electronics with ample space for equipment such as HPAs. The large extended work platform provides easy access to the hub. Transmit path losses are improved by storing the HPAs in the hub.
The precision steel mount delivers extremely accurate Ka- band pointing even under adverse wind conditions. The pedestal design features a precision azimuth bearing and very low backlash for high performance.
ViaSat's Antenna Control Units are ideally suited for controlling the Ka-band antenna, offering full DC servo performance and adaptive step tracking or monopulse autotrack options depending on the desired tracking accuracy.

Features 
Antenna patterns compliant with FCC, ITU, INTELSAT and Eutelsat regulations
High efficiency shaped Cassegrain optics
2-port and 4-port circularly and linearly polarized feeds available
Precision structural steel mount
CE compliant Antenna Controller with adaptive step tracking or monopulse autotrack options available
Roll-up door provides easy access to electronics packages
Standard accessories include large work platform and ladder, foundation template and anchor bolts, lightning protection kit

Options
De-icing
HPA/LNA mounting
Environmentally controlled hub
Alternate frequency band
Large riser with HVAC for equipment mounting

Please refer to the spec sheet for more technical details.
Skybrokers can integrate this Viasat 7.3m Ka-band Gateway antenna with the integrated tracking and monitoring systems. Our professional project and installation team can assist you with a turnkey solution. Please ask us for more details.
Note: This antenna has been sold in 2020. Please ask us for alternatives.
Viasat 7.3m Ka-band Broadband Gateway Earth Station Antenna
Viasat 7.3m Ka-band Broadband Gateway Earth Station Antenna