ISS Reshetnev
JSC Information Satellite Systems – Reshetnev Company (ISS Reshetnev) named after Academician Mikhail Reshetnev, is the leading satellite manufacturer in Russia. The company designs and manufactures communications-, TV broadcasting-, navigation- and geodetic satellites, and is capable of providing a full range of services for the whole lifetime of a satellite mission, including ground-testing, integration and orbital control. In addition, the company also produces ground antennas for satellite communication.
JSC Information Satellite Systems is based in the closed city of Krasnoyarsk-26 (nowadays called Zheleznogorsk, Krasnoyarsk region) near the city of Krasnoyarsk. Current activities include being the prime developer of the GLONASS satellite positioning system and production of the Express-series of communications satellites. In addition to communications satellites, the company also produces research spacecraft, such as the Yubileiny research satellite, which was launched in May 2008.
In 2015 the company employed about 8,500 people and the annual operating budget was 625 million USD, of which two thirds comes from state orders, and a third from commercial orders. ISS Reshetnev is the largest satellite manufacturer of the Russian space Industry.

Company History
The company, formerly called Applied Mechanics Science-Production Association (NPO PM), was founded in 1959 by Mikhail Reshetnev. Throughout its 55 years, ISS-Reshetnev Company has built up extensive capabilities in satellite manufacturing. Among the company's greatest assets are its highly qualified and dedicated employees, enormous scientific potential and world-class experimental and manufacturing facilities. Over this period ISS Reshetnev has delivered more than 1,200 satellites for a wide spectrum of missions. They have served as a basis for more than 40 multi-satellite space-based systems and complexes deployed in all types of orbits. The company's achievements and contributions to the national and global space industries were recognized with the Order of Lenin and the Order of the Red Banner of Labour. More than 80 ISS Reshetnev's employees have been awarded various state prizes, including the Lenin Prize, State Prize, the Russian Federation State Prize and other government awards.
The company was also responsible for designing and development of the GLOSNASS global satellite navigation system. After the dissolution of the Soviet Union, the company lost most of its state financing, and its work force of 8,000 was cut almost in half.
In 1995, ISS Reshetnev signed a co-operation agreement with satellite manufacturer Thales Alenia Space, a partnership that would last for 20 years, starting with the SEASat program. Over this period, ISS Reshetnev constructed spacecraft for the largest Russian satellite operator RSCC, with Thales Alenia Space providing the payloads for the satellites Express-A1, Express-A2, Express-A3, Express-A4, Express-AM11, Express AM22, Express AM2, Express-AM3, Express-AM33, Express-AM44, Express AM8, AT1 and AT2, Kazsat 3, Express 80 and 103 and AMU7.
In addition Thales Alenia Space provided the payloads for Express-MD1, Express-MD2 for satellite operator RSCC and Kazsat-1 and Kazsat-2 satellites for the government of Kazakhstan, the platform being developed by the Russian company Khrunichev. Due to a communication failure, Kazsat-1 satellite was completely lost in 2008.
The partnership with Thales Alenia Space started in 2000 when, both companies implemented a joint marketing strategy based on the ISS Express-1000 satellite platform. By combining the complementary products and technologies, ISS Reshetnev and Thales Alenia Space formed a partnership leading to major international successes, such as Telkom-3, Kazsat-3 and Yamal-401 satellites for satellite operators PT Telkom from Indonesia, Kazcosmos from Kazachstan and Gazcom Space Systems from Russia.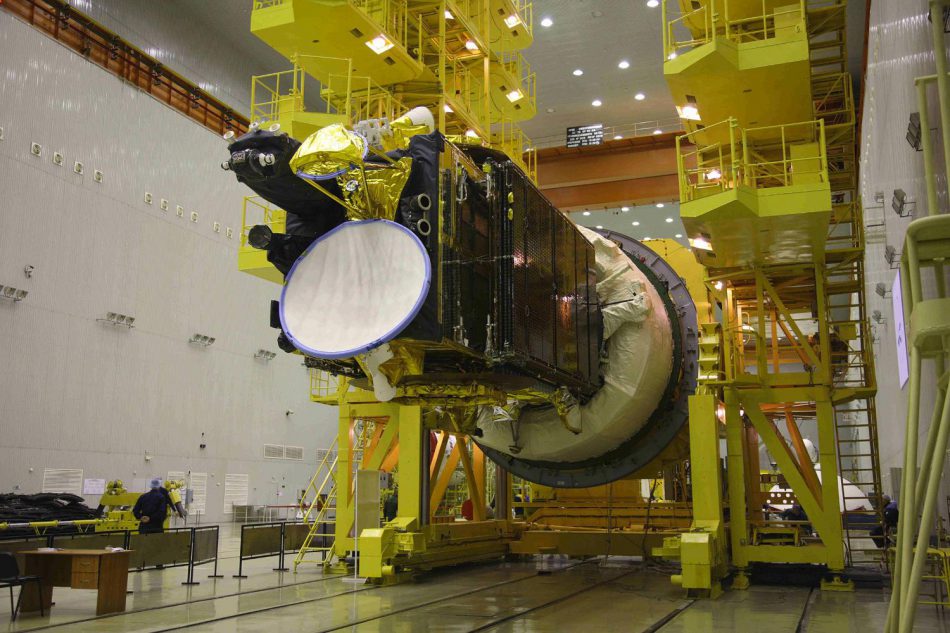 In 2000, the Russian government launched a substantial investment program to revive GLONASS satellite constellation, which provided a massive boost for the company's financial situation.
In February 2019, satellite operator RSCC and ISS Reshetnev announced to work closely together on the most challenging issues of building next generation spacecraft. The new spacecraft are expected to be used for replacing the currently flying Express AM-series satellites.
In 2020 the company had a backlog of orders for navigation satellites up to 2025, when GLONASS placed an order for another 27 navigation satellites.
On July 31st, 2020 the Express-80 and Express-103 communications satellites, both for satellite operator RSCC, were successfully launched by ILS launch operator on their Proton M launcher from the Cosmodrome of Baikonour in Kazaksthan. The satellites were the result of the partnership between ISS Reshetnev, providing the H1000 platforms and Thales Alenia Space, providing the payloads. The full-scale functioning of the satellites is scheduled to commence in January and February 2021.

All trademarks, logos and images mentioned and showed on this page are property of their respective owners.

Resources
www.iss-reshetnev.com
www.rscc.ru
www.wikipedia.org
www.gpsworld.com
www.defense-aerospace.com edition February 28th, 2013
www.spaceuae.aero
www.digitaltvnews.net edition August 3rd, 2020
www.satellitemarkets.com
www.russianspaceweb.com
www.thalesgroup.com