Express-AM5 at 140° East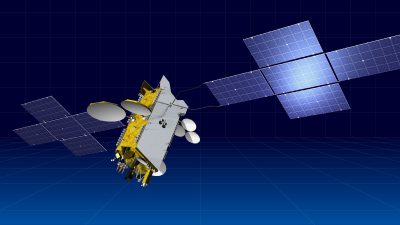 | | |
| --- | --- |
| Position: | 140° East |
| Manufacturer: | ISS Reshetnev |
| Operator: | RSCC |
| Launch operator: | ILS |
| Launch vehicle: | Proton M/Breeze |
| Launch date: | 12/26/2013 |
| Expected lifetime: | 15+ Years |
The Express-AM5 satellite is intended to provide digital television and radio broadcasting, mobile presidential communications and multimedia-services (telephony, videoconferencing, data transmission, Internet access) as well as support the development of VSAT networks. The satellite was successfully launched on December 26, 2013 by launch operator ILS and is located at 140° East orbital slot.
The satellite was designed and built under a contract with Russian Satellite Communications Company (RSCC). ISS-Reshetnev was responsible for the design, development, manufacture, testing, pre-launch preparations and in-orbit commissioning of the Express-AM5 satellite. Some work was subcontracted to the Radio Research and Development Institute (NIIR) and MacDonald, Dettwiler and Associates (MDA). The Russian partner designed, developed and manufactured the payload module while the Canadian company, in its turn, was engaged in the manufacture of the satellite's repeater system and antennas.
The Express-AM5 satellite carries 10 antennas and 84 transponders operating in the C-, Ku-, Ka- and L- frequency bands. It has a designed mission life of 15 years, platform power of around 15 kW and a mass of 3400 kilograms. The satellite's service systems' module is represented by a heavy-class satellite platform Express-2000 developed by ISS-Reshetnev Company.
Express-AM5 is the first Russian satellite that has an electric propulsion unit onboard which helps the satellite to move itself from the transfer orbit to its designated geostationary orbital position. This approach enables in-orbit delivery of heavy satellites whose weight exceeds a launch vehicle's lift capabilities.