Eutelsat 3 West B at 16° East (Defunct)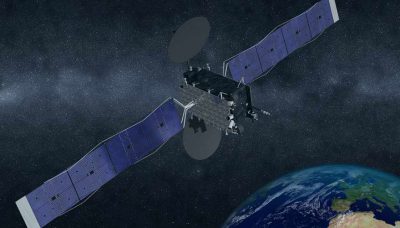 The W3B satellite was built by Thales Alenia Space, using a Spacebus 4000 C3 platform. It weighed 5,370 kg at launch. W3B was equipped with 53 active Ku-band transponders and three Ka-band transponders. Offering a design life of 15 years and located at 16° East.
Eutelsat 3 West B was launched on October 28th, 2010 on an Ariane 5 rocket operated by Arianespace in a dual launch with BSAT-3b satellite for satellite operator Broadcasting Satellite System Corporation (B-SAT) from Japan.
W3B initially was intended for launch aboard a Chinese Long March vehicle operated by CGWIC. Eutelsat switched to Ariane, and transferred its Chinese launch reservation to another Eutelsat satellite, when a temporary shortage of certain made-in-Europe components raised questions about whether W3B as launched would be "ITAR-free," meaning devoid of U.S. parts prohibited for export to China.
Eutelsat W3B was to be co-located at 7° East with Eutelsat's W3A satellite to provide broadcast and telecommunications services across Europe, the Middle-East and Africa. But following the problems of W2M shortly after launch, W3B was to take W2M's place to replace the aging W2 satellite.
As a replacement for W3B's original mission at 7° East, Eutelsat ordered in March 2009 the identical Eutelsat W3C satellite.
Eutelsat W3B developed a sizeable leak in the proulsion system directly after launch and was declared a total loss. The failure was likely caused by a sudden, catastrophic leak in a single propellant tube connected to one of the satellite's 16 thruster motors. The satellite was declared as total loss. Eutelsat ordered in December 2010 the Eutelsat W3D satellite as a replacement.
In March 2012 Eutelsat renamed their satellite assets under a unified brand name. W3C and W3D became Eutelsat 16A and Eutelsat 7B respectively. Eutelsat 7B was later renamed Eutelsat 3D, when it was reasigned to the 3° East position. In September 2014, it was reasigned the name Eutelsat 7B and the 7° East position.
Eutelsat 3 West B at 16° East (Defunct)