Spaceway 3 at 95° West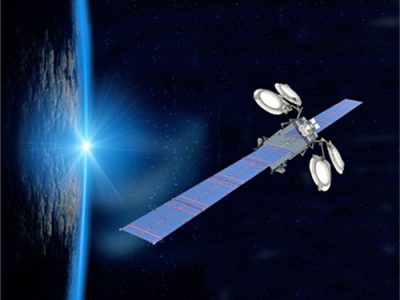 | | |
| --- | --- |
| Position: | 95° West  |
| Manufacturer: | Boeing |
| Operator: | EchoStar |
| Launch operator: | Arianespace |
| Launch vehicle: | Ariane 5ECA |
| Launch date: | 08/14/2007 |
| Expected lifetime: | 12 Years |
Spaceway 3 satellite is used by Hughes Network Systems, Inc. that is owned by satellite operator EchoStar from the USA., The satellite was built by Boeing based on their BSS-702 model satellite bus with a 12-year lifespan. It is expected to support HD-television to DirecTV customers with its Ka-band communications payload.
The Spaceway 3 system was designed and developed by Hughes as a next-generation, Ka-band broadband satellite system, the world's first to employ on-board traffic switching and routing capability. Spaceway 3 is used to deliver a wide range of HughesNet broadband IP-services to enterprise, government, and consumer/small business customers in North America. Combined with many other advances in satellite technology, such as 10Gbps overall capacity, fast packet switching and spot beam forming, the Spaceway 3 satellite ushered in a new world of bandwidth-on-demand satellite services, with true peer-to-peer, single-hop networking of high-performance ground terminals.
Spaceway 3 satellite was originally scheduled for launch on a Zenit-3SL rocket booster operated by Sea Launch. The launch was moved to Arianespace in the aftermath of a Zenit-3SL launch failure.
Spaceway 3 was successfully launched in a dual launch with B-Sat 3a for satellite operator B-SAT from Japan on August 14th, 2007, on an Ariane 5ECA rocket, operated by launch operator Arianespace, from the Kourou Space Port in French Guyana.
Spaceway 3 at 95° West