AMC-5 (GE-5, Nahuel 1B) at 81° West (De-orbited)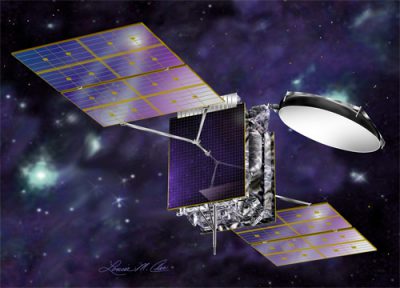 | | |
| --- | --- |
| Position: | 81° West (De-orbited) |
| Manufacturer: | Thales Alenia Space |
| Operator: | SES |
| Launch operator: | Arianespace |
| Launch vehicle: | Ariane 44LP |
| Launch date: | 10/28/1998 |
| Expected lifetime: | 15 Years |
The GE-5 satellite was the former Argentinean Nahuel 1B satellite, which was sold to GE Americom when the Argentinean owner did not need the spare and modified to the new owners needs. Nahuel-1B was built as a spare satellite and planned to be launched by the CGWIC Long March CZ/3C rocket. 
The satellite was built by Alenia Space (Thales Alenia Space). In 2001 GE Americom was acquired by SES from Luxembourg, making SES the world's biggest satellite service provider. After the acquisition GE Americom was renamed SES Americom and later SES World Skies, and resulted also in renaming the satellite assets, GE-5 became AMC-5.
With 16 Ku-band transponders, GE-5 provided direct-broadcast TV, broadband communication and Internet access to homes in the USA.
AMC-5 was launched on October 28th, 1998, on a Ariane 44LP  rocket operated by launch operator Arianespace from the Kourou Space Port in French Guiana.